Like most toy companies we have set minimum order quantities for bespoke toys, but there are ways in which these can be reduced
Minimum order quantities used to be as high as 5000 pieces for good Chinese factories but over the years economic factors have brought this down to approx 2000 pcs.
However if you have a new toy even this can be too high for comfort either due to budget reasons or because there is simply not enough space to store the toys at your office.
Minimum order quantities are set for three distinct reasons. Firstly the factory has to manufacture enough products to make a profit. Before any new toy can be manufactured the pattern has to be made and the staff have to be trained.
Each new toy necessitates lost production time as the line is set up and the complexities of the new design worked through with the most skilled workers. Once this has been done the training can be rolled out to everyone. For this reason a traditional factory wants as long a production run as they can negotiate.
Secondly the material which is used has its own minimum order quantity. Even when we buy off the shelf fabrics there are minimums to consider and when a bespoke fabric is required this obviously impacts on the number of toys which need to be made.
Finally testing costs can be as much as $500 depending on the complexity of the design. If you order 100 pieces the testing costs will make the price of the toy uncommercial. Some companies separate out the testing costs and charge them as an extra on top of the product price. Currently we don't do this as we don't know what the cost will be until the product is finished, but it is something we can do if requested.
So minimum order quantities are valid but in certain circumstances there are still ways that we can minimise them if your design is relatively simple.
Consider Handmade.
Handmade products always have a lower MOQ as they are usually made outside of a factory environment. The toy will be made by fewer people, who are normally more skilled than an average factory worker. This is particularly so with crochet where the workers are highly skilled.
Crochet has its own charm. It is not suitable for a toy which needs a very specific character integrity as it has its own limitations, but it can add value to a product. Our London tourist range is a great example of how toys can look in crochet.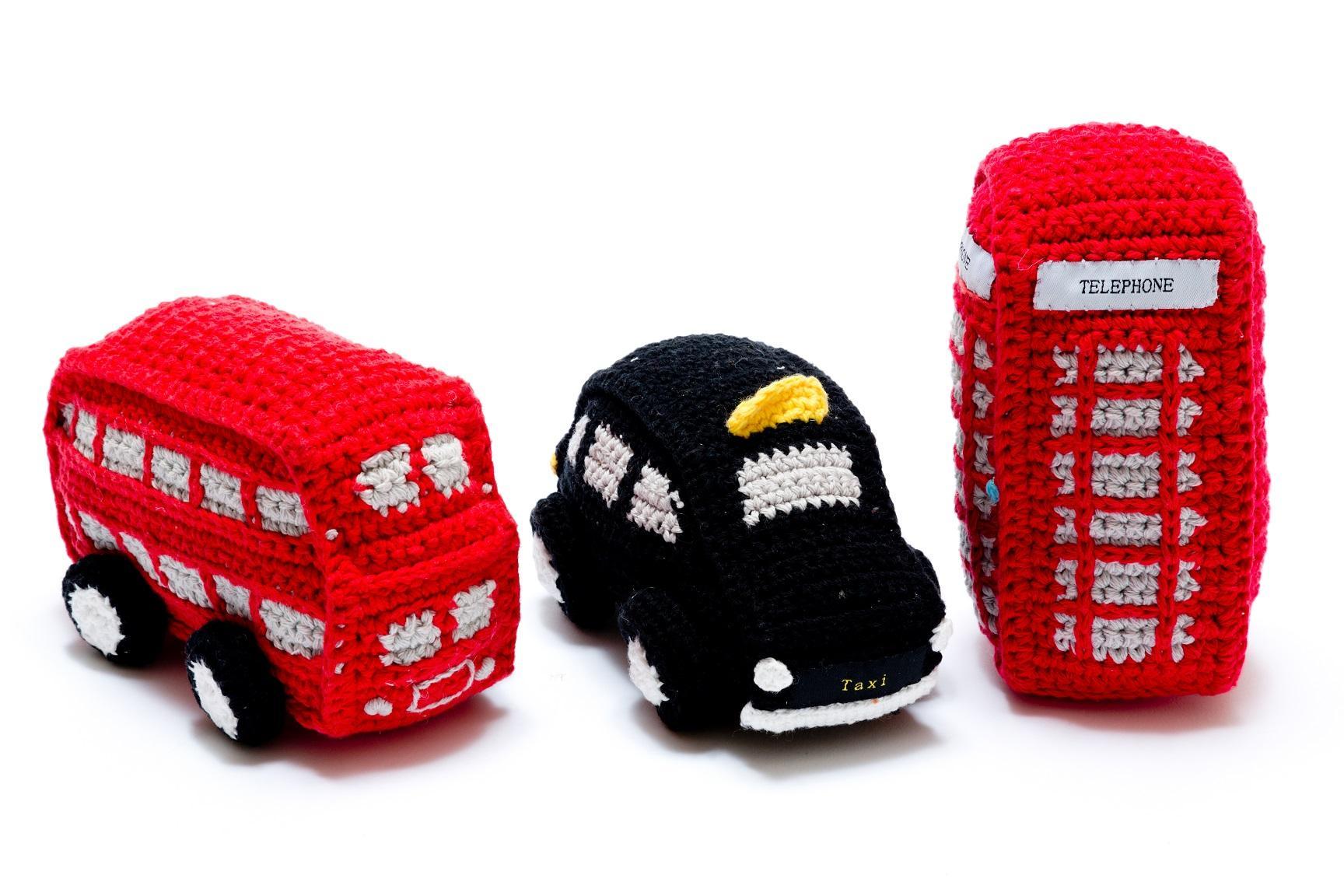 Crochet toys have minimum order quantities starting at 750 pieces, but due to the fact they are made by skilled workers, and also because of the testing costs are spread across a lower quantity, the unit price for each toy is higher than for factory made products.
Different Sizes.
Another way to reduce MOQ is to manufacture the same toy in different sizes. The training and the patterns are effectively the same, and the material is used up over more than one product. Our Dinosaur toys are a good example of this as we can order less of the large dinosaur toys when we order them at the same time as the toy. Also the testing costs can be spread over more than one toy as long as the material and pattern are exactly the same.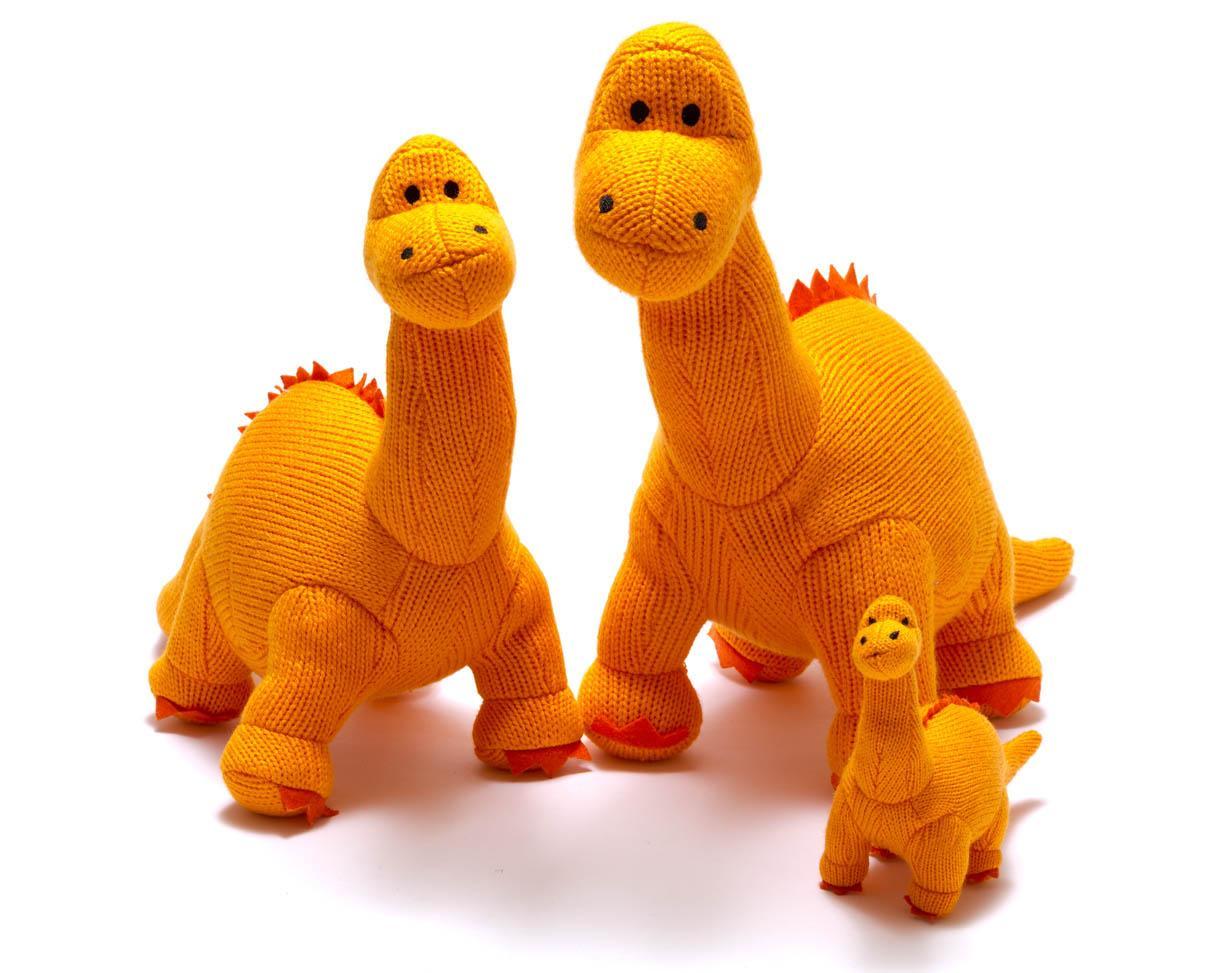 Off the Shelf Product.
By far the easiest way to reduce the minimum order quantity of a bespoke toy is to buy a design off the shelf and personalise it with a t shirt or jumper or even a ribbon. Your design can be printed or embroidered on to the clothing so the product will be unique to you, but the actual teddy or bunny will be a standard design which could be used by other people. You could also embroider the bear on its foot or paw if this was something you preferred. This is also a reasonably cheap way of having your own brand soft toy so can reduce the overall cost of creating your own toys significantly.
We are very happy to work through this option with you if it is something which appeals.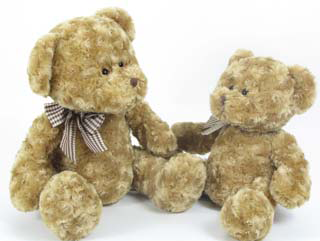 Or Something Completely Different
If you can be totally flexible with your toy then there are some other interesting ways in which you can have an exclusive toy. We work with some very different producers around the world many of whom are very small. This means that their expectations of minimum orders are significantly lower than our more industrialised partners.
Our partner in Vietnam employs disabled workers giving them the opportunity to work in a fairly paid and flexible environment. If you are looking for your design to be made up as a toy this option would not suit you, but if, for instance, your logo is a pig then you could consider having their pig made up in one of their off the shelf fabrics to make an exclusive toy. The labels would have your brand on them and it would be a great story to back up your brand values.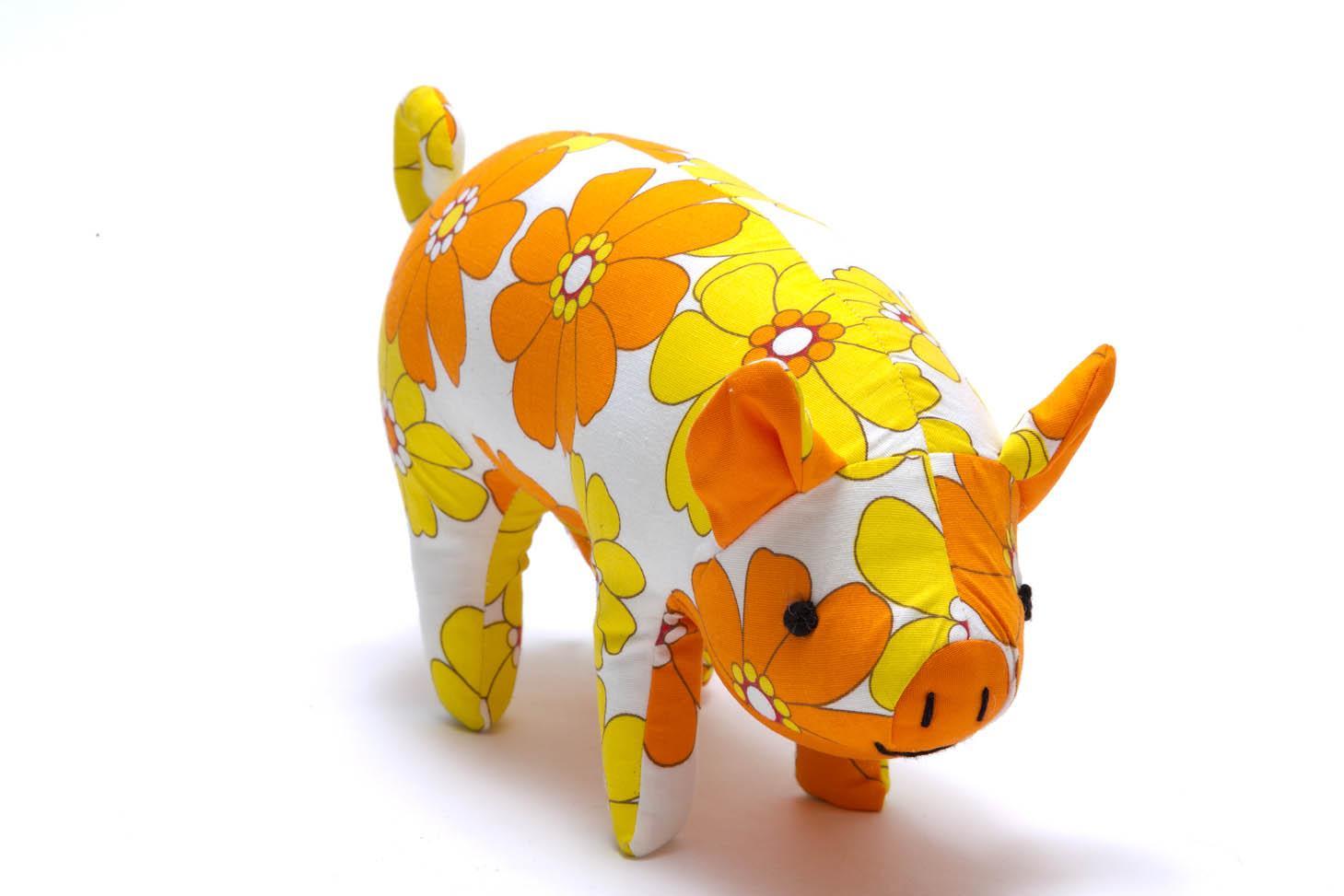 We also work with small crochet producers in both Vietnam and Peru and could offer the same service from them. The important thing to note is that you would not be able to influence the design but you could change the colour and the labels would be entirely your brand.
All these ways to reduce a minimum order quantity and particularly suited to more simple designs. If you have a complicated design then factories require longer production runs to make it worthwhile to train their workers and get the pattern right. So if budgets or space is tight its worth keeping this in mind when you start looking at the design of your toy.
If you are looking for a bespoke toy to be manufactured, whether its a dinosaur toy or teddy,  we are very happy to discuss any of these options with you so please email This email address is being protected from spambots. You need JavaScript enabled to view it. or call us on 01327 262189