As an ethical toy company, supporting charities has always been important to us.
Preschools in Bangladesh:
Gaynor & Liz were lucky enough to work with a fair trade organisation in Bangladesh and have now set up three schools for the children of the workers. Our partner provides fairly paid jobs to a huge variety of women. Some are married with children, others still young and a few who are older. However, they all want something more for their children/grand-children and this always starts with education. Opening schools in the areas they work means that they can work while their kids are at pre-school, and their children get a great start to their education.
Using profits from the sale of our dinosaur range, we have already opened 3 schools and we are currently planning to open our 4th school once Covid-19 restrictions allow.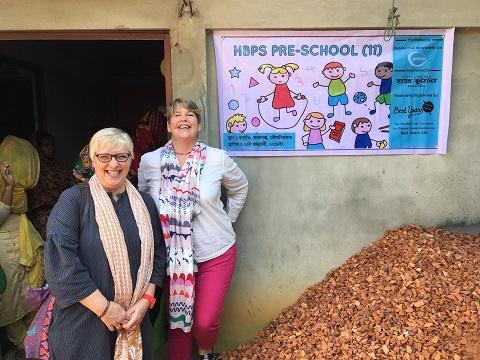 You can read more about our pre-schools in Bangladesh in our Blog.
Peeple
Peeple are a charity based in Oxford who specialise in helping children get the best start by making the most of every day learning opportunities. Children develop through singing, talking, and stories, and Peeple work with parents and Early Years practitioners to help them make the most of the time they have with their kids.
Traditionally we have gone down the normal route of picking a charity and donating stock to them to help them raise funds. However since 2019 we have done something very different. We donated toys as and when Peeple had fundraising activities but this is not just a one way channel. As part of our relationship Peeple are allowing us access to their expertise and experience so we can bring you songs and stories involving our toys.  You may have seen some of our posts on social media.
To put this in to context Peeple's expertise has been recognised by Cbeebies who have used them as consultants on their latest TV programme, The Baby Club.  
The Baby Club will appeal to families across the country, especially parents and carers of babies under 14 months old, stay at home and working mums and dads, parents who may not have access to baby groups locally or parents with older children who feel they don't have as much time to spend with their babies.  We have been delighted to sot some of our donated toys on the Baby Club TV show
Peeple have been involved in the development of the content using their expertise and experience in supporting parents and learning, to ensure that The Baby Club accurately reflects best practice.
We have supported Cancer Recovery and our local Foodbanks in recent years and are currently looking for a new local charity to support.  If you know of any charities that may be able to raise funds through donated toys, please do get in touch with us - This email address is being protected from spambots. You need JavaScript enabled to view it.