We have just had our annual meeting with Trading Standards, possibly the only time when seams and fabric are cooed over like jewellery (or babies).
We always recommend that new traders talk to Trading Standards before getting involved with toys as they are a fountain of knowledge and extremely pragmatic. In our experience they are always happy to help and as they keep up to date with all the changes in UK toy safety legislations and they are happy to advise us if the changes affect our toys in any way.
If you ask a testing lab a safety question they will recommend £000s worth of tests. If you ask Trading Standards you get a straight forward, sometimes problematic answer, but one that always get to the core of the issue.
To understand the current UK Toy Safety Legislation you have to go back to 2007 when Mattel was forced to recall millions of toys for safety issues ranging from small parts to lead paint.
In an unprecedented step Mattel ended up apologising to its Chinese partners because the issues were not in sloppy manufacturing but in a design fault created by Mattel.
Following on from this in 2011 European Toy Safety Regulations were updated to specifically ensure that toy safety is designed in to toys, and that manufacturers don't just rely on getting a test certificate at the end of the process.

If you are interested in the detail of UK toy safety legislation you can read the detail here.
So when we start designing a toy we have to think about what materials we use, whether it is really necessary for us to use small parts when we could embroider detail instead, do we need to have long hair or could we use something else etc etc.
For instance while I am writing this I have just seen the advert with the Meerkats in it, which are now available as soft toys. Because we sell mainly to the baby market rather than older children if we were designing these toys we would replace the bead eyes with embroidery and the plastic nose with plush. This costs more but means that the potential risk associated with small parts is avoided. Its all about thinking who is going to play with the toy and then considering what risks that entails.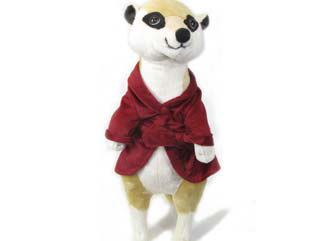 As a manufacturer we have clear responsibilities laid out in law and they are as follows;
Make sure our toys have been designed and manufactured to comply with the essential safety requirements during any foreseeable and normal period of use.


Carry out a safety assessment of the toy. Note that this is not having the toy tested but using our experience to evaluate whether there are any potential safety issues.


Draw up the EC declaration of conformity and affix the CE marking. Whereas once we had a safety certificate we now have to draw up a certificate of conformity which traces all the materials used, the manufacturing process and all relevant information about the making of the toy. This must be kept for 10 years. Once we have this we can then put the CE mark on the label.


Make sure that our name and address are on the toy label or packaging.


Ensure that all future production runs of the same toy remain in conformity. So if we change anything we have to start the process again, but if we make the same toy with identical materials and manufacturing process we do not have to repeat the process.


Carry out sample testing of marketed toys. Trading Standards pointed out that this does not mean that we have to send a toy to a test house periodically, but it does mean that we take toys off the sewing line when they are being made and keep checking that all the safety requirements are still being adhered to.


 We have a duty to investigate and record any complaint made about one of our toys and also keep a register of complaints, non-compliant toys and recalled toys.
And what did we learn this year? There is definitely a feeling that UK toy safety legislation is moving away from reliance on test certificates. For instance Trading Standards let us know that when a toy is first brought to market we don't have to test it using a 3rd party testing house, we can carry out the safety assessment ourselves.

When we first manufacture we always get a test certificate for it, and will continue to do so. Even though legally we don't have to have a test certificate for new toys we are quite happy to continue to do so. Belt and braces is a good thing with toy safety!
However it means that we can self certify toys which we buy from very small producers in very small quantities. This means that we can source from even the smallest producers using our expertise to assess toy safety rather than having to pay £300 for a test certificate which inevitably makes the toys unaffordable.

We also found out that there is no specific end to a toy safety certificate. We have always routinely tested toys every 2 years but Trading Standards are happy that if nothing has changed in the construction or fabric of the toy you do not have to keep testing. Again, if you have an own brand toy that you haven't ordered for a while we would recommend it may be worth re-testing but if you order every year then we will not have to get a new test certificate each time.


And finally Trading Standards are happy that where you have 2 identical toys but in two different sizes you do not have to test both sizes. If you test the one which you view as being most attractive to the youngest of children, then the other size is effectively covered. So we test our dinosaur rattles and this covers our large Dinosaur toys.
Did you know that if you make your own toys, whether you knit them, crochet them or sew them, you still have to conform to toy safety legislation? Trading Standards routinely check toys which are being sold on market stalls or on 3rd party websites such as EBay or Not On The High Street. If you do make your own toys then its best to have a working knowledge of the requirements including small parts and flammability. If you are able then the best thing to do is to take a sample of one of your toys to your local Trading Standards office for their advice on any potential hazards.
We are always happy to discuss toy safety with you so please email This email address is being protected from spambots. You need JavaScript enabled to view it. if you would like to go through anything with us.