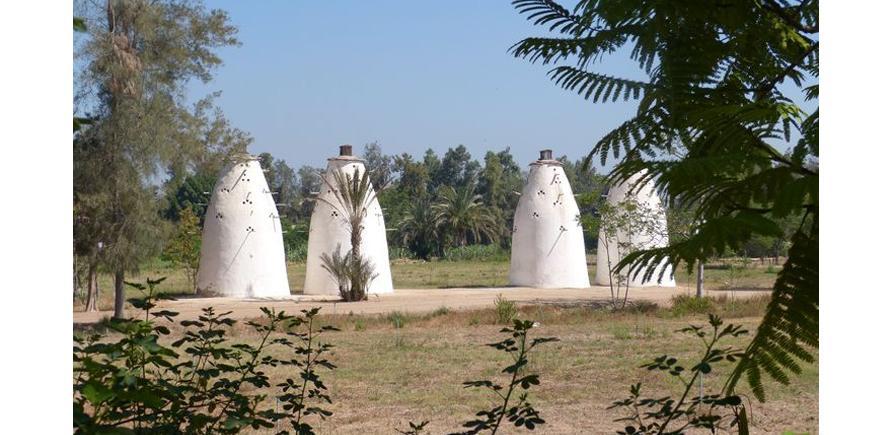 Organic baby clothes and toys. Making a big difference to many lives
Gaynor Humphrey
Before we started working with Under the Nile to sell their organic clothes and toys we visited them in Egypt where their organic and fair trade baby clothes and toys are made. Over the years we have stopped trying to predict how visits such as these will go but of course you always have a pre-conceived idea of what you are going to see.
We have wholesaled toys for over a decade now but only started selling organic clothes in 2013. This was the first time we were going to visit a clothes manufacturer and we were intrigued as to how different it would be from toy manufacturing.
The Under the Nile organic clothes and toys are made by an organisation called Sekem, and they were kind enough to invite us to stay on their organic farm.
This blog was originally going to be about how organic clothes are made, and we will write up more about the actual process later, but the over whelming impact from the visit was in meeting Sekem.
Sekem are almost totally vertically integrated which makes for a text book profitable business. We have never met such an integrated business and this is what we thought would be the most inspiring part of the visit.
Its difficult to describe them. Everything is done from a very spiritual stand point. As an organisation they believe that they can make a difference.
They have a holistic approach to their business. You can't make beautiful products if you mistreat the earth you farm, or the people who work with you. Even the buildings are beautiful as well as practical.
They have circle time when a different department every day gather together, hold hands and plan how they can be better as an organisation and as people.
If this makes them sound like a bunch of hippies then you should also know that they have the certification for bio dynamic farming which makes the process for being organic look like childs play.
So they are spiritual, organised, ambitious, dynamic, and successful.
They are such a great example to other businesses as to how things can, and should be done.
Being vertically integrated is normally done in order to create additional profit. Sekem have done it so they can ensure quality in every step of the process, and that everybody and everything along the way is treated as well as they should be.
They told us a story of a large multi national retailer coming to inspect them and laying down rules about such tiny things as no metal in the offices. This so totally misses the point of Sekem its ridiculous.
If you are running a large Chinese factory then you need processes to ensure quality. Sometimes it can seem like nit picking rules but if you have thousands of workers who work on thousands of different orders every year then its good to have rules.
Where Sekem is different is that they care. They do not have an impersonal work force who chop and change, their workers care too. The very nature of their organisation means that you can trust them without having to enforce 5 A4 folders of rules and procedures.
Infact it whould be the other way round.  All the retail buyers of the multi national retailers should work with Sekem for a month as part of their training. That way they might understand that if you keep the heart in business it can actually add efficiency and profit.
It would also ensure that the casual practise of suddenly demanding additional discounts would disappear as if you understand and respect all parts of a business it would not make sense to kick the weakest part of it until it fell over. If more businesses were like Sekem the Bangladesh factory disaster would not have happened.
Thats not to say that this is a business which could be easily duplicated. I actually don't think that you could replicate Sekem in the same way you can't try to be someone else. What you can do is try and emulate the parts that you admire and incorporate them in to your own business. We already have a saying "Thats not very Sekem" to describe something which isn't perhaps as good as it could be.
I am a wholesaler not a writer so I am aware of the inadequecy of these words in describing this amazing business, but I hope that I have managed to communicate not only the intrinsic goodness of Sekem but also how successful it is. They are showing how business can make a positive difference to peoples lives and still make a profit.
We are very proud to be working with Sekem and we can assure you that if you buy the Under the Nile clothes and toys you will be making a big difference to the workers lives and hopefully together we can show other businesses how things can be done.