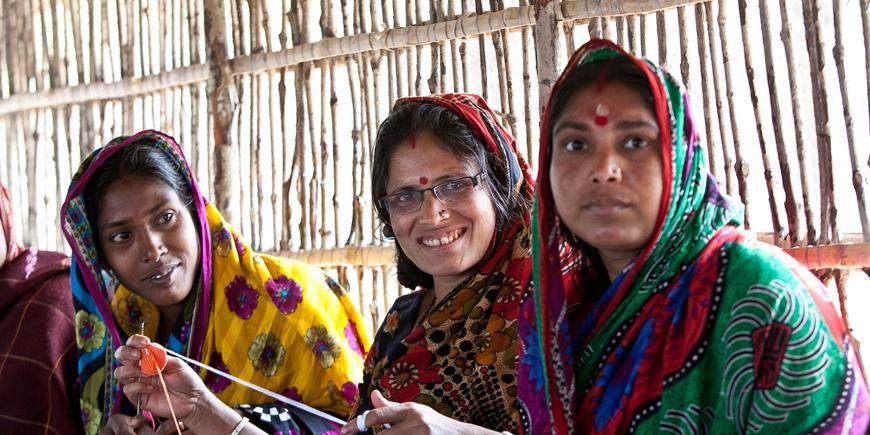 Its all about the Stories - Pebble Toys and 3 Women Over 40
Gaynor Humphrey
Most of the women who make our Pebble toys are young, or newly married with children. However they are happy to offer work to people of all ages and there is a wide range of ages.
Samantha, who set up Pebble has just turned 50, so is the same age as Provati Rani Mondal in this picture. She also has 2 children, but thats where the simularities end. Samantha and I have both led privileged lives which means we both feel 25 yrs old most of the time!
However we are all linked by the same desire to make sure our children have the very best start in life we can give them, and now we are also linked by both being in the Pebble family.
3 women over 40
It's a controversial subject I know! Never ask a woman her age – that's the rule. If anyone asks me, I always say I'm 25 and in fact I've been 25 for so long that if I really need my real age, for some official purpose, then I would have to calculate it. No jokes – I feel 25 therefore I am 25 is my motto, so I fully understand the sensitivity around women's ages. In fact it's a much less sensitive issue in rural Bangladesh where the women are happy and indeed proud to tell you their age.
Pebble work a lot with young women. Women who are trying to finish their education or delay their marriage into their twenties, or young women with young children who want to ensure that their children will be educated. But they also provide a very useful opportunity for women who are slightly older as well. Women in their forties in rural Bangladesh can find it equally difficult to find suitable work. While women who are younger may do some pretty heavy labouring work or work in the fields, women in their forties in rural Bangladesh are often no longer physically able to do this type of strenuous work and therefore knitting and crocheting Pebble toys is really ideal for them. They will also often have more time available since their children are no longer so young but they still need to earn money to provide for their families. For this reason I wanted to introduce you to 3 of the Pebble artisans who are over 40 and share their stories with you.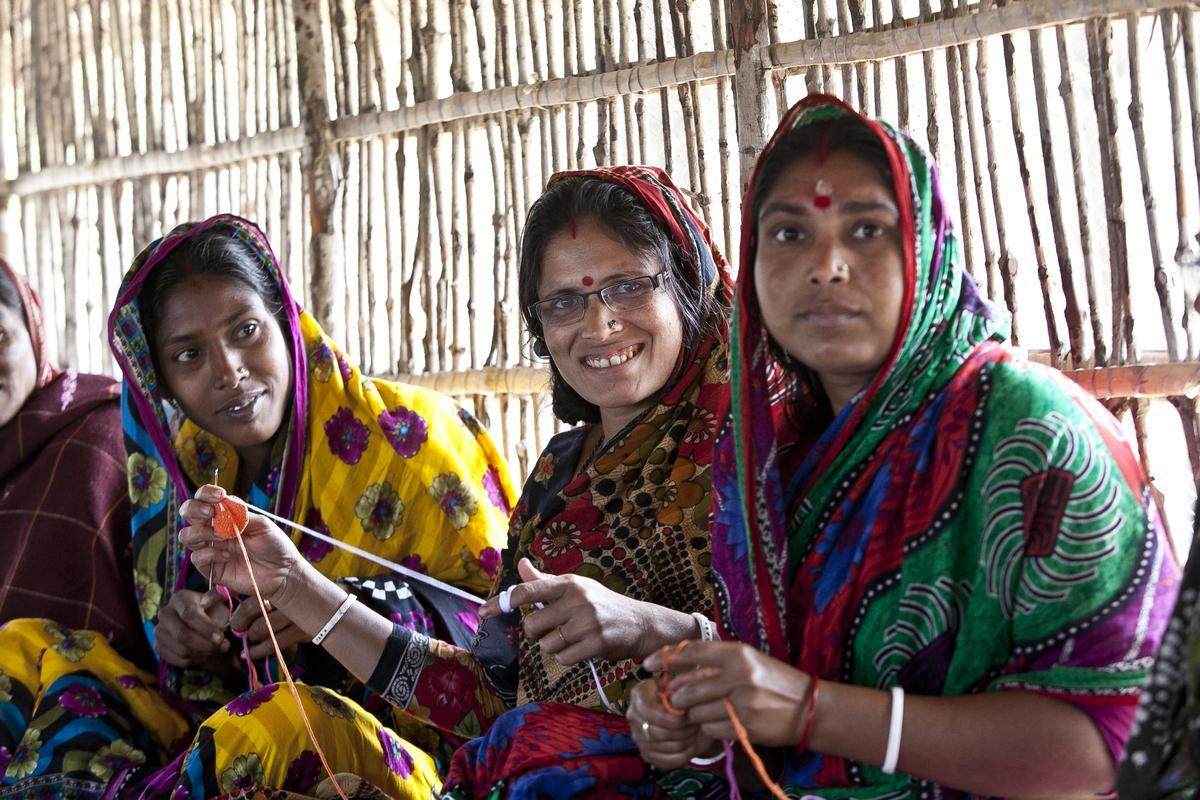 Provati Rani Mondal in the centre with glasses
Provati Rani Mondal is 49 years old and has 2 sons. Her husband is a farmer and their family income is very low, especially at certain times of the year when there is less farming work. Provati used to be a day labourer but was finding it increasingly difficult to manage the strenuous work and so was delighted when Pebble came to her village to open a centre and teach crochet. She is working to contribute to her family expenses and ensure that her children go on to further education.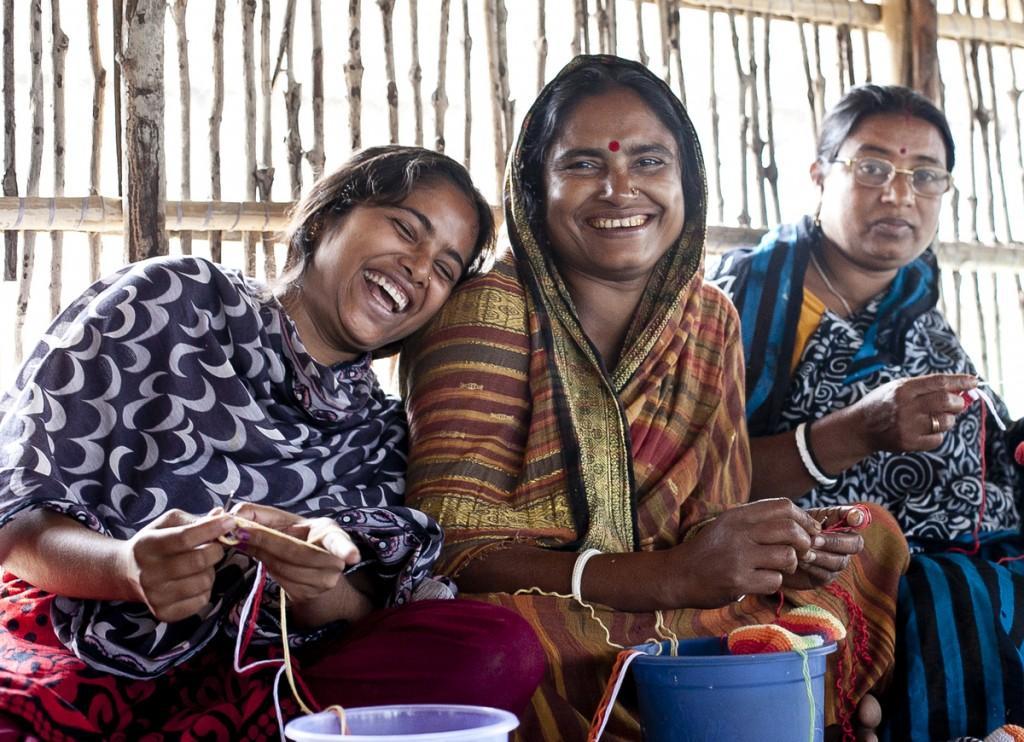 Rina Bala Mondol is in the centre of the picture
 Rina Bala Mondol is 42 years old and has one daughter. Her husband is a day labourer and his work is inconsistent making it difficult for the family to plan their expenses. Before Pebble came to the village, Rina used to go to the forest and collect wood to sell and cut down the trees for the wood. By now working as an artisan making Pebble toys, Rina is not only providing a more consistent income for her family and enabling the family to save and keep their daughter in school, but she has now stopped collecting wood from the forest which is very important in ensuring climate change resilience in Bangladesh.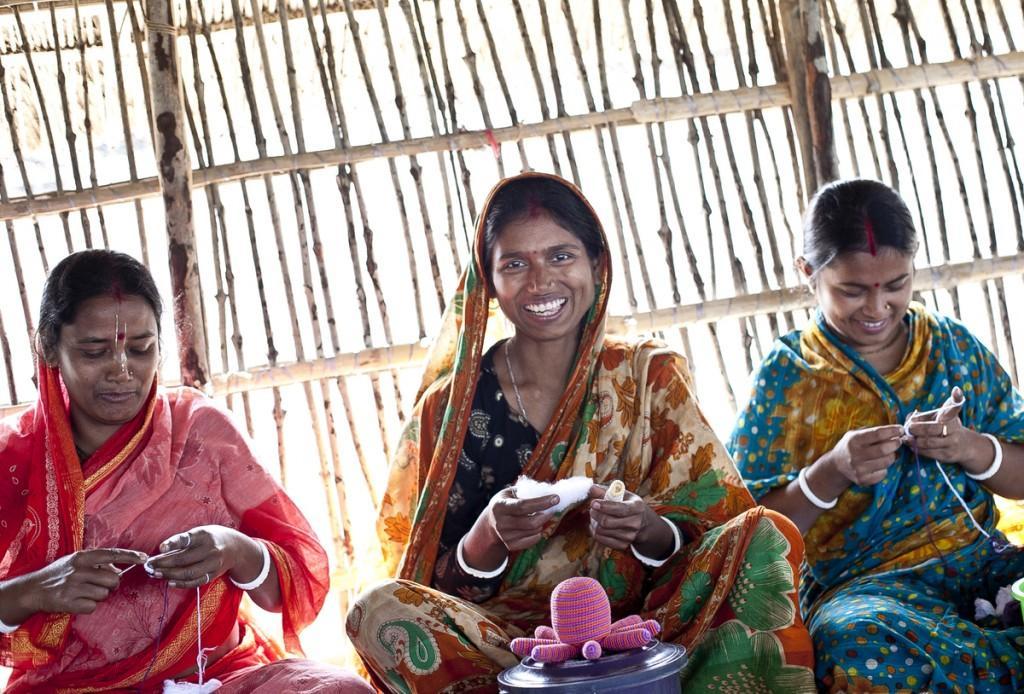 Ayna Rani Mondol is the lady sitting in the middle of the picture.
Ayna Rani Mondol is 42 years old and has 2 daughters and 1 son. Her husband is a farmer. Having children, as we all know, is expensive, and Ayna is eager for them all to stay in school and so her priority with her income is to ensure her children stay in school and get a good education. Before she started making Pebble toys, Ayna was a day labourer but she found the work very difficult and every day had pain in her body. Now she makes Pebble toys she is very happy that her health feels very much improved and that she can earn the money she needs for her children's education without sacrificing her own health.
 We are so delighted that these ladies shared their stories with us so that we could share them with you and could show you how buying Pebble toys also helps this group of women over forty to realise their dreams.