If you want a safe teething toy for your baby then where do you look? It will spend a lot of time in your baby's mouth so it needs to be ultra safe with no nasty chemicals. Our natural rubber dinosaur toys are not just great for play they are also perfect for anyone wanting a safe teething toy.
Natural rubber is a great material to use for teething toys because it is completely natural and safe. As a material it is soft and flexible which makes it ideal for use in baby toys. It wasn't so long ago that most baby toys, especially teething toys, were all made from natural rubber because it was both safe and flexible so great for play, but the advent of cheap plastic toys meant they were briefly eclipsed in popularity.
Now concerns about the over use of plastic and the chemicals used in the production of plastic toys, particularly the potential safety issues surrounding plastic softeners (phthalates), has meant that natural rubber toys are once again gaining in popularity. Natural rubber is both environmentally friendly and safe so it is especially popular with parents looking for teething toys which by their very nature spend a lot of time in a baby's mouth!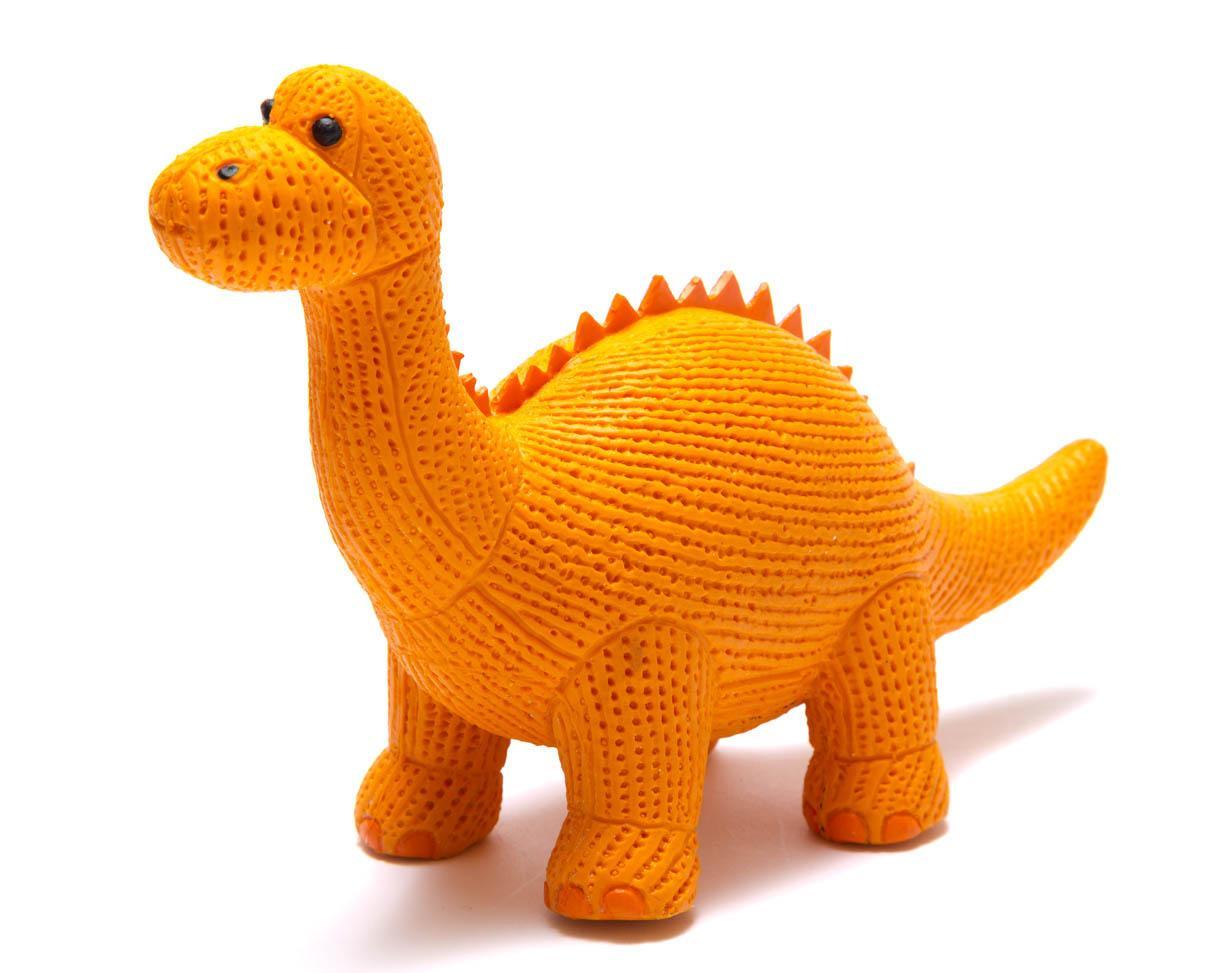 Undoubtedly the most popular teething toy in recent years has been Sophie the Giraffe. Made in France by a company called Vulli it has been around for over 50 years, but its popularity boomed after Mattel was forced to recall some of its own plastic toys in 2007 due to lead based paint. Suddenly a natural rubber toy, handmade in France seemed like an excellent choice and it became the teething toy of choice for many parents.
Natural rubber is not only a natural and safe product it is also environmentally very sound. Each stage of the process to convert the latex in to a rubber toy is both natural and sustainable.
Natural rubber is made from the latex produced by the rubber-tree. The raw material is tapped from the rubber tree and vulcanized (a process invented by Charles Goodyear in the 1800s) using heat and pressure to improve its elasticity and to enhance its strength. The trees have a lifespan of approx 12 years and new saplings are planted to ensure the continuity of the latex. The entire process of converting latex to toys is environmentally friendly and sustainable.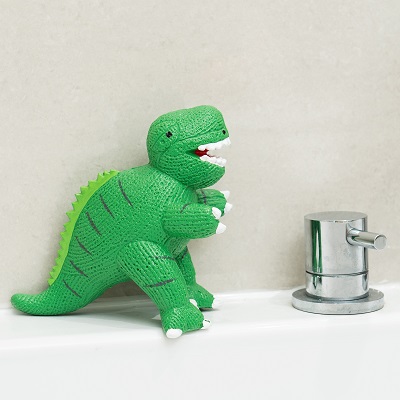 Best Year's rubber dinosaur toys are totally hand made using natural rubber. The paints we use are plant based and non toxic so they are totally safe to be chewed by your teething baby. In addition because they are modeled on our knitted dinosaur toy rattles our rubber Dinosaur toys are tactile and brightly coloured which makes them very appealing to young children.
Our rubber Dinosaur toys are not better than Sophie the Giraffe, but there is one clear point of difference. Sophie the giraffe has a lovely squeeker sound but this needs a hole in the rubber in order to make the noise. It also means that water can get in to the toy, and this water goes mouldy very quickly.
Our natural rubber dinosaur toys do not have a squeeker which means they don't have a hole or anywhere for the water to get in so whether you use them as bath toys or teethers you can relax, as they will never harbour mouldy water.
So if you are looking for a teething toy for your baby, or a bath toy for your toddler we think that our natural rubber dinosaur toys are just the job, especially if you prefer dinosaur toys to giraffes!