A new baby in the family is a wonderful and precious time. Everyone wants to give a baby gift which is both useful and gorgeous, which is why Baby Blankets are the perfect baby gift.
But how do you choose the right baby blanket?

Practicalities first. Babies under 12 months should definitely not use a pillow and when buying baby blankets be sure to think in layers so that you can adjust the number of layers depending on the temperature.  A mixture of sheets and blankets for new born babies is ideal as it means you can easily adjust the temperature.
There are plenty of online guides of the number of layers required depending on the room temperature, but our simple advise is that you always look for natural fibres as synthetics can be 'sweaty' and young babies are not able to regulate their temperatures as well as adults.  
One other top tip is to be sure that any baby blanket you buy is machine washable.  There are some beautiful and expensive baby blankets available that are dry clean or wipe clean only! Ideal for the super rich with staff but not for the majority of parents.  
There can be some confusion over types of blankets and you have probably seen receiving blankets, cot blankets, swaddle blankets and muslin baby blankets advertised.  It can be confusing to know what each of these terms means.  Swaddling means wrapping your baby from the neck down in a thin blanket or cloth.  Some babies find this extremely comforting and soothing - some people believe that it is because it recreates the confined effect of being in the womb.  It also stops the startle reflex which can wake the baby up.  
We have a fantastic selection of Swaddle blankets gift sets that would make an ideal newborn baby gift.  Those pictured are all made from 100% organic Egyptian cotton and are soft of baby's gentle skin.  They are made in a fair trade co-operative and are machine washable.  The toys undergo all European safety testing and are certified as suitable from birth.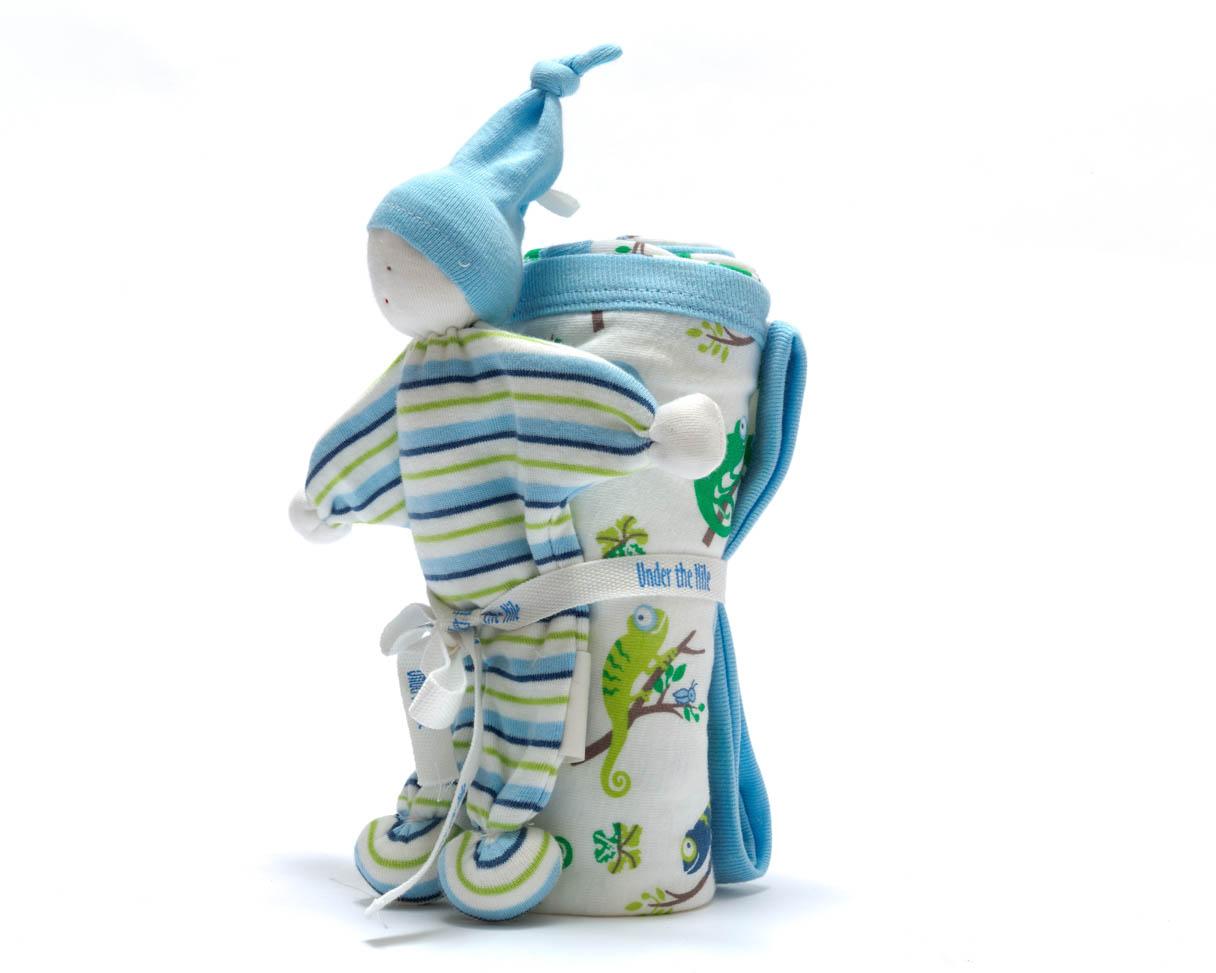 If you're looking for something more retro and traditional and would love to crochet your own blankets but simply do not have the time, we have the solution.  Our Pebble Organic Granny Squares Crochet Baby Blankets are available in gorgeous shades of pastel or bright squares, or organic soft purple with orange.  These blankets are handmade, fair trade and machine washable. Just like something grandma would traditionally crochet, this blanket is one that could be passed down through the generations. They would make the perfect Christmas gift, newborn baby gift or even a Christening gift.   
If you are after a more modern looking blanket that is handmade, cotton and fair trade, we have some vibrant blankets in rainbow shades. These knitted blankets measure approximately 85cm x 95cm so can be used in a cot, pram or pushchair and of course are machine washable. They are available both in gender neutral stripes.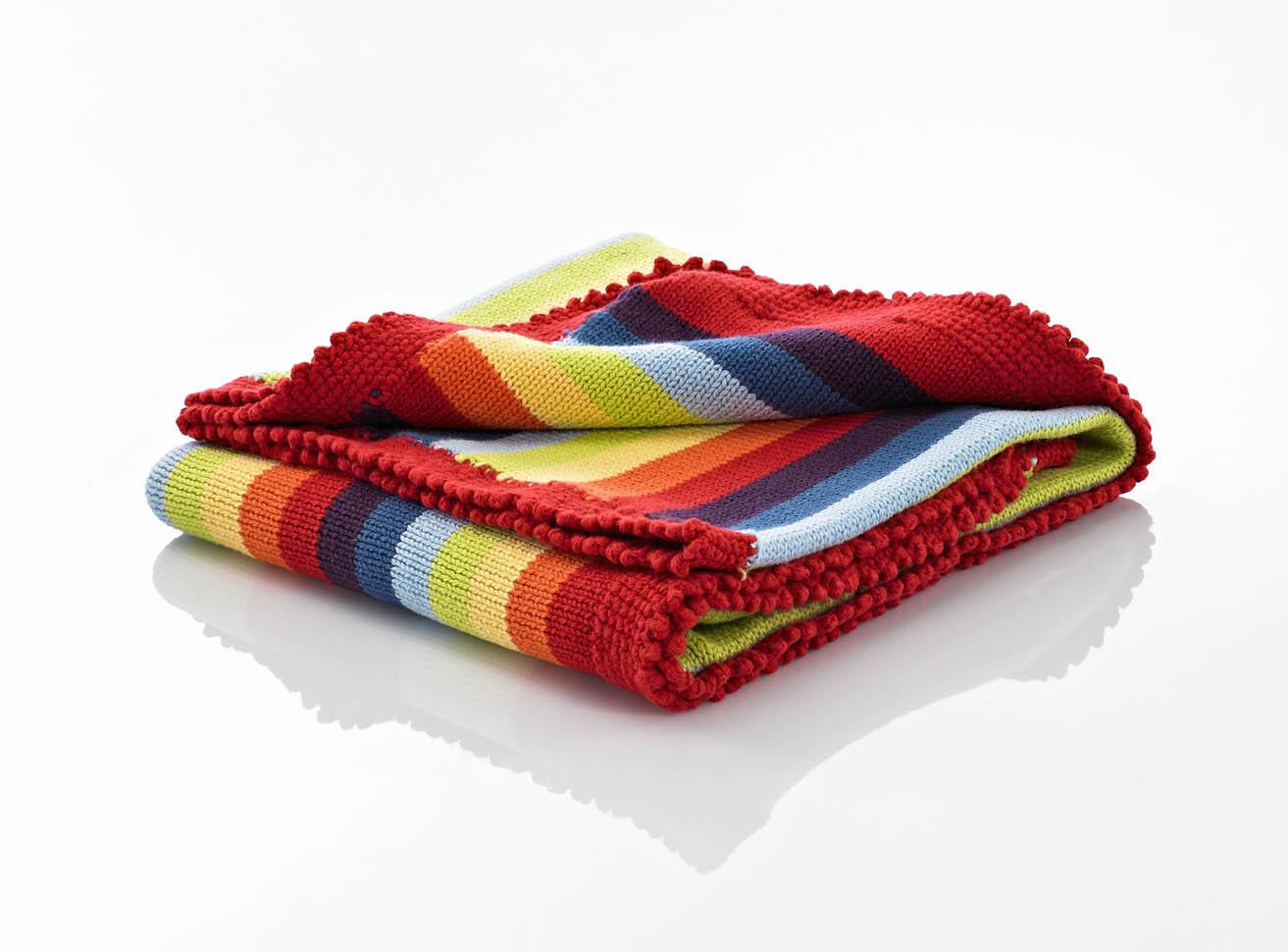 Plus we also have more traditional pinks and blues if you want to theme the blanket with the nursery or pram.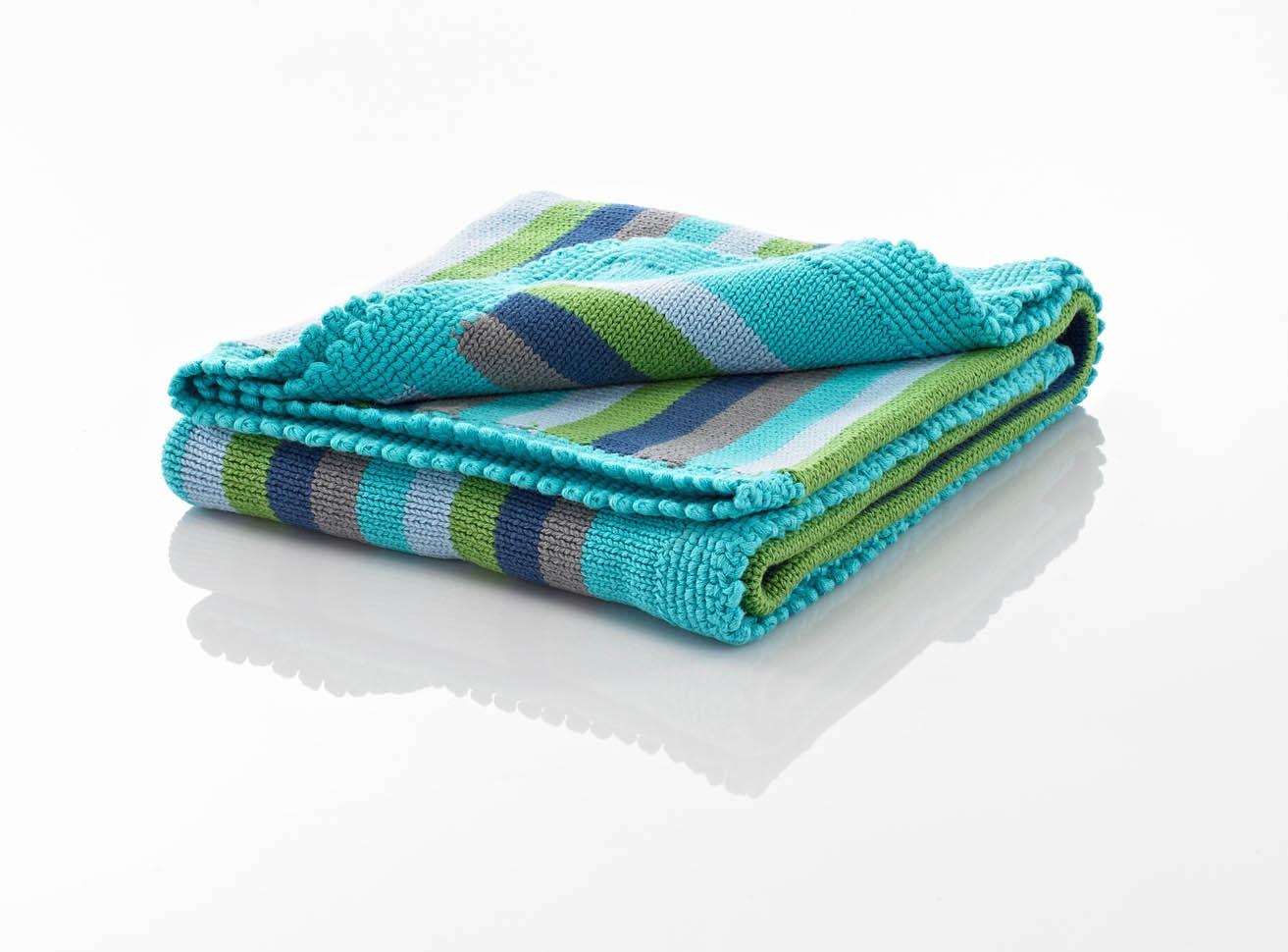 We have co-ordinating baby toy ranges available if you wish to add complimentary toys to your blanket as a baby gift.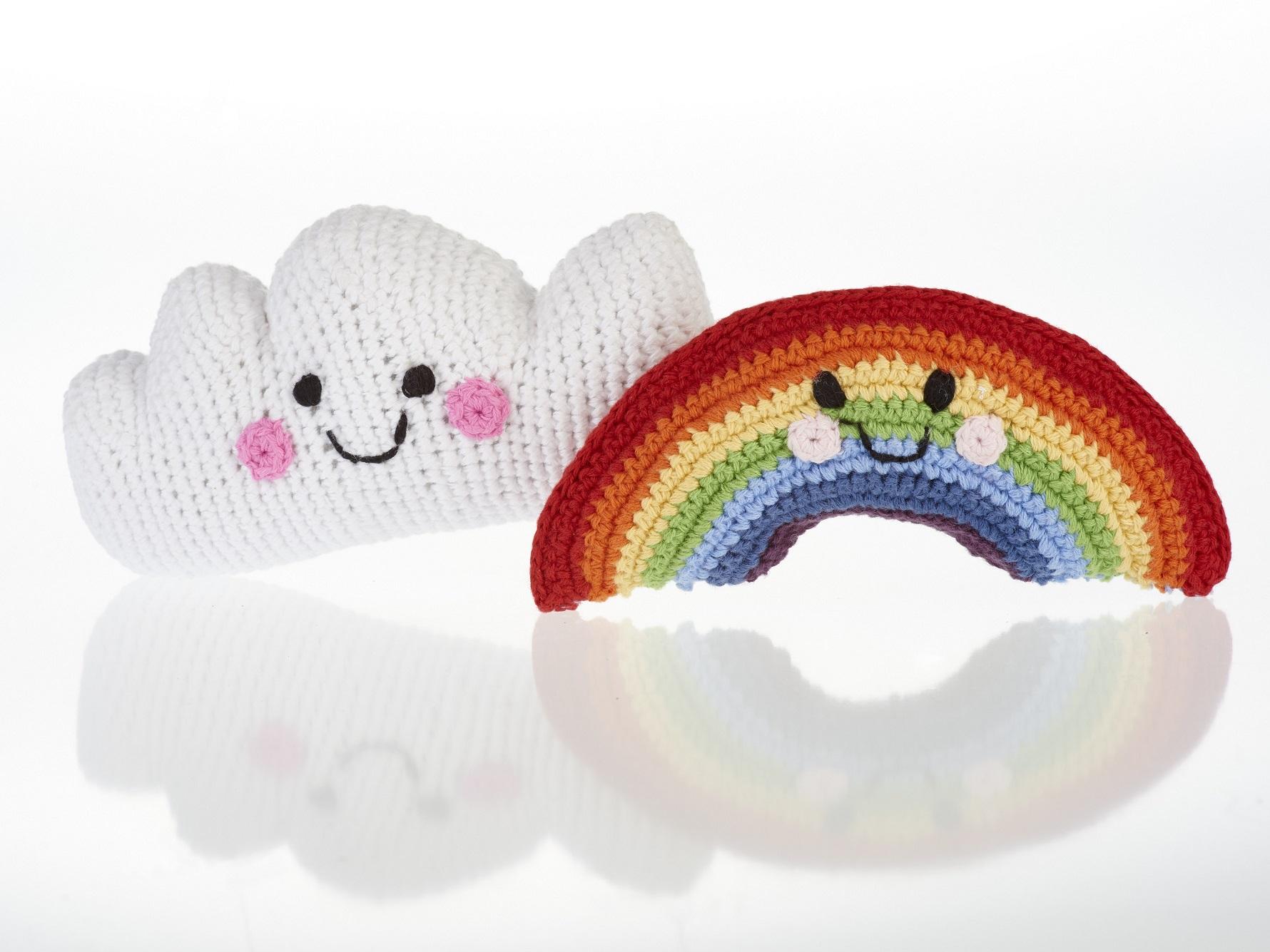 If you are looking for an unusual Christening gift and do not want to give one of many silver picture frames, how about a white knitted blanket? This blanket is beautifully made in a classic cable knit and is one to pass down through the family.  It is fair trade and hand knitted from 100%  cotton and is gorgeously soft and gentle on baby's delicate skin.  As with all of our baby blankets, it is machine washable. This would be ideal also for a newborn baby gift for a special family member or friend.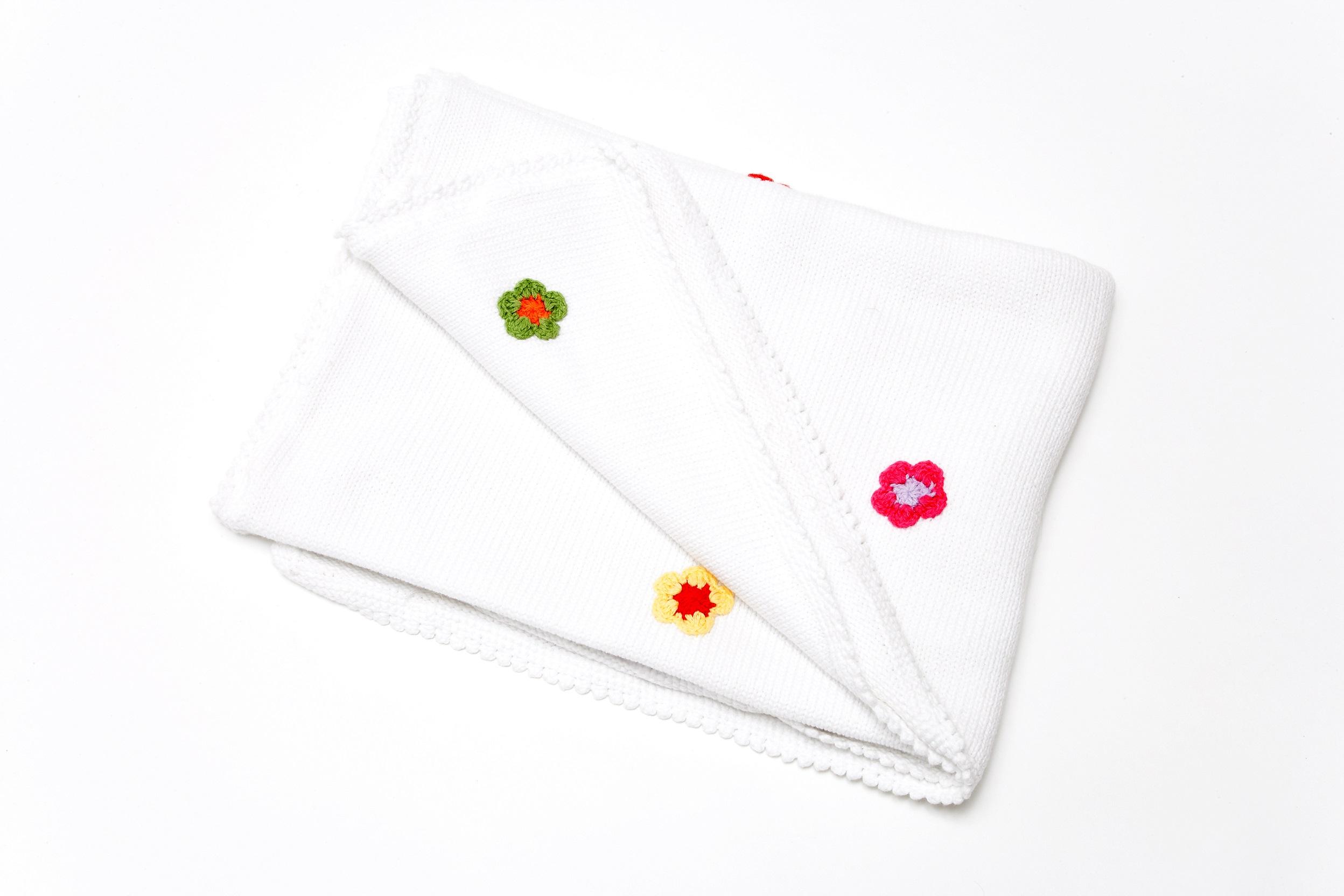 Our top tip is to buy cotton baby blankets which are machine washable. Given that experts recommend parents have a stock of 4 sheets and 3 blankets so that they have spare when others are in the wash then a baby blanket is definitely going to be a welcome gift! 
We think our baby blankets make the perfect baby gift. Not only are they fair trade and handmade they are also available in a rainbow of colours so that you can be sure we have the right colour for the baby you love.