You've come to the right place - Sustainable kids toys and baby toys at your disposal 
Are you trying to reduce your use of plastic? Best Years are very happy to help you when it comes to kids toys and baby toys. 
There has been a lot of press recently about the environment and the impact of plastic pollution. It is being dubbed the Blue Planet Phenomenon after David Attenborough's latest television series elevated awareness of the dangers of plastic to an unprecedented high. 
It doesn't seem that long ago that we all thought that plastic was fantastic. But we are being made increasingly aware what a menace it is to our planet. Synthetic plastic does not biodegrade. It sits in landfill sites, pollutes the environment and is eaten by animals and marine life – with potentially fatal consequences. 
Plastic has dominated the toy industry since WWII when metal became hard to come by, and since then, it has been ever present. Plastic toys tend to be cheap and have very short life spans.
 Hello sustainable kids toys and plastic toys
Toys made from cotton, natural fibres and natural rubber are all very feasible alternatives to plastic. The sustainable toy market was once thought of as niche, but it's growing very quickly to meet demand and here at Best Years we are proud to offer a range of very environmentally friendly, sustainable kids and baby toys. 
Our 'My First Dino' range of rubber dinosaur toys are all made from natural rubber. They are hand made from natural rubber which is harvested locally. The toys are designed and manufactured to be suitable from birth and are excellent for teething babies as they are safe and durable. Their bright colours also make them incredibly appealing to young children and because they don't have holes or collect water, they won't go mouldy if they end up in the bath or paddling pool.
They are great as an alternative to plastic toys because they have the same great play value but they are environmentally friendly and hand made.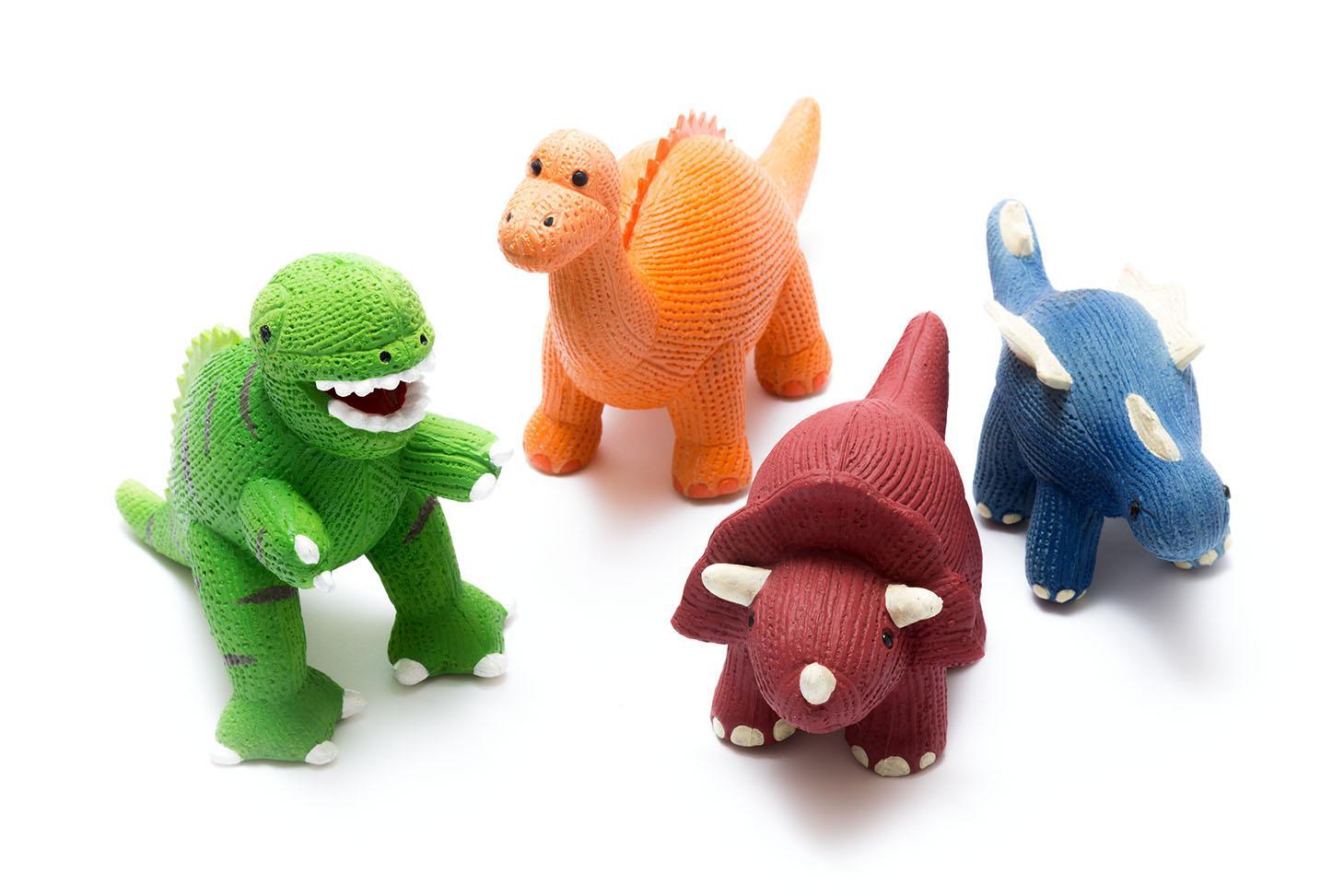 We also have a wide range of natural cotton baby toys, which are organic, fair trade and upcycled. The toys are made from the remnants of cloth which has been produced to make organic baby clothes, cloth which would otherwise be thrown away.
They are all machine washable, and extremely safe. Made from machine washable and hardwearing cotton, and with no gimmicks or buttons, these toys are great for babies.

Our cotton crochet dolls also provide the perfect playmate for any young child. Left to their own devices with dolls like these, children will revert to creative play and imagining their own stories and adventures. The range includes a medieval knight, a princess, a ballerina, a soldier, a pirate and a mermaid. And we think our astronaut and cowboy dolls would give Buzz Light Year and Woody a run for their money!
Our fair trade hand made cotton food rattles are perfect as an alternative to plastic toys and great for use in play kitchens. Bright, fun and extremely tactile, the range includes various pieces of fruit and vegetables, as well as tempting donuts, lollies and drinks. Your child won't want to put them down! The good news is, if they do end up looking a little worse for wear, they can simply be popped in the washing machine, and they'll come out as good as new.

Reducing your use of plastics doesn't have to be a hardship, our toys offer a great alternative to plastic with all the same play value, but more eco credentials.  What are you waiting for? Explore our range…