The Enduring Appeal of Humpty Dumpty Toys
Lisa Lambourn
Our Humpty Dumpty soft toys continue to be a bestseller year after year and seems to be as popular as ever.  The nursery rhyme dates from the late 18th Century and it is over 50 years since Humpty Dumpty first appeared on the BBC children's television series Play School.  So what is it about Humpty Dumpty toys that has given them such longevity? 
Our Pebble Humpty Dumpty Soft toy is handmade from soft cotton by a fair trade organisation in Bangladesh and is part of their 'Once Upon a Time' story time range.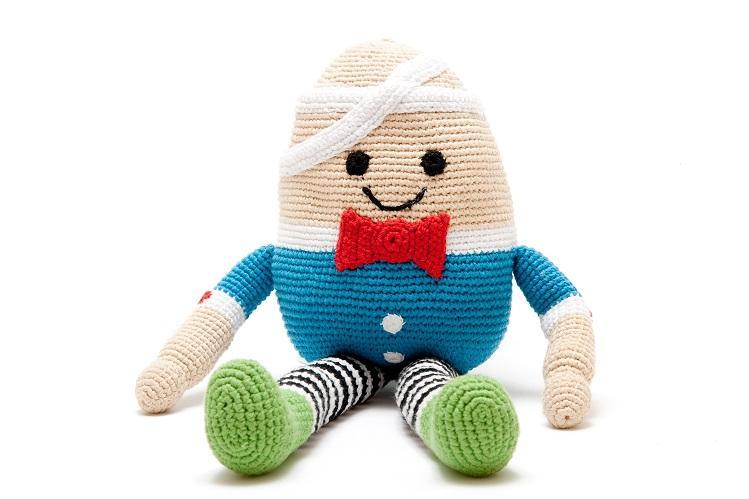 Humpty Dumpty is a character from a nursery rhyme from the late eighteenth century that seems just as popular today as ever.  Its been said that with the increasing popularity of ipads to entertain children, fewer parents are teaching their children nursery rhymes but many parents still do and pre-schools, nurseries and early years providers certainly understand the link between reciting rhymes and a child's emotional and intellectual development.  Learning about word play, understanding a simple story and the socialisation of singing in a group are all benefits of reciting nursery rhymes.  Young children learn best by rote and nursery rhymes help children to develop their speech and language skills.  Despite a supposed decrease in popularity of nursery rhymes, Humpty Dumpty is often sited in lists of the top 10 most popular ones and that may help to explain why our Humpty Dumpty toy is still so popular.  
Another explanation may be the increasing popularity of nostalgia and retro toys.  Humpty Dumpty was first introduced as a soft toy in the BBC children's TV program Play School in 1964.  in 2014 one of the original Humpty Dumpty toys from the TV series was auctioned by Bonhams and raised a staggering £6250 - four times more than expected.  The 50th anniversary of the TV series may have helped increase the popularity but is there more to it?  Are those that grew up in the 60s and 70s nostalgic for simpler times or as the Telegraph newspaper reported in 2017, is there a new generation of 'kidults'?  According to retail analysts, toy sales to adults rose almost two thirds over a 5 year period preceding 2017 and is said to be growing three times faster than the children's toy market.  The so called millenials account for almost half the sales but the baby boomers account for one fifth of the spend, whilst the so called middle aged are less likely to buy toys for themselves as they often have young children at home and plenty of toys in the house.  Lego, Scalextrix, Star Wars models and nerf guns are said to be popular with the 'kidults' and toy companies are taking this into consideration in their marketing and pricing. 
So what is the explanation for the enduring popularity of our Humpty Dumpty toy?  Is it simply nostalgia and perhaps grandparents wanting to buy toys for their grandchildren that they remember from their own childhood?  Or is it adults buying Humpty Dumpty for themselves?  Or is the nursery rhyme Humpty Dumpty still popular with toddlers today and are parents buying toys for their toddlers that reflect their love of the nursery rhyme?  Or a combination of all of these factors?  If you have recently considered buying or have bought a Humpty Dumpty soft toy, we would love to hear why you chose it over the large number of other toys on offer.
Best Years Ltd  www.bestyears.co.uk