Pebble Toys - Sisters Are Doing It For Themselves
Gaynor Humphrey
One of the brilliant things about Pebble Toys are that they are fair trade toys made by in Bangladesh for the benefit of Bangladesh communities.
I heard a brilliant talk from Blenheim Palace in which they made the very good point that if you can't ever change your location and go where the grass is greener, then you are much more inclined to make sure that your impact on your community is a positive one.
Similar to Blenheim Palace, Pebble Toys cannot move location, it was conceived and set up in Bangladesh its future is embedded in to Bangladesh which is where the toys will continue to be made. Over the last 10 years it has grown to the company it is now, employing 12,000 women in rural centres and steadily improving the lives of the people it touches.
The range of toys Pebble now make has grown from the initial 10 designs to where there are now six colours of octopus rattles, and even more fruit and vegetable rattles.
Although still a very poor country Bangladesh itself has been able to make many improvements over the last couple of decades, not least for its women.
For instance, in 1981 just 18% of women could read and write. By 2016 this had increased to 70% with an impressive 94% of 15-24 year old women now being literate.
Right now the Prime Minister, the Speaker of Parliament and the Leader of the Opposition are all women. Bangladesh has the eighth lowest gender gap in political empowerment in the world. In the last 30 years Women's life expectancy has increased from 54 years to 69 years as they have more access to healthcare and the birth rate has fallen from approximately 6 children in the 1980s to an average of 2 children now.
There is obviously still a long way to go and 2 areas which are still of concern are education and child marriage
Schools in Bangladesh fall in to 3 categories. Pre-schools (3 – 6 yr old) are rare and very few children get the chance to attend. Primary school is from 6 – 12 years old and are free for everybody. Secondary education starts at 12 years old but there is usually a cost. Not every family can afford to send all their children to secondary school and it is always the boys who will be prioritised as they are still viewed as the primary wage earner.
They are also wanted at home to help with housework and farming so bit by bit girls drop out of education. This means that there are a lot of girls in rural areas who fall out of education from 12 years old as they work full time to help their families.
The big issue however is child marriage which is still very common in Bangladesh. Around 18% of girls are married by the age of 15 and 52% of girls are married by 18 years old. Child marriage is more common in rural areas where 71% of girls are married before the age of 18, compared to 54% in urban areas. As a European that is almost incomprehensible, but the reason why child marriage is so common is due not just to religious and cultural reasons, but also economic. Parents want to ensure that their daughters are looked after economically and see marriage as a way of achieving this. Dowry is also a driving factor with prices often increasing the older a girl gets. This financial pressure often means that girls from poorer families are more likely to be child brides.
When we first started selling Pebble toys the minimum age at which girls could start work crocheting was 16. This was mainly due to pressure from NGOs who viewed anyone working under the age of 16 as child labour. That's great in theory but if you live and work with people and can understand the reasons behind behaviour that others may condemn then it is better to find a pragmatic solution. This is the reason that Pebble have now started to accept girls of 14 years old as workers.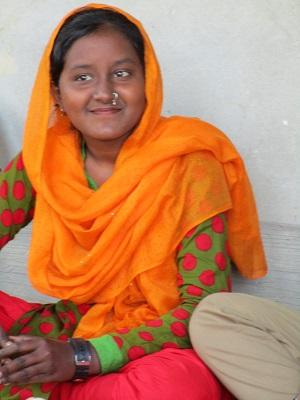 If a girl is earning money then the chances of them avoiding early marriage and staying in education soar. Pebble work has always been designed to fit around the lives of rural women so it provides a perfect way forward to a tricky situation. The work does not require the girls to miss school, crocheting a bunny rattle can be done as and when they have time available.
The girls we met combine their school work with the paid employment from Pebble Toys, crocheting baby rattles after school hours, which means that they are able to continue in education whilst contributing financially to their families. This means that the risk of child marriage reduces significantly and there is a more stable future for the whole family.
Many of the younger girls who we met had their eyes firmly set on university and top government jobs. The ambition they showed was a real pleasure to hear, but what was so heartening was that these girls were surrounded by women not 5 years older than themselves who were proving it could be done. So in one group we had 2 school girls, an amazing lady who was just finishing her masters in Economics and someone training to be a teacher alongside their mothers and grandmothers.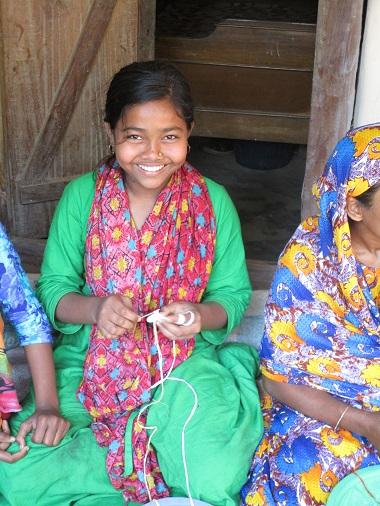 Child marriage can only be overcome if the culture of the people changes. Pebble Toys create communities which empower women to make their own economic choices while staying in their tight knit families.
Pebble Toys are completely embedded in Bangladesh, they are no more likely to move than Blenheim Palace could up sticks from Woodstock and both companies are working in their own communities to ensure that things improve. Brilliant examples of businesses with positive attitudes and the benefits they can bring.