How Are Pebble Toys Made?
Gaynor Humphrey
Everyone who knows us knows that Best Years means knitted and crochet toys. But what is the difference between our knitted dinosaurs and the fair trade and handmade Pebble toys we have?

We often introduce the Pebble Toys saying, "These are fair trade and handmade" but what exactly does this mean, how are they made and why are they made in rural Bangladesh?
This blog hopefully sets out how our wonderful Pebble toys are made and how they bring such benefit to the communities which make them.
Pebble was initially set up when its founder, Samantha, moved to Bangladesh with her two young children. Seeing the poverty all around her she decided that she could not live there unless she somehow did something to make things better.
Bangladesh's economy relies heavily on its garment industry. The garment factories in Dhaka pull many thousands of workers in from the countryside to produce clothing. Although these jobs do generate much needed income there are obvious and well publicised issues. These problems have been well documented, and include the appalling Rana Plaza tragedy where 1000s of factory workers lost their lives when their factory collapsed.
Although life in rural Bangladesh is better than in Dhaka the people are always just one poor harvest away from disaster, and this is why people move in to Dhaka to work in the factories. One failed crop or natural disaster when you had no savings could ruin an entire family. The only solution is to take a job in a factory and send as much of your wages home as possible, but that's never as much as it needs to be once you have paid for your accommodation and food. Unfortunately, this means that people who thought it was a temporary solution end up trapped in factory work while their children are raised by their parents.
Samantha saw that if jobs were created in rural Bangladesh then families could earn money while staying with their families in their own homes. Earning cash would mean that they could build up reserves against a rainy day and secure a more stable future.
However jobs needed to be created which fit in with the rural lifestyle and did not require capital expenditure from either the worker or Pebble. It is simply not possible for women in Bangladesh to work from 9-5pm which is why most other attempts to create jobs in rural Bangladesh had failed.
The solution came with a simple crochet hook. Samantha had always enjoyed knitted and crocheting and had previously sold her own creations in top end establishments in the UK.  She created Pebble Toys to employ women in rural Bangladesh to crochet and make her toy designs which Pebble would then sell in to Europe and America. The women did not have to buy the materials or get involved with selling the toys. They could work around their families and be paid for each toy they made.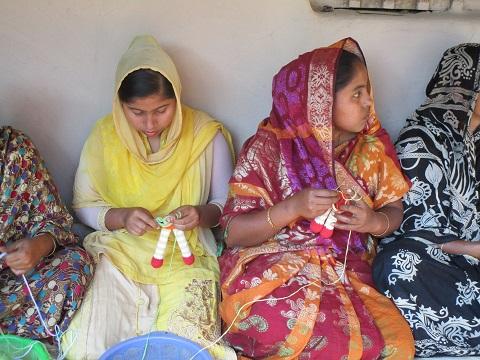 The first designs were introduced in 2009 and included the crochet octopus rattles which still occupy the key slot in our Pebble Toys range.
Other designs followed including our favourite the Humpty Dumpty Toy, play food rattles and the delightful rainbow rattle.
In the 10 years from this simple beginning Pebble has grown to employ 12,000 women in rural Bangladesh and several hundred in Dhaka to manage QA, shipping and sales.  
The days when women would have to take a 24 hour bus in from their villages to bring the toys to Dhaka have been replaced with efficient systems to take materials out from Dhaka to the villages and bring the toys back to the Head Office to be inspected and finished.
The Head Office now has the same safety procedures you would see in a sophisticated factory plus a finishing department to do the most complicated work. It has an amazingly creative sample department so that designs and ideas can quickly be made up to see if the toy is viable.
Best Years have had a long relationship selling Pebble toys in the UK and were Pebble's first major customer.  Pebble toys are well designed, suitable from birth, machine washable and bringing fair trade work to families who need it most.
Best Years Ltd www.bestyears.co.uk