Everyone knows that we have fair trade and organic toys but did you know we also have upcycled organic comforters and wooden toys too? So what is upcycling and how does it work?
Upcycling is even more environmentally friendly than recycling but it is also not talked about as much as it should be.
When you recycle products what happens is that they are broken down in to their base materials and then made in to something very different. So for instance plastic is processed in to pellets or flakes and then used in anything from Garden Furniture to traffic cones and glass is used as a building material
Upcycling takes materials which would normally have gone straight in to landfill and makes them in to something different. There is no additional manufacturing or processing, the material is simply re-purposed in to something equally as useful or gorgeous which increases its value, hence Upcycling.
So Upcycling is even greener than recycling. It does not require additional energy or resources, it simply makes something which had been regarded as waste in to something desirable,
In the days of our Grandparents and before mass manufacturing, Upcycling was a way of life. Old sacks would be routinely made in to clothing and doors would be used as tables. As mass manufacture became more common place and the cost of items decreased it became less frequent but although we hear very little about upcycling it is something that can be done quickly and easily at home.
Examples of upcycling products we have seen range from the cheap and easy – turn that old tissue box in to a bag dispenser.

To the harder but more decorative such as using old mugs and glasses in to light fixtures
To the more impractical – using a bath tub as a seat?
However although any Upcycling is great, and has an impact on the amount of waste we produce, Upcycling in modern manufacturing rather than in purely a domestic basis is a great way of conserving resources and taking products out of our global garbage bin!
It takes materials which would otherwise have been wasted as a by product of manufacture and makes them in to products everyone wants.
We have two Upcycled ranges in Best Years. The first is our organic baby comforters which we have had for years now.
They are made from the off cuts of clothing left over from the manufacture of organic baby clothes.
As everyone who sews knows when you make something there is always material left over. This is doubly so when you make baby clothes as there is also material left on the reel which cannot be used.
We take this fabric and make it in to organic baby comforters. The patterns don't always match up, and there is no continuity of supply as we can only make as many as there is available fabric, but the organic comforters we make from this waste fabric are absolutely gorgeous. Made with organic cotton and stuffed with organic cotton they are really soft to touch but also machine washable so they will last as long as your baby needs them.
This fabric has been Upcycled from potential landfill in to a really lovely, organic product. 
Our 2nd Upcycled range is our new, and totally fabulous, range of wooden toys.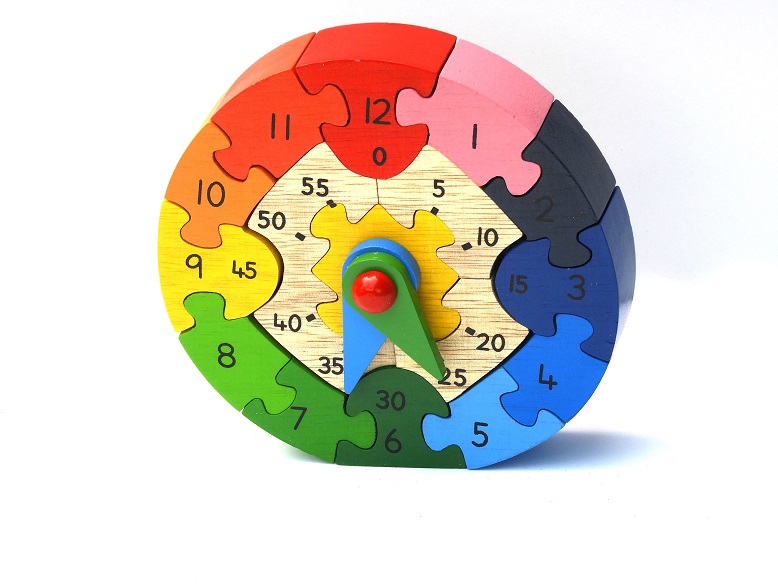 Traditionally we have focussed on knitted and crochet toys and only diverted from this when the producer has a compelling story and product.
This how we came to work with Under the Nile to buy organic baby toys and its also how we are now able to offer wooden toys.
Back in 2018 Traidcraft, one of the oldest and most respected of fair trade wholesalers in the UK, became one of many UK retailers to have to readjust their business to accommodate the issues facing our High Streets. They needed to reduce the amount of products they sold so reluctantly had to discontinue all non-food items.
This had the unfortunate consequence of fair trade producers suddenly losing their UK customer and the call went out to fair trade UK companies to see if anyone could partner with these producers.
A bit like Blind Date for fair trade companies and we fell in love with a producer of fair trade wooden toys.
Our new partner is not only certified fair trade but they also make their toys by using the wood left over from the manufacture of wooden furniture. In the same way that material is left after sewing baby clothes there is also wood left over from the making of furniture, and they upcycle this to make their beautiful wooden toys. Bits of wood that are not big enough to be used in furniture can make some beautiful wooden toys.
We have a range of wooden rainbow stackers , perfect for Open Play it is not only beautiful to look at it is also a toy which can be used to play in so many different ways that it is sure to be a family favourite for many years.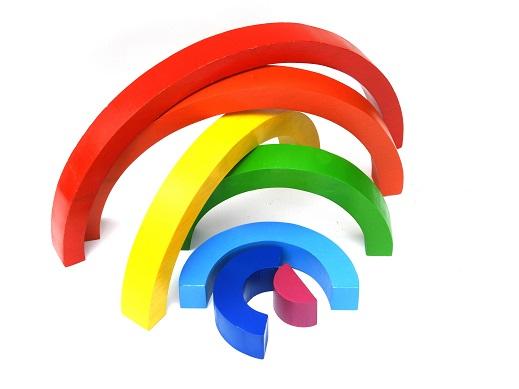 The centre piece of our new wooden toy range is this incredible wooden bus toy with passengers and driver. A beautiful gift for some very lucky child.
Like our organic baby comforters our wooden toys show that waste materials from one industry do not have to go to landfill but can be used to create beautiful, high quality products simply by using a bit of imagination and re-purposing.
The first of our wooden toys are now in stock with new designs being added over the next 6 months. Our organic comforters change every 6 months as we use up fabric and make more.
What do you think of Upcycled toys? Join the debate on our Instagram or Facebook pages.