Great Gifts for Babies who are Fussy Eaters
Gaynor Humphrey
We love it when our toys are in the press and today Stacey Soloman has revealed her love of the Pebble fruit and vegetable rattles. Posting on Instagram Stacey showed off her impressive collection of the knitted toys which Rex obviously loves.
Stacey wrote: "Learning our veggies. He'll be making his own snacks soon."
Stacey has the carrot and leek as well as the avocado, radish and corn but there are a lot more in the collection
Vegetable rattles
Carrot rattle - Always the most popular of our vegetable rattles, easy to grasp and lovely bright orange
Chilli rattle - Spice up playtime with our chilli rattle, and this is one chilli you can put in your mouth!
Toadstool rattle - a little bit of woodland magic with this gorgeous toadstool rattle
Avocado rattle - The trendiest of vegetables for the trendiest of babies
Radish rattle - Easy to hold and shake with bright contrasting colours
Sweetcorn rattle - as sweet as the corn itself with smiley face and contrasting yellow and green cotton
Fruit rattles
Apple rattle - a great way to have an apple a day with our bright red apple rattle
Pineapple rattle - soft yellow rattle with friendly smiling face
Orange rattle - contrasting orange and brown and a friendly face means there is nothing sharp about this orange rattle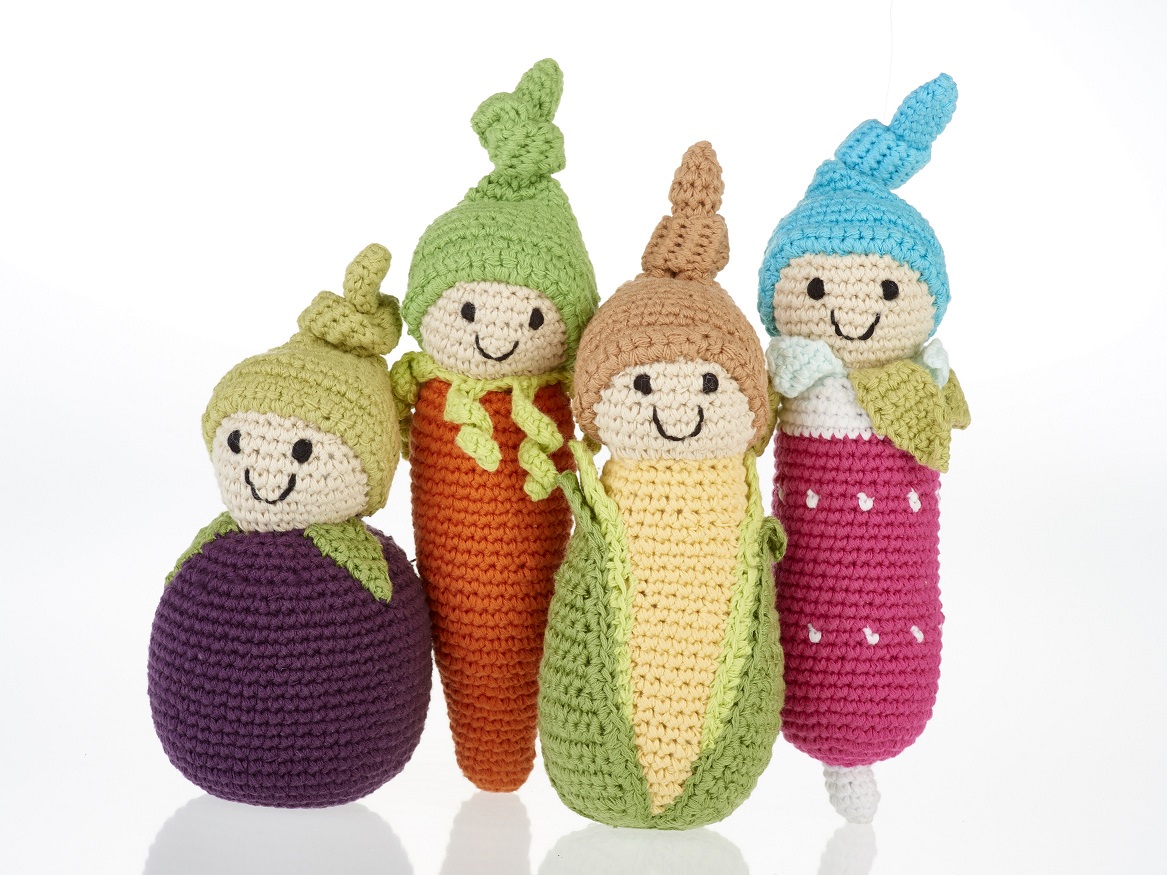 These baby rattles are great baby gifts as they are fair trade and handmade and suitable from birth. We think they would be especially great for parents struggling with fussy eaters. Playing with the vegetables will allow for conversations about food which are at a time when you are not trying to get them to eat!
As someone who had 2 kids who were exceptionally picky when it came to food I share your frustration if you have a child who pushes their food around their plate and refuses to eat. I don't believe that it is a straight case of nature vs nurture, and If your kids are not eating it definitely doesn't help insinuating that this is something to do with your parenting skills.
Having a child that doesn't eat well is difficult enough without blaming yourself. Going out for dinner is just about impossible and going to other people's houses for tea more stressful than a pleasure.
Talking about it now my girls just remember that it wasn't always the taste that was the problem but more frequently the texture. Foods that were mixed together (even pizza and definitely pies) were a real problem for them
So my top tips for babies and young children who are fussy eaters are
Separate food on to different plates, or have a plate with different sections so the food doesn't touch. This way they can identify if there are different foods which they like or dislike
Don't put too much effort in to preparation of meals. If you have slaved over a hot stove for hours to prepare a beautiful meal its actually very emotional for it to be rejected out of hand. Cut up some veg and blocks of cheese or bits of cold meat and allow the kids to pick the bits they want to eat.
If you are able, and your child is old enough, then including your child in the preparation of the meal is a great way to get them accustomed to touch and feel of food.
Allow young kids to take food off your plate to try. If you are eating and enjoying your food then they will pick up on it. At a time when my kids were down just to pasta and cheese they would eat salmon after they had tried it from their Dad's plate.
Have a snack plate with different foods on it out and available at other times apart from mealtimes. If they see different food about when they are not expected or required to eat it then they are sometimes curious enough to try it.
Despite their refusal to eat even foods such as pizza my kids are now adults, they are both tall and healthy and one is very sporty. They also eat pretty much everything! I only wish that I had known how they would turn out when I was weeping over their complete refusal to eat sausages or spaghetti.