What do you get if you combine on trend nursery colours with organic knitted cotton? Our new Sweet Baby range of toys including elephants, bunnies and of course a dinosaur toys.
When we start to design a new range of baby toys we start with lots of research rather than sketching. Our new range of Sweet Baby organic baby toys started with looking at how nurseries have changed over recent years.
The houses built over the last 10 years are significantly smaller than in previous decades, and for the first time ever more houses are built with 2 or less bedrooms than 3 or more.
Planning the nursery has always been a special, and sometimes expensive part of preparing for your baby. A recent survey found that parents spent over 20 hours ensuring the nursery was ready and it cost over £800. Typically the room gets redecorated once every 2 years as the child grows up and this costs a further £900 a time including new beds and furniture.
In recent years the trend in nursery décor has been away from the traditional pinks and blues through to more natural and gender neutral colours. The most popular colour for nurseries is actually now grey, and this includes both walls and furniture. It is a colour which lends itself to many different interpretations, it looks beautiful with traditional pinks and blues, it can both be jazzed up with bright rainbow accessories or it can be themed with teal and mustard to make a contemporary feel to your nursery.
It is also a lot easier to update as your child becomes older, and it also means that the room suits both baby and toddler if parents have a 2nd child.
Another influence behind the increased popularity of more neutral colours is the rise of home working. If your nursery has occasionally to double as your home office, it is a lot easier to work and take zoom calls if the room is more neutral.
The final trend in nurseries is sustainability. Parents are now increasingly concerned about the provenance of their nursery and opt for organic, fair trade or upcycled where ever possible.
It is with these trends in mind that we sat down in 2019 to design a range of organic baby toys in a range of muted colours perfect for the contemporary nurseries.
Knitted fabric is perfect for baby toys as it is both tactile and machine washable. Using organic cotton means the baby toys are both sustainable and it also gives a softer feel to the toys.
To get the right look and feel we wanted we have started to work with a new organic toy partner in India. We have not worked with producers from India before but our friends and colleagues who make organic baby clothes have been sourcing in India for a long while and it is now seen as one of the main centres for organic cotton. After much searching we were delighted to meet a potential new partner in 2019 and we visited their production facility in January to audit their safety and ensure we were happy to work with them.
We obviously had to have a dinosaur toy in the range and so our popular diplodocus rattles got a make over to this gorgeous Dinosaur toy. The combination of knitted fabric and the teal spots gives different textures and appeal to the baby's sense of touch while the long neck and tail are easy for the baby to grab and hold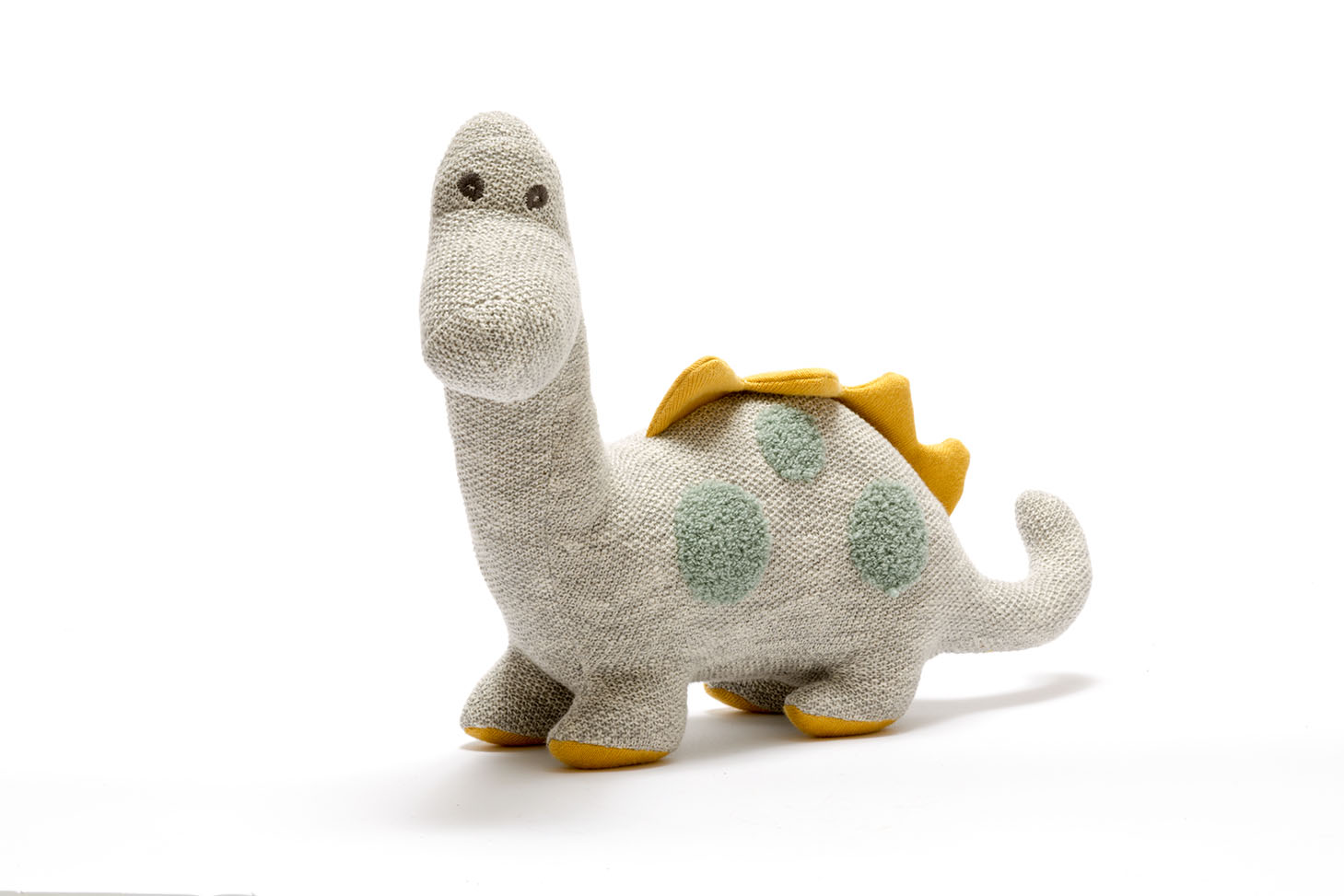 Our knitted pink and blue elephant rattles have always been popular so it was great fun to move them to new on trend colours of teal and mustard. Soft knitted fabric, an easy to hold size and grab able ears make these a perfect baby toy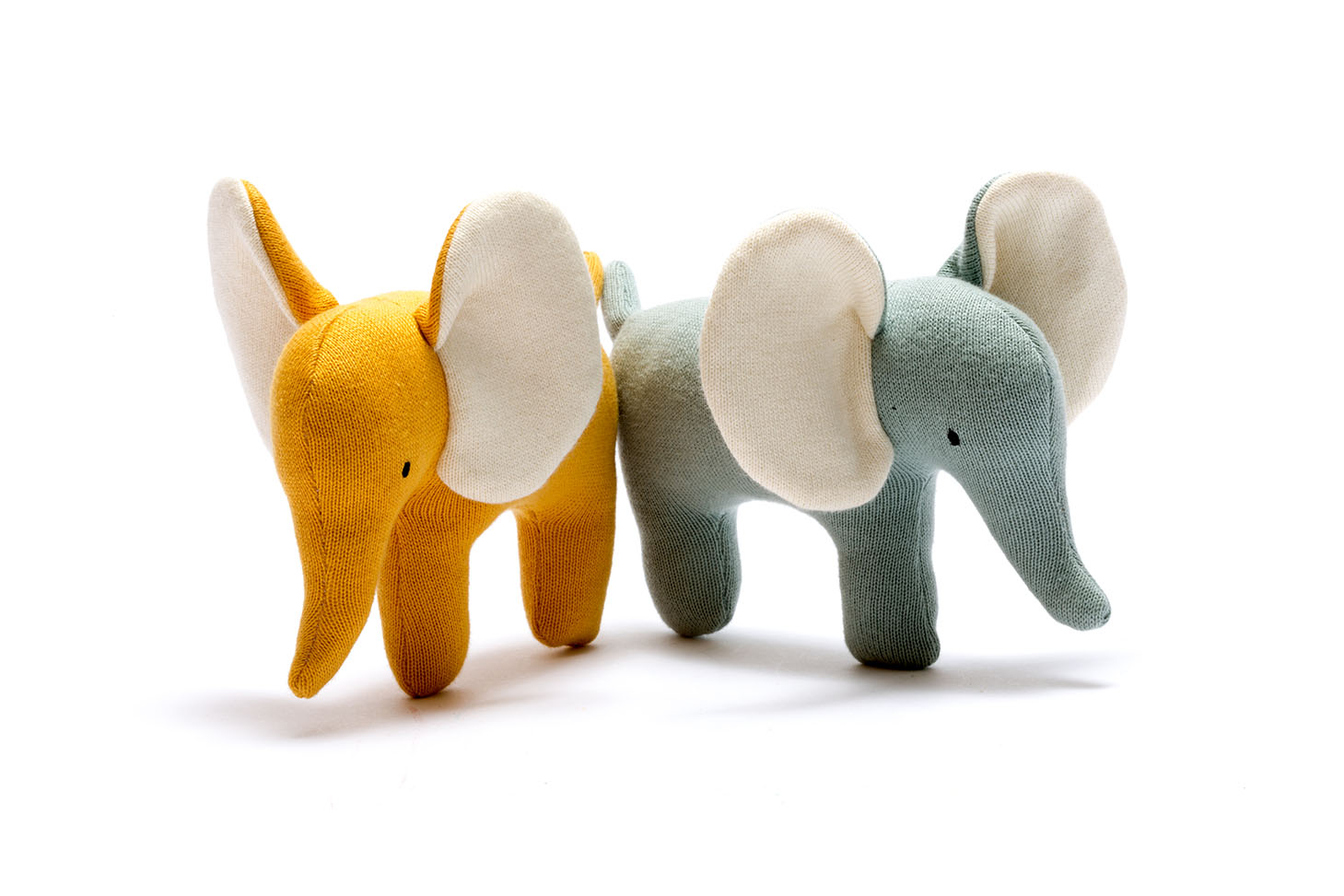 We liked them so much we did them as a large toys too.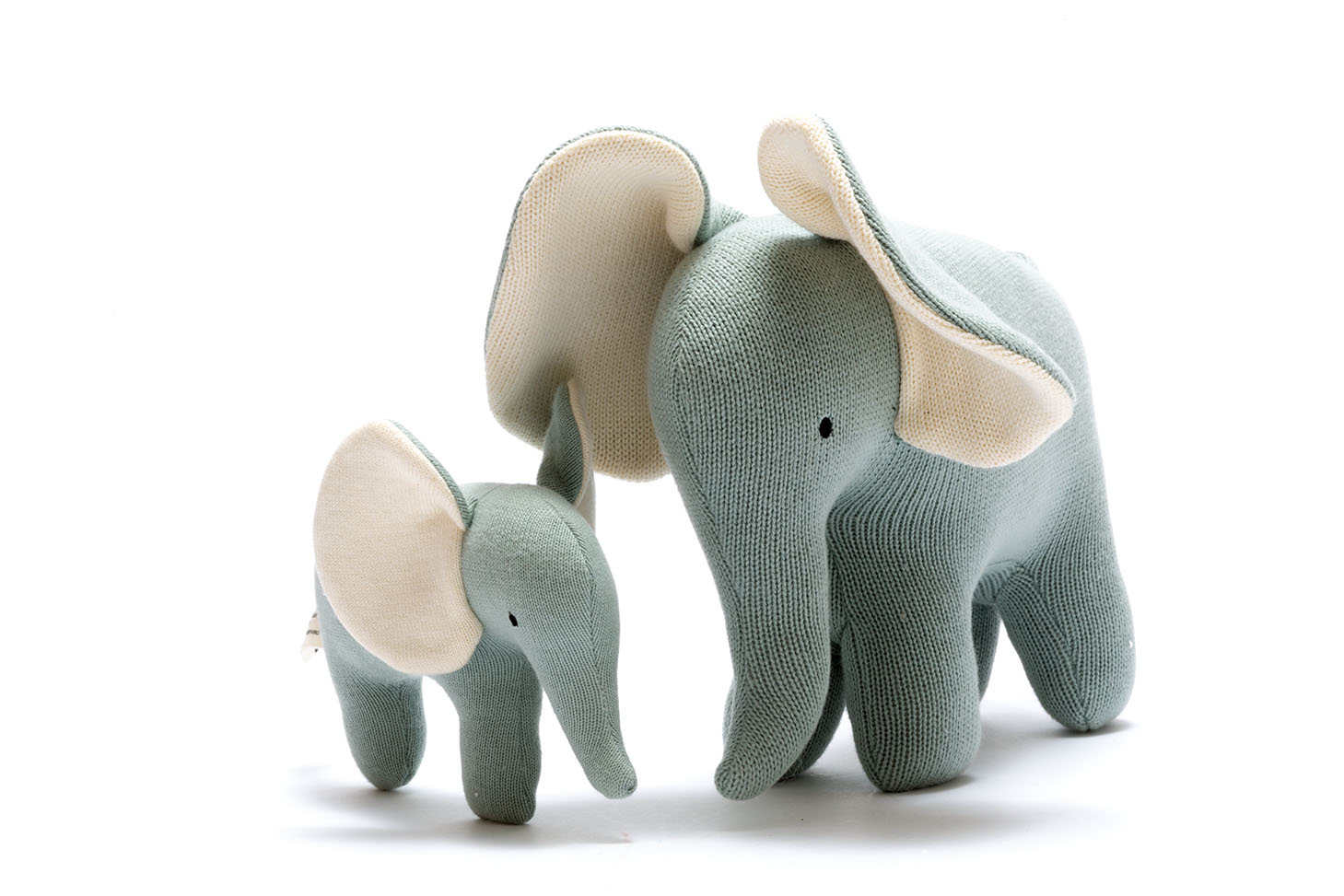 To finish off what baby toy range would be complete without bunnies? Our bunnies are a great size for baby toys, combine tactile organic cotton with floppy arms and legs and soft ears.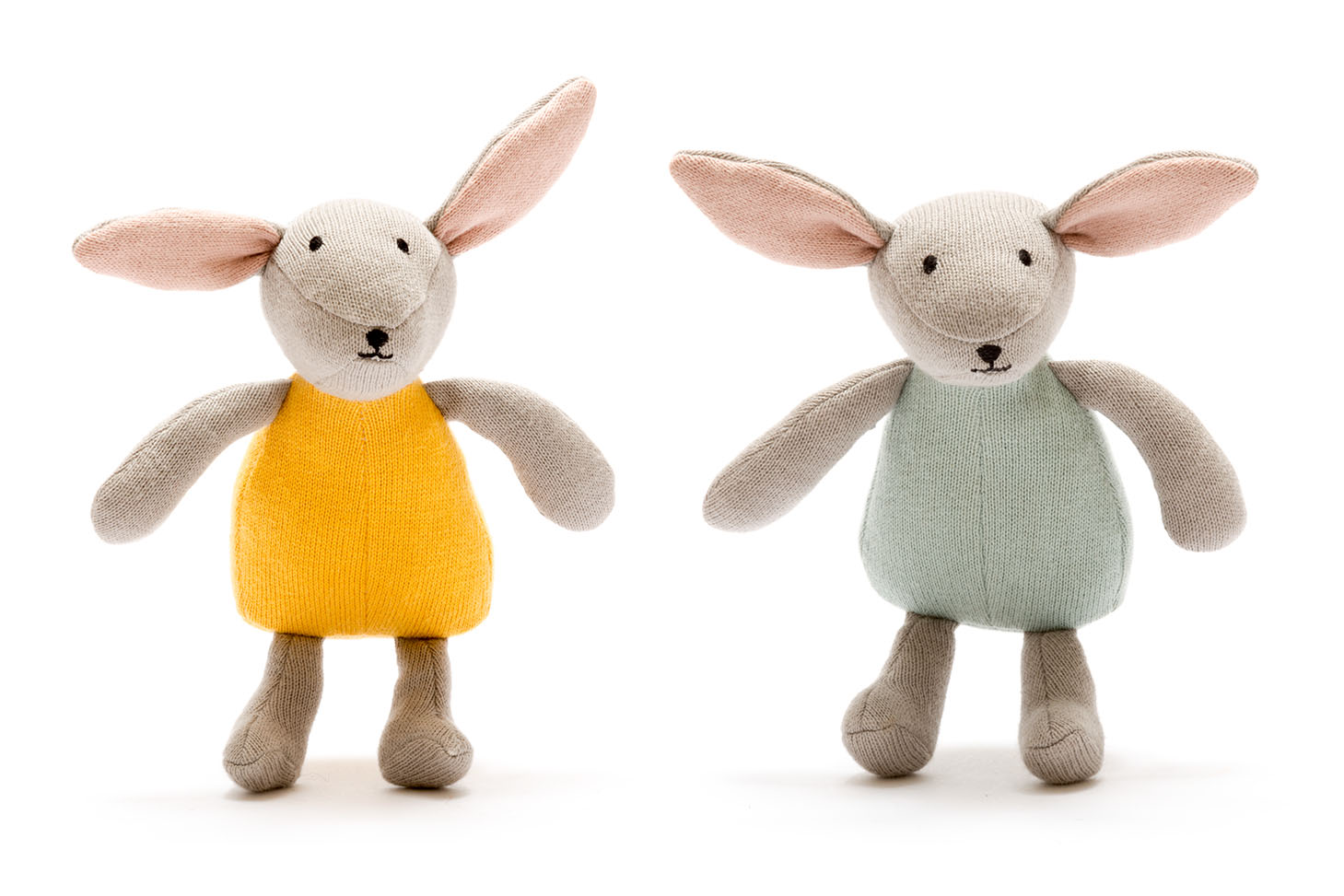 The new Sweet Baby range arrives by the end of August but drop us a line if you would like any more information on the range.