Most babies with eczema develop it before they reach their first birthdays which is why we have baby toys specifically designed and manufactured to be suitable for babies with eczema.
Did you know that almost 20% of babies in the UK have eczema? Eczema is a dry, itchy skin condition which normally shows for the first time before your baby is six months old. Luckily Eczema clears up or significantly improves in many children as they get older.
Flare-ups can come from skin contact with soap, shampoo, pollen or other irritating substances and chemicals, and many people believe that house mites also cause Eczema flare ups.
We were asked by a customer which of our toys were suitable for eczema sufferers which led us in to doing research as how we could make our baby toys suitable for babies with eczema. Like bedding and clothes, soft toys can attract dust mites and other allergens and irritants. They may also contain dyes and materials that could be irritating or cause allergy or asthma symptoms so we looked to see how we could make our baby toys as safe as possible if your baby has eczema.
Obviously we talked first to the Eczema Society. They were very friendly and approachable but they don't run a 'kite mark' type accreditation scheme. Their advice for toys is similar to their advice for clothing. If possible use pure cotton and to avoid toys with rough seams, threads and/or fastenings that could irritate the skin.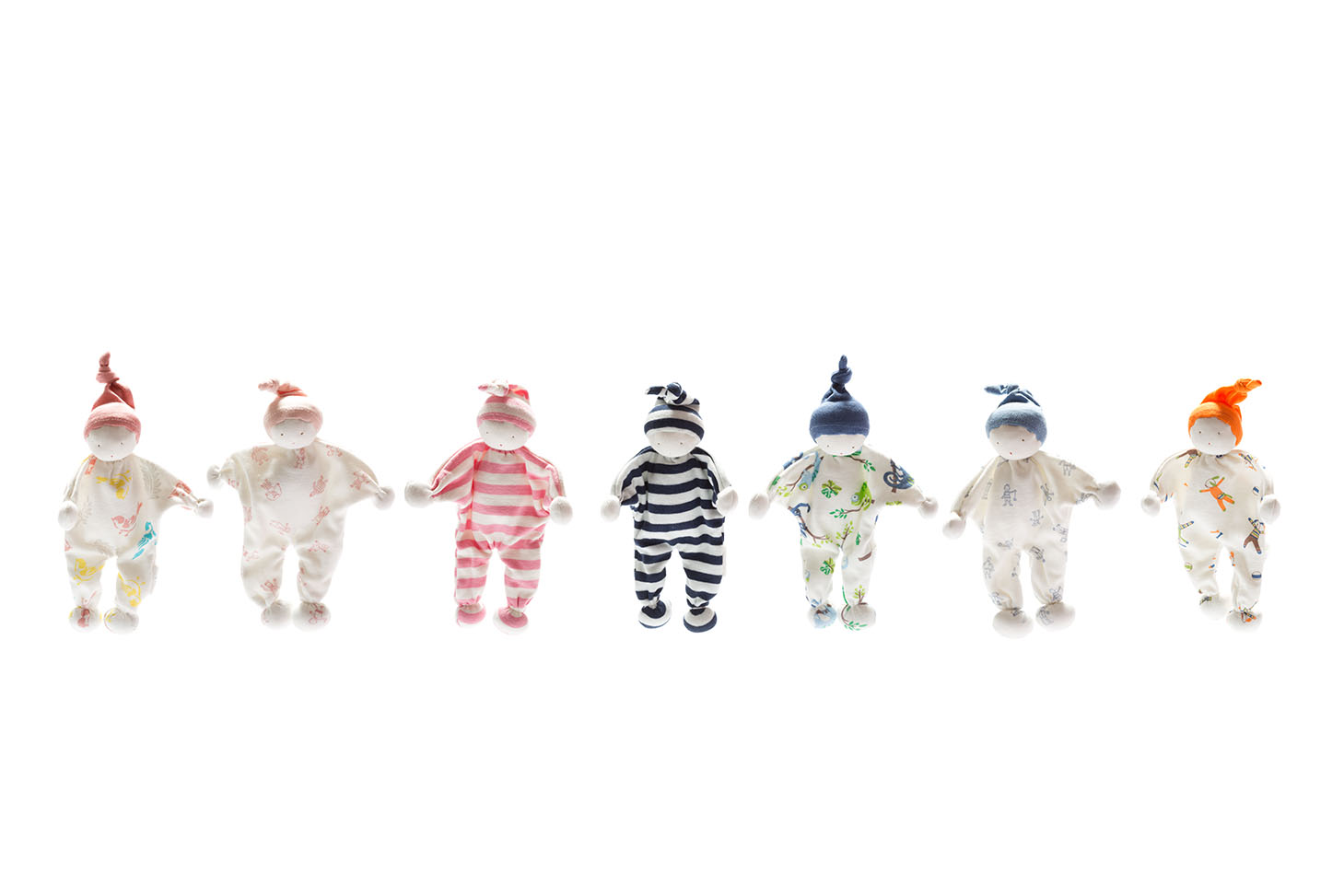 Our 100% organic cotton baby toys certainly meet these standards but in addition to following this advice from The Eczema society we look for out toys to have the following attributes before we label any of our toys as being eczema friendly
We need to be sure that the toys don't have any chemicals which are thought to trigger any allergic reaction especially eczema and asthma.
Holds up to the wear and tear of regular cleaning
No chance of the dyes in the fabric being transferred to the baby
Probably the most important thing is that the toy can be washed. For best results the toy should be washed at 60 degrees but another way is to wash at 40 degrees and then freeze for another 24 hours just to make sure that any dust mites have been killed.
This is why we now label 100% organic baby toys and baby comforters as great for babies with eczema. They conform to all these requirements and as well as being organic they are also fair trade and upcycled too.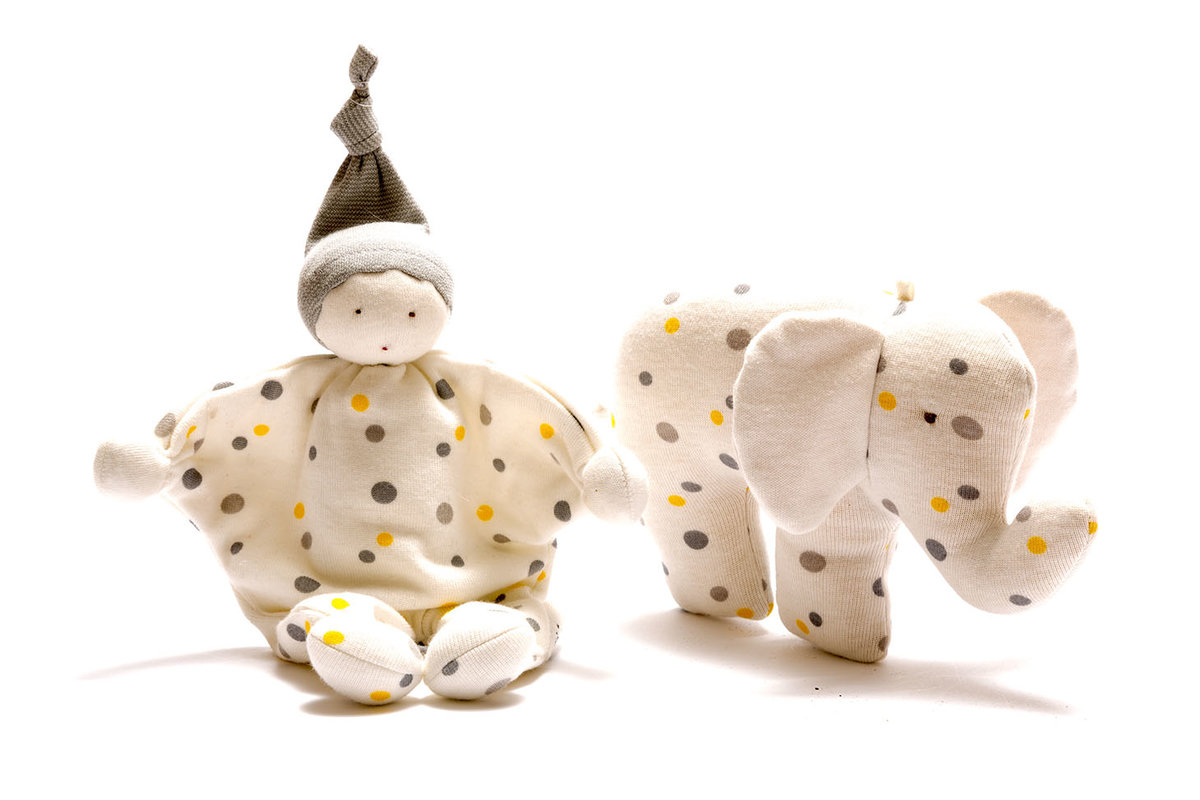 In addition, we also label our natural rubber My First Dinosaur toys as suitable for babies with eczema too. They are hand made from 100% natural rubber which is soft to touch and non-allergic. All the dyes are designed to be suitable for new born babies and they are applied as the toy is made, not as a finishing touch afterwards so absolutely no chance of transference.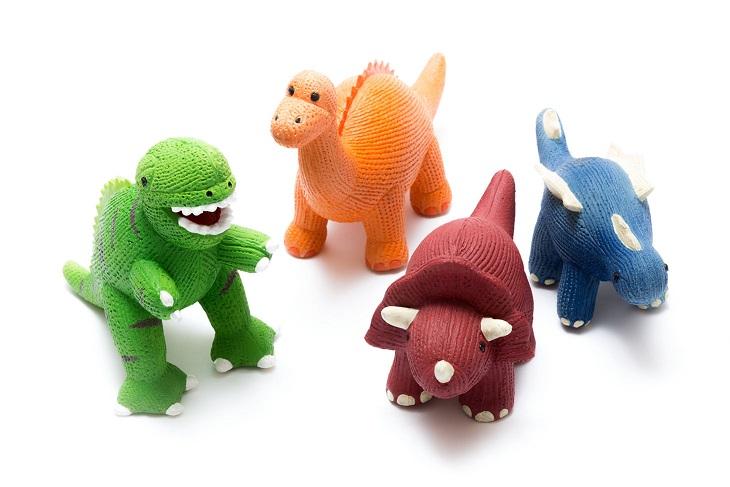 3 Top Tips for baby toys for babies with eczema
For Tummy Time or when playing with your baby put a cotton sheet down on the carpet for so your baby isn't in direct contact with the carpet or rug which can be a place where house dust mites are.
Store your baby toys in a toy box, a sealed container or in a cupboard to help keep them free from dust
Regularly wash all soft toys to get rid of the creatures and their droppings. We have a blog on how to best clean your baby toys here.
For more information on any of our baby toys please see our website or our Instagram or Facebook posts.