We are very proud of our fair trade and handmade wooden rainbow toys. Like other rainbow toys it is great for open play but what sets ours apart from the other rainbow toys you can buy?
The first thing which sets our wooden rainbow toys apart is that they are the only wooden rainbow toys which are fair trade. We work with a WFTO certified producer to make our range of fair trade and handmade wooden toys.
WFTO (World Fair Trade Organisation) was set up in 1989 and has a guarantee system to ensure that their members are verifiably Fair Trade Enterprises. They mentor and promote businesses which put people and the planet first. In order to gain WFTO status organisations have to go through a vigorous vetting process which is why we are so proud to partner with a WFTO business to make our wooden toys.
They are also made from Upcycled wood. The wood they are made from comes from Albizia trees from a tea plantation in northern Sri Lanka. Albizia trees are grown in the tea plantations to provide shade to the tea plants. They are a fast growing trees and grow up to 70 feet so after a couple of years they stop being a help to the tea plants and instead start taking the moisture the tea plants need from the soil. At this point they are chopped down and although not exactly waste they are a bit like Xmas trees in January, still useful but no longer any use except as firewood. The albizia wood is light in colour, soft and lightweight so perfect for making toys.
Which makes our wooden rainbow toys uniquely fair trade, handmade and upcycled.
But the differences between our wooden rainbow toys and the rest of them don't stop there.
Our wooden rainbow toy is 28.5cm x 2.5cm x 14cm which is narrower than a lot of the wooden rainbow toys available on the market. We designed it this way because it suits the lightweight nature of the wood we use and it also makes it easier for small children to grasp the rainbow pieces.
Arriving in Autumn 2020 we are able to offer our wooden rainbow toys in a unique range of colours. We took inspiration from the most popular nursery colours to create both pink and blue wooden rainbows with colours growing from pastel to bright to darker shades. We also have a black and white wooden rainbow which is great as a sensory toy, a pastel rainbow for those people who like softer colours and finally a contemporary rainbow toy using on trend shades of mustard and teal.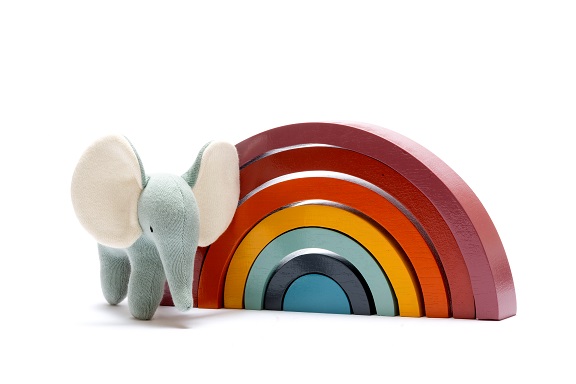 So it's fair trade, it's upcycled, it's dimensions are different and it is available in a wide variety of unique colours. Are those the only differences between our rainbow toys and others which are available?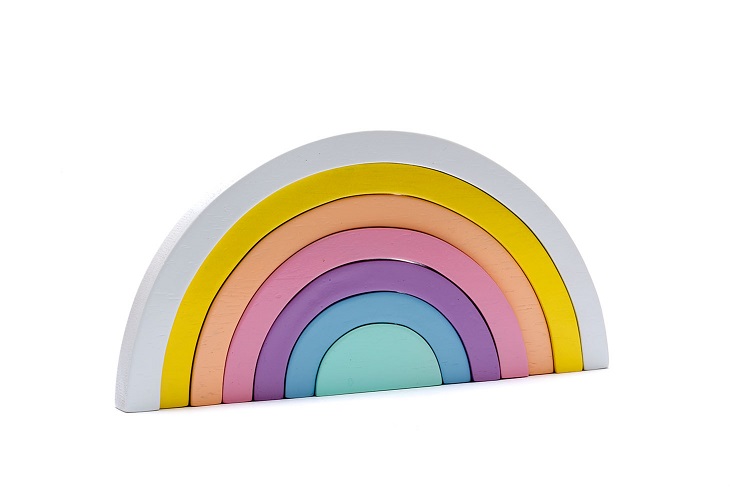 For many people the biggest difference will be our price. As we are a small company and our fair trade partner is also tiny we do not have the overheads of larger companies which means our prices are very competitive.

Selling at just £19.99 for a handmade, fair trade 7 piece wooden rainbow toy it is a lot more affordable than even mass produced wooden rainbow toys, and it is definitely more affordable than other handmade wooden toys.