Our Bestselling Animal Toys
Lisa Lambourn
At Best Years we have a wide range of crochet & knitted toys.  We are famous for our bestselling knitted dinosaur soft toys but we also offer a large selection of animal soft toys.  We thought it would be helpful to compile a list of our bestselling animal soft toys  - we understand that sometimes too much choice can be a little overwhelming.
1. Flamingos
The Tropical Trend has continued in 2017 with palm trees, pineapples and flamingos appearing on clothing, interior design and home decor and of course this has trickled down into toys and kids accessories.  Our flamingo toys have proven to be extremely popular this year.  They are pink and fluffy and definitely eye catching and are an ideal Christmas gift for babies and young children.  Who doesn't love a pink and fluffy flamingo soft toy?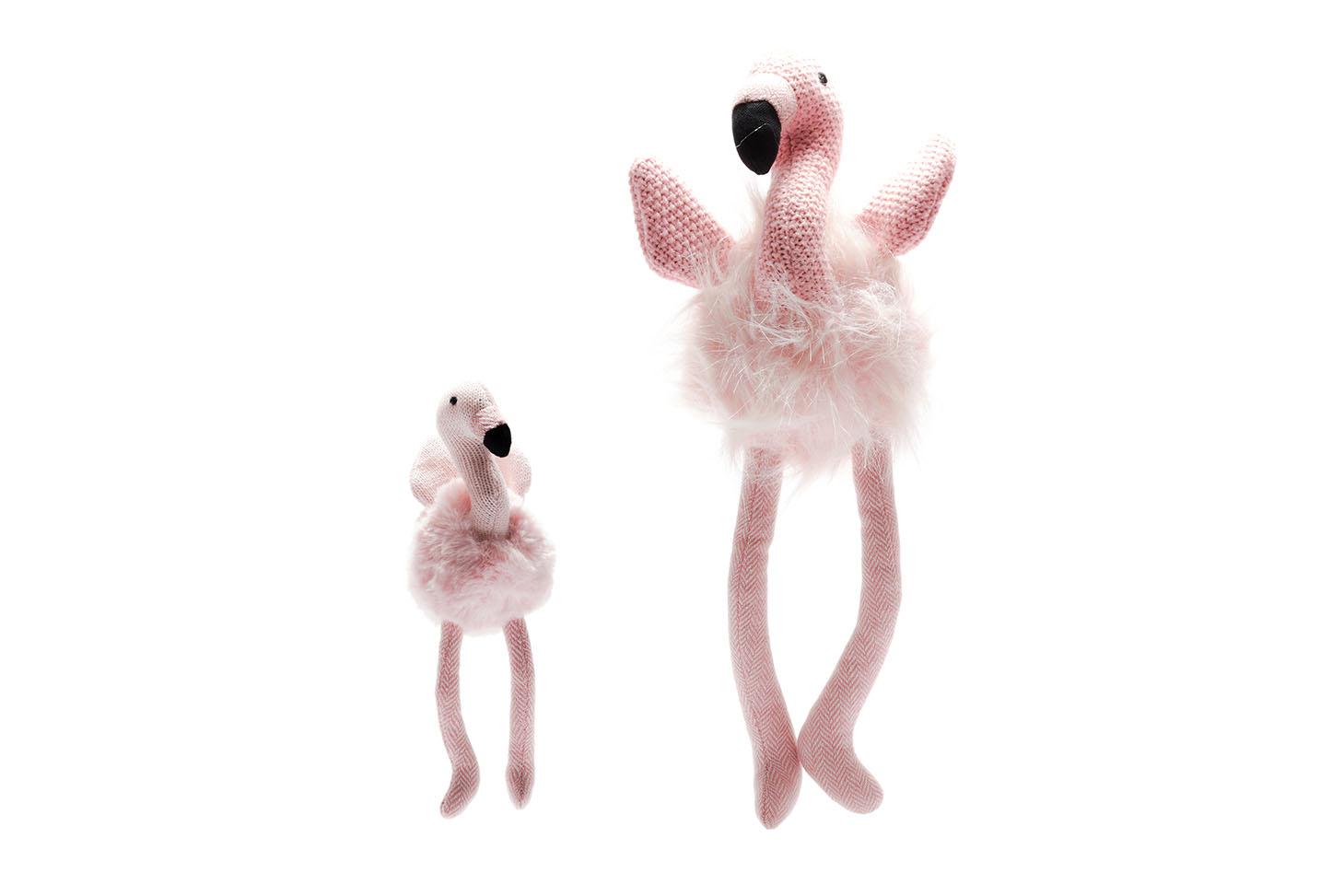 For more information about our Flamingo Soft Toy & Baby Rattle Click Here
2. Sausage Dog
The UK is known as being a nation of dog lovers with an estimated population of 8.5 million dogs. It's probably no surprise then that our Knitted Sausage Dog continues to be one of our bestselling animal toys.  With its gorgeous stripe jumper and endearing face, this little dog is sure to become a best friend and will be happy to stay home on a wet day - the ideal pet!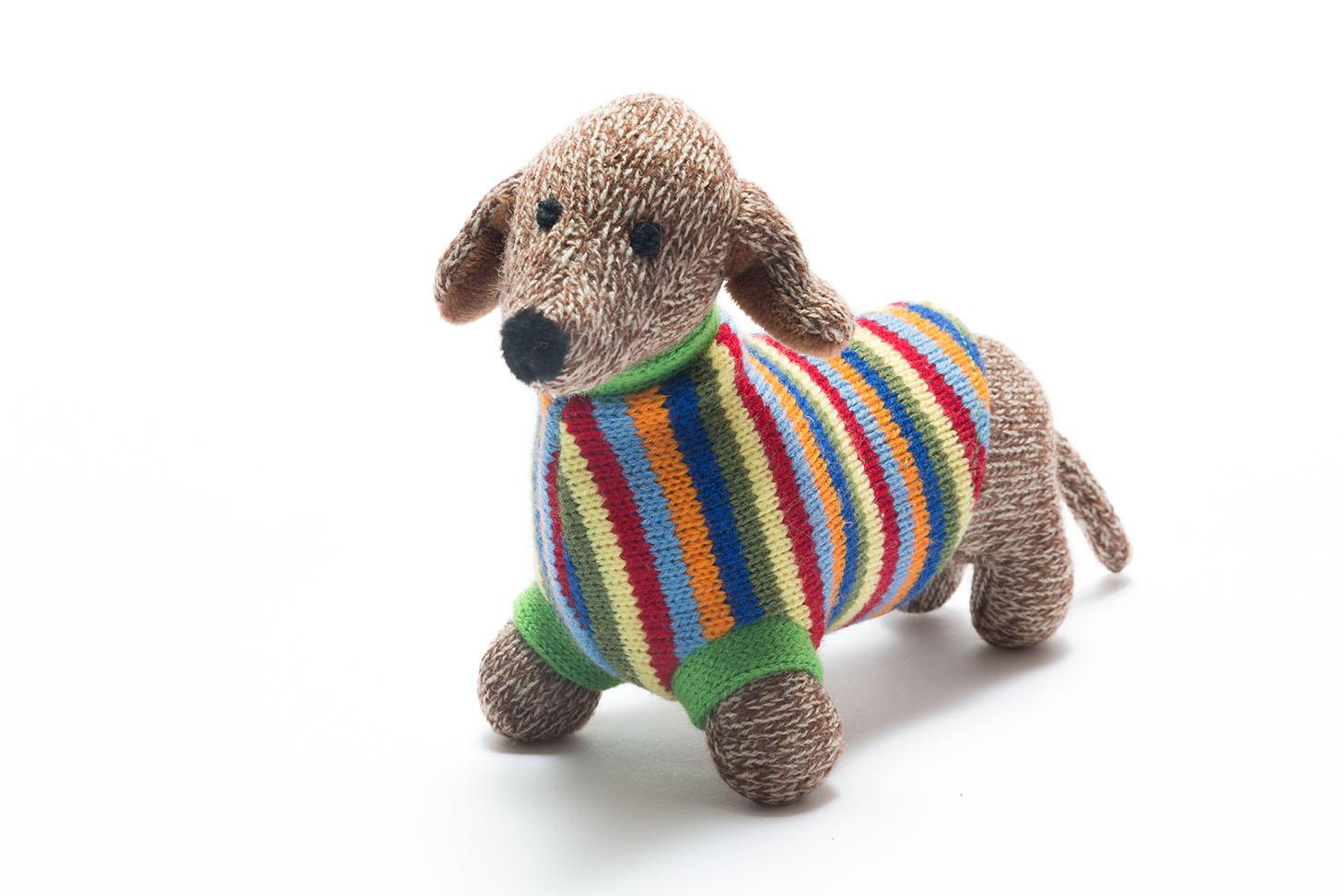 For more information about our Knitted Sausage Dog, please Click Here. 
3. Giraffe Toys
With their long necks and blue tongues, giraffes are a fascinating species and always draw a big crowd of admirers at wildlife parks.  They make great toys as their long necks and legs are easy for babies and young children to grasp onto.  The crochet cotton is tactile and stimulating for babies and as with all of our toys, the giraffes are machine washable and suitable from birth.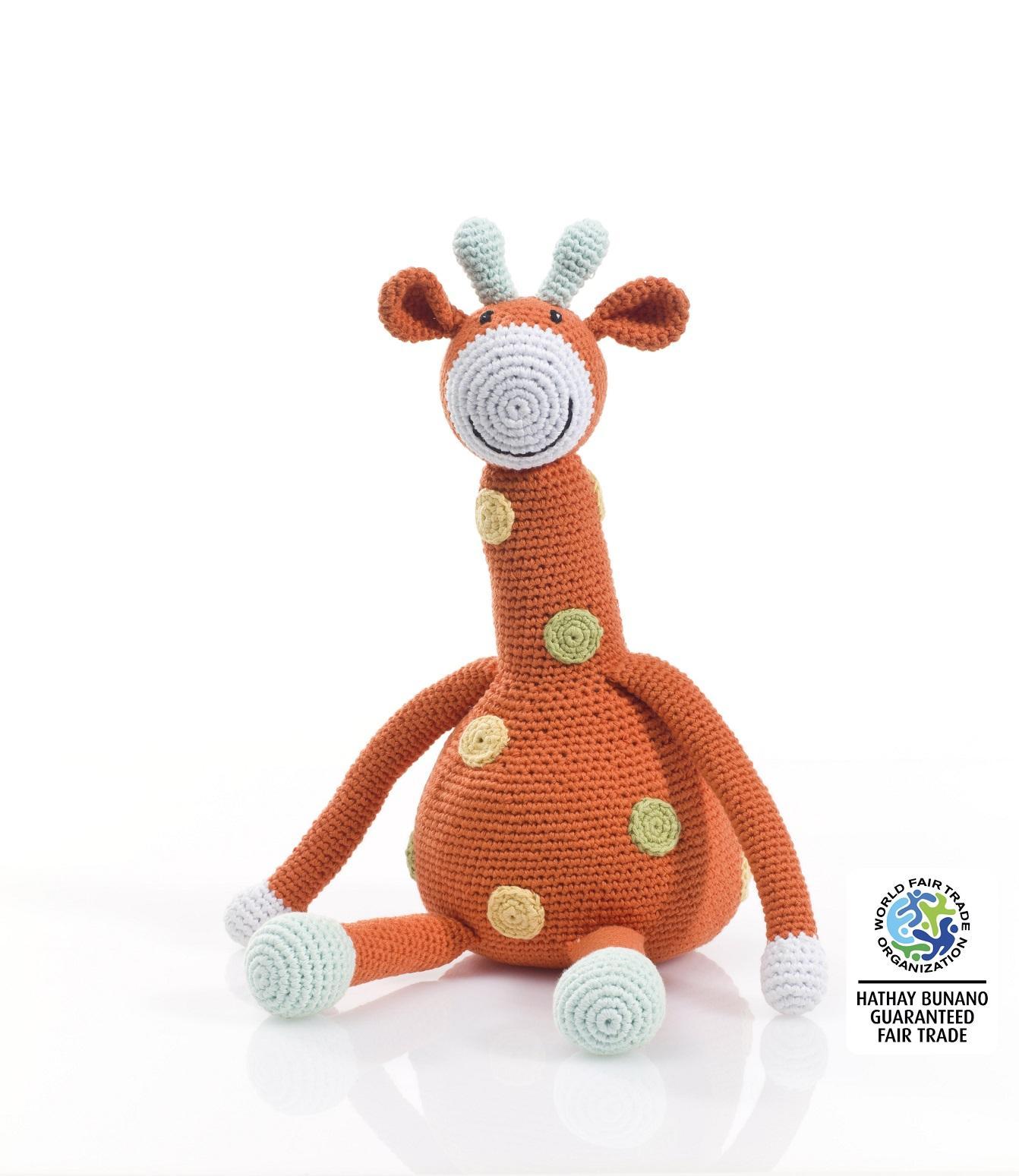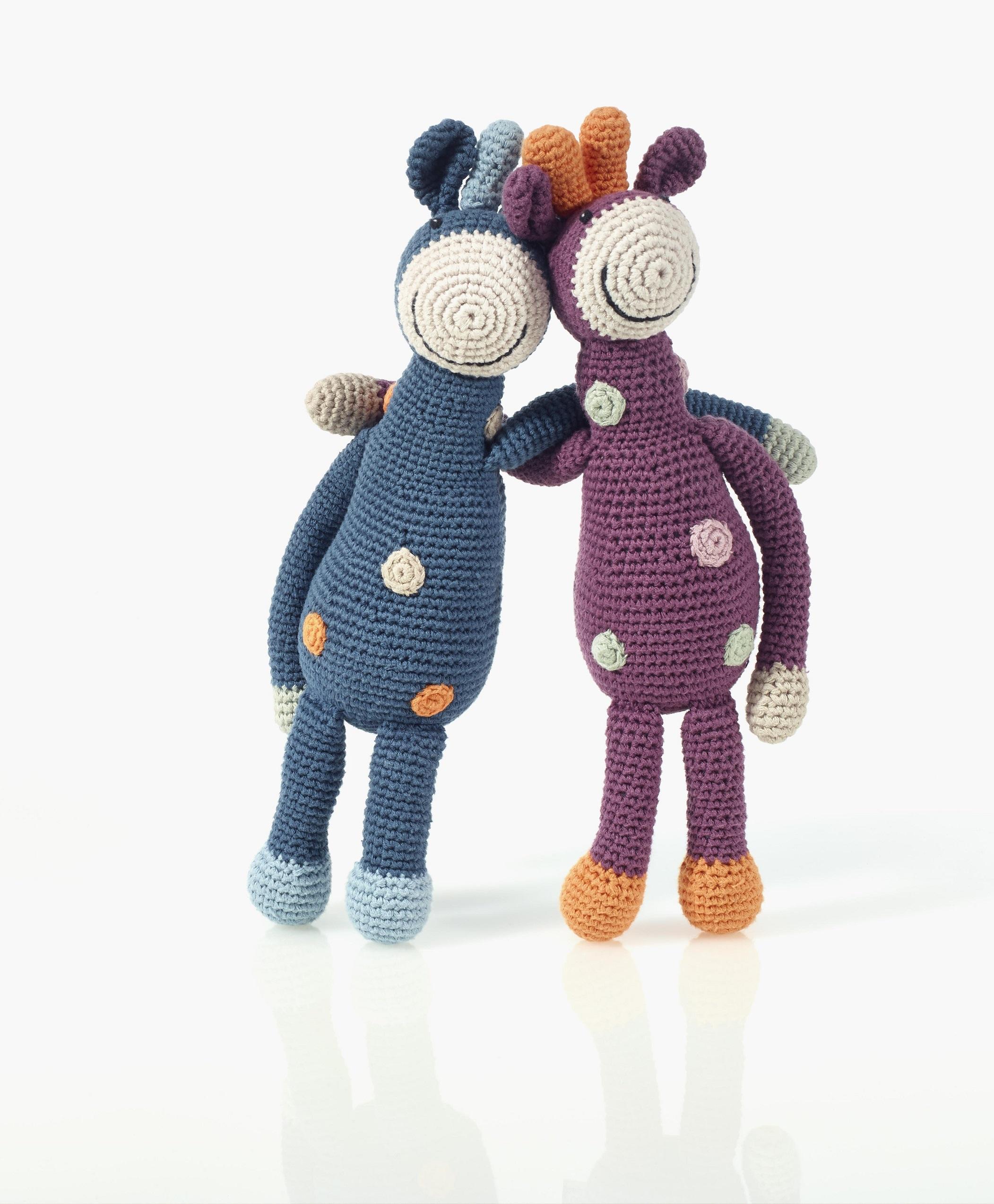 Updated:  unfortunately our giraffe toys have been discontinued but we have plenty of other soft toys available
4.  Octopus Toys
Our octopus toys have been a big hit with babies since their introduction.  We started with a turquoise toy but since have added a pink octopus and a brightly stripe one.  Their eight legs make it easy for babies & young children to grasp and the tactile feel of the crochet cotton make him more stimulating to touch. If you are looking for a gift for a newborn baby then you would do well to choose an octopus baby rattle.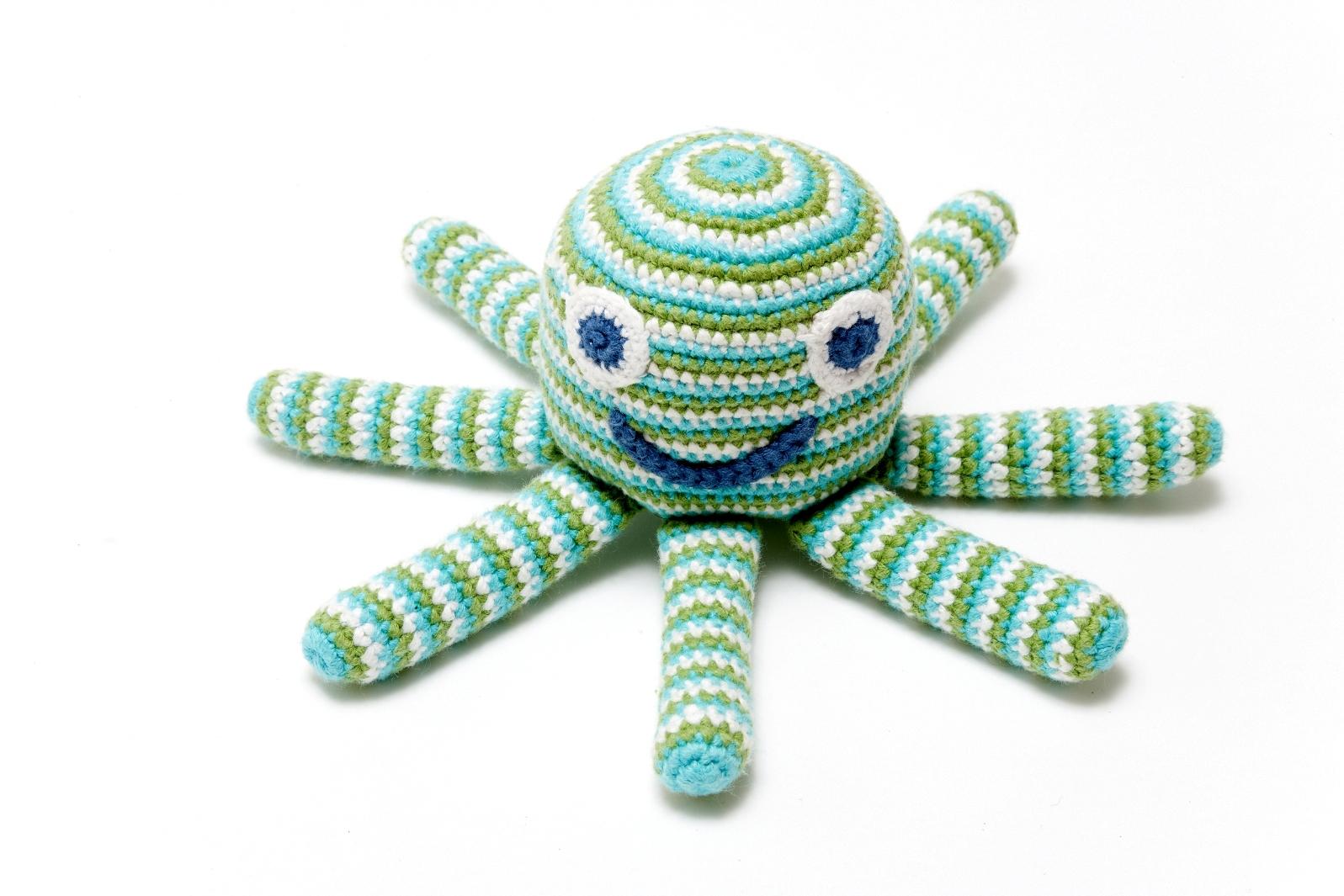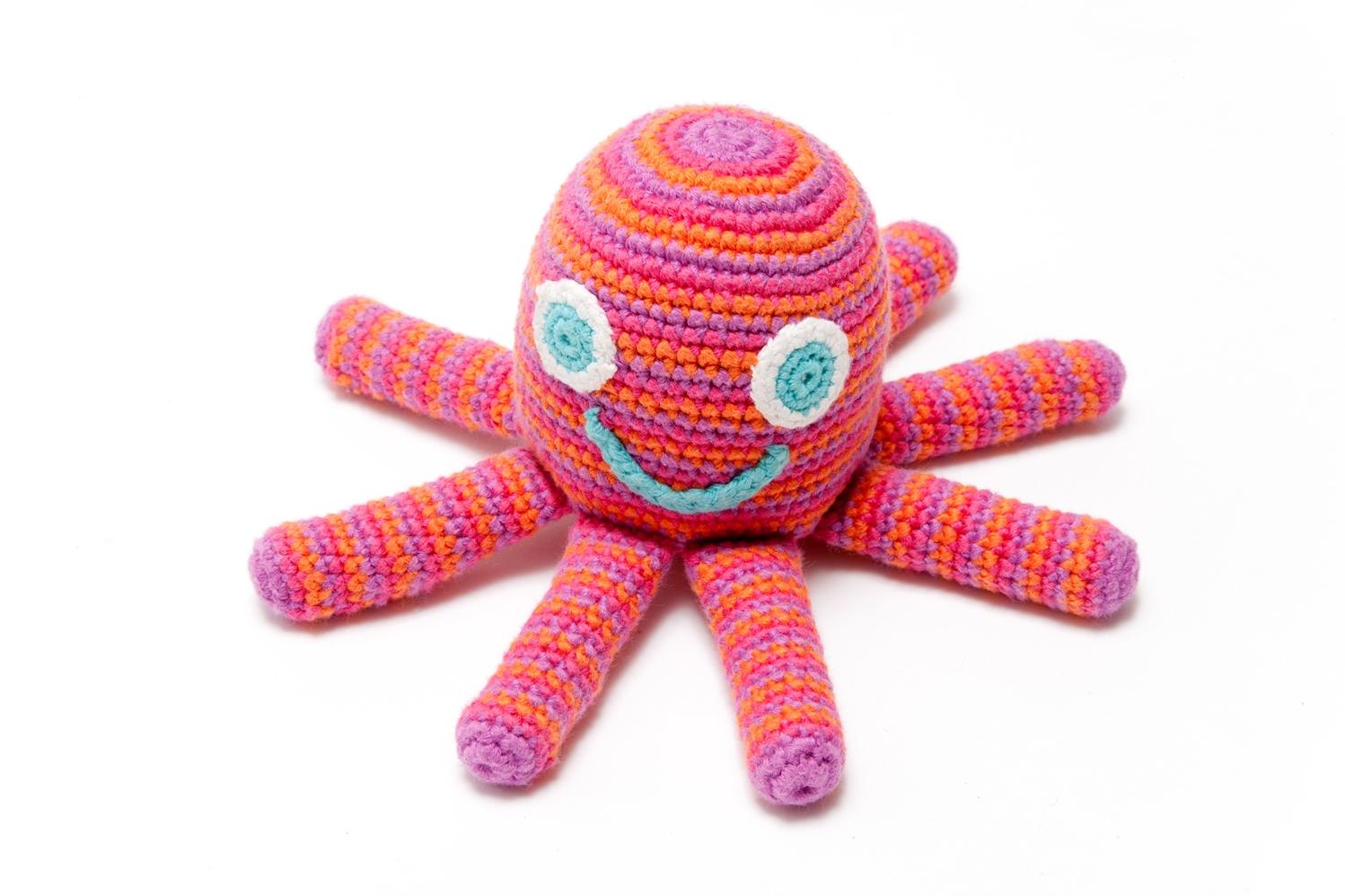 For more information about our range of Octopus Baby Rattles, please Click Here
5. Swan Toys
Swans have also been on trend for 2017 with swans appearing on the catwalk and top designers like Stella McCartney have designed entire ranges around swans.  If swans are your thing, you can buy blouses, PJs and even boots with swans.  At Best Years we have some fabulous knitted swan toys to accessorise with those designer clothes.  Our swans are knitted in white yarn and have pink tweed beaks and are available as toys or baby rattles.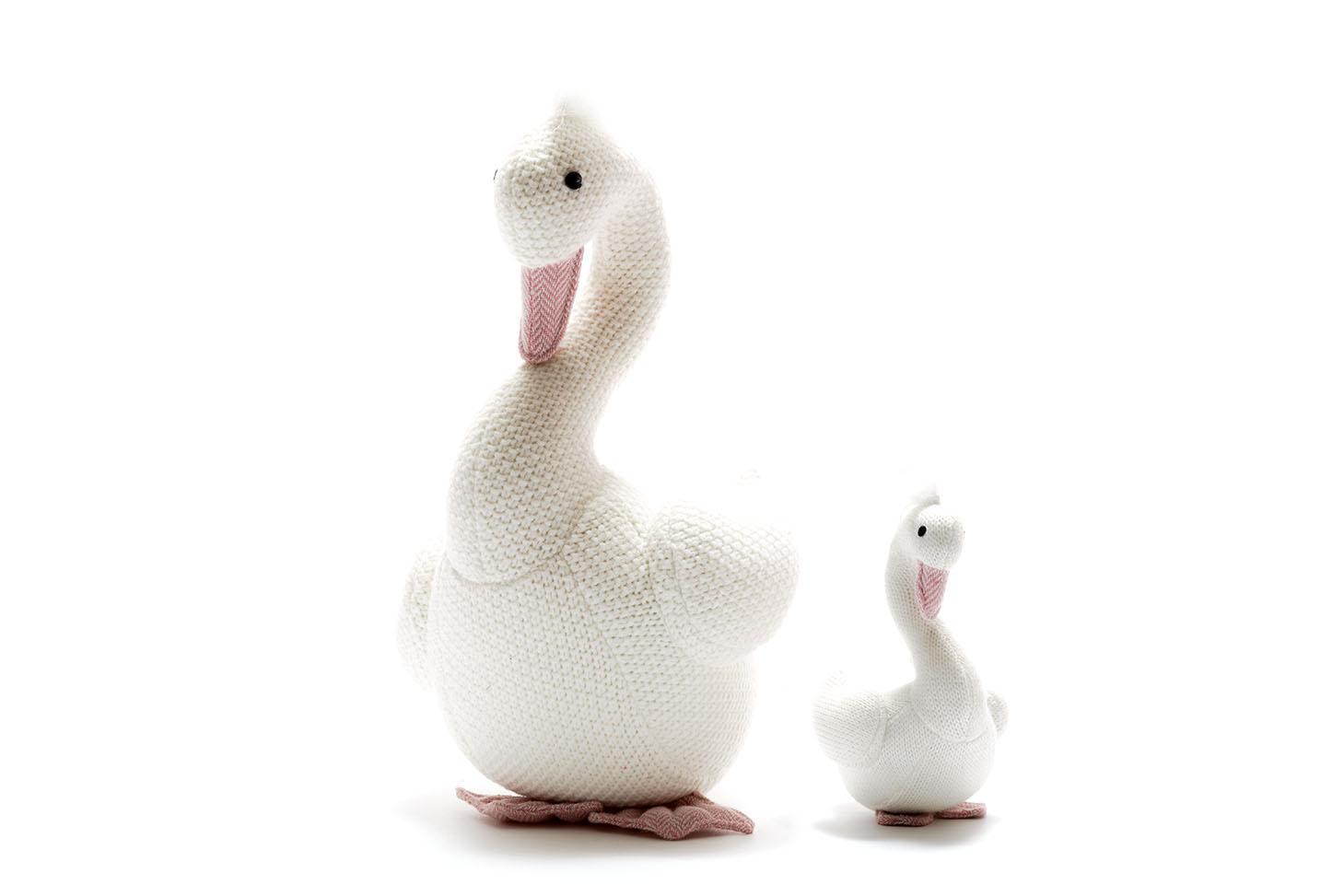 For details of our Swan Toys Click Here
6. Monkey Toys
Our range of cheeky monkey toys are popular gifts for babies.  Who can resist these cheeky fellas with their smiley faces and colourful stripe bodies, these fair trade handmade crochet baby rattles make an ideal gift.  The only problem is which one to choose - red or black & white.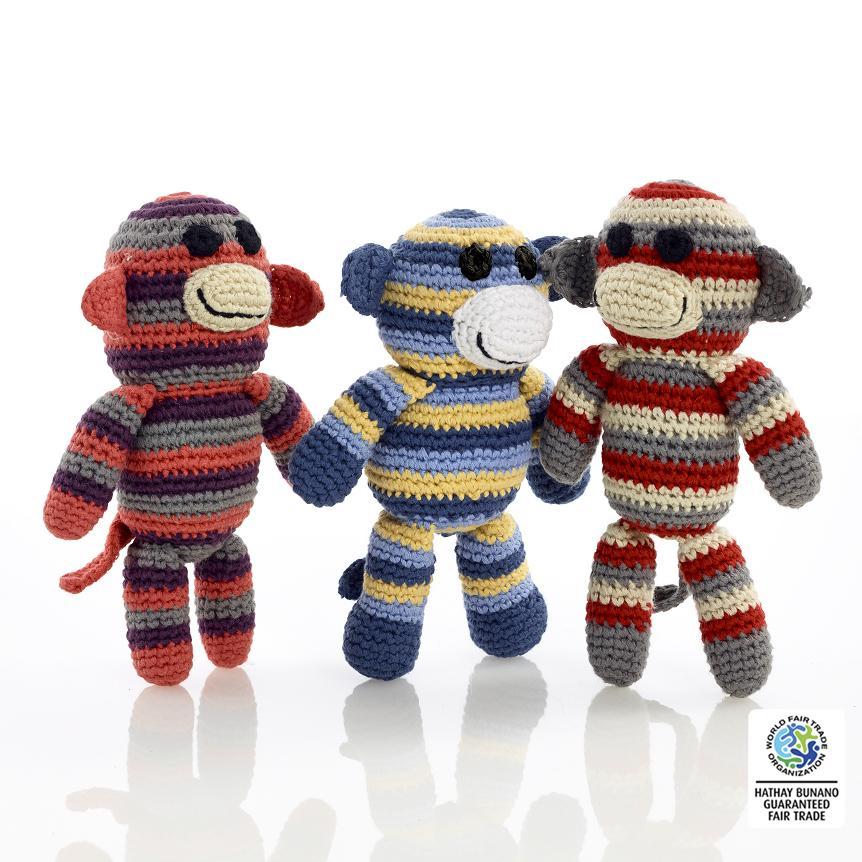 For more information about our range of Monkey Baby Rattles, please Click Here.
 7. Bunnies
Bunny soft toys have an enduring appeal and make an ideal gift for babies and young children.  Some of our most loved children's stories have rabbits as their central character such as Peter Rabbit, Benjamin Bunny, Miffy and Brer Rabbit to name a few.  At Best Years we have a wide range of bunny toys from pink and blue bunnies to rainbow multistripe bunnies - we are sure you will find the right bunny soft toy for you.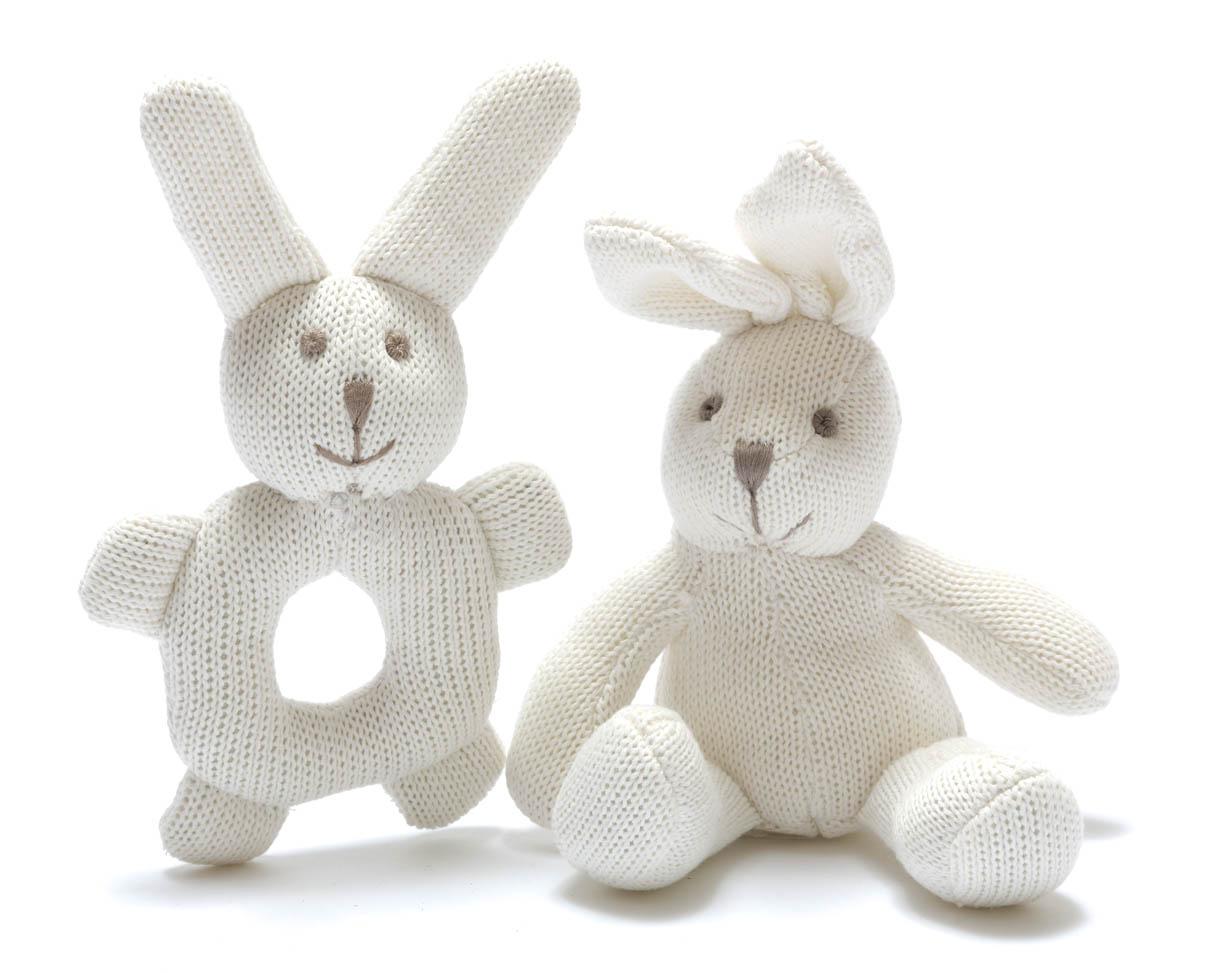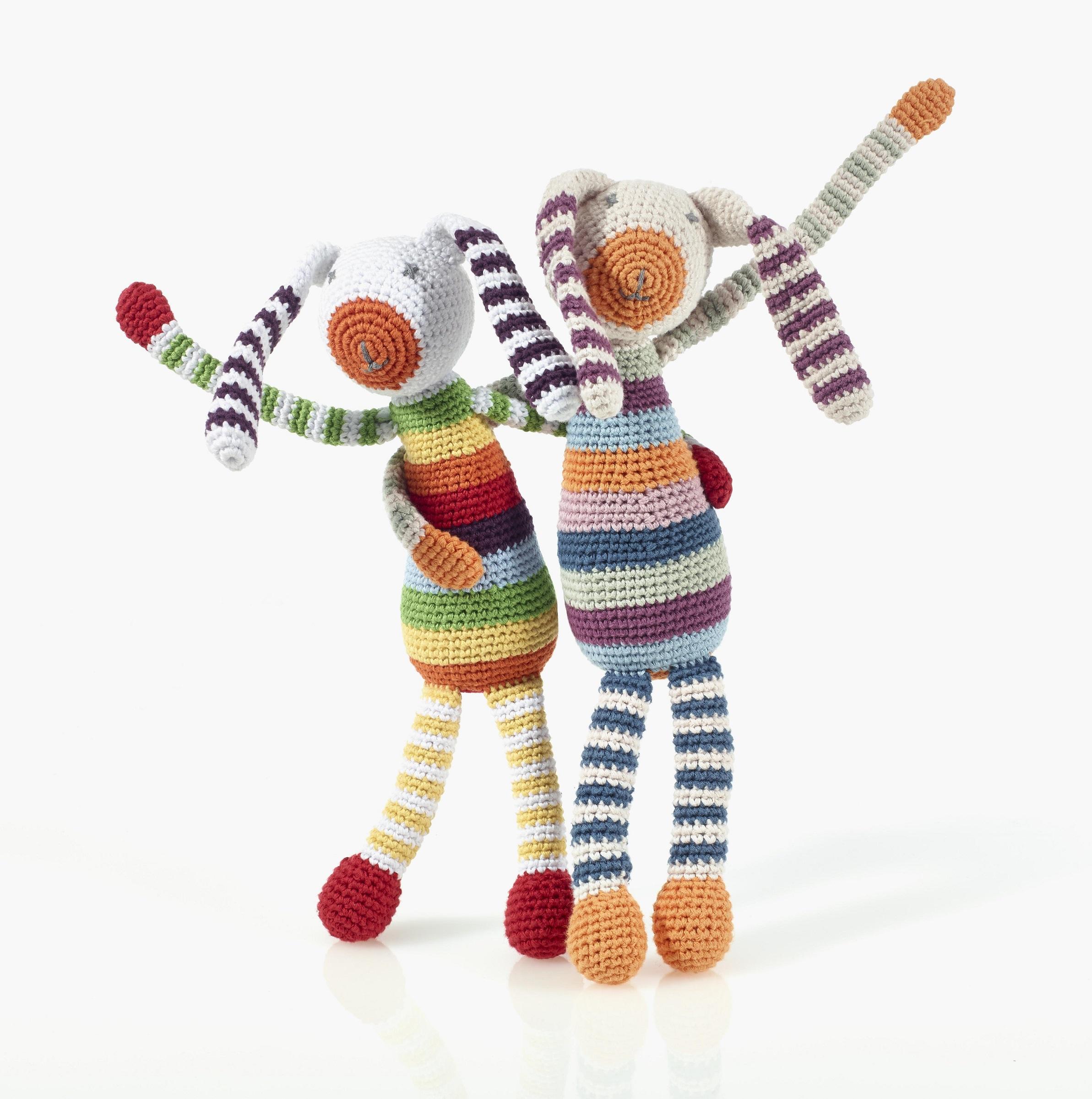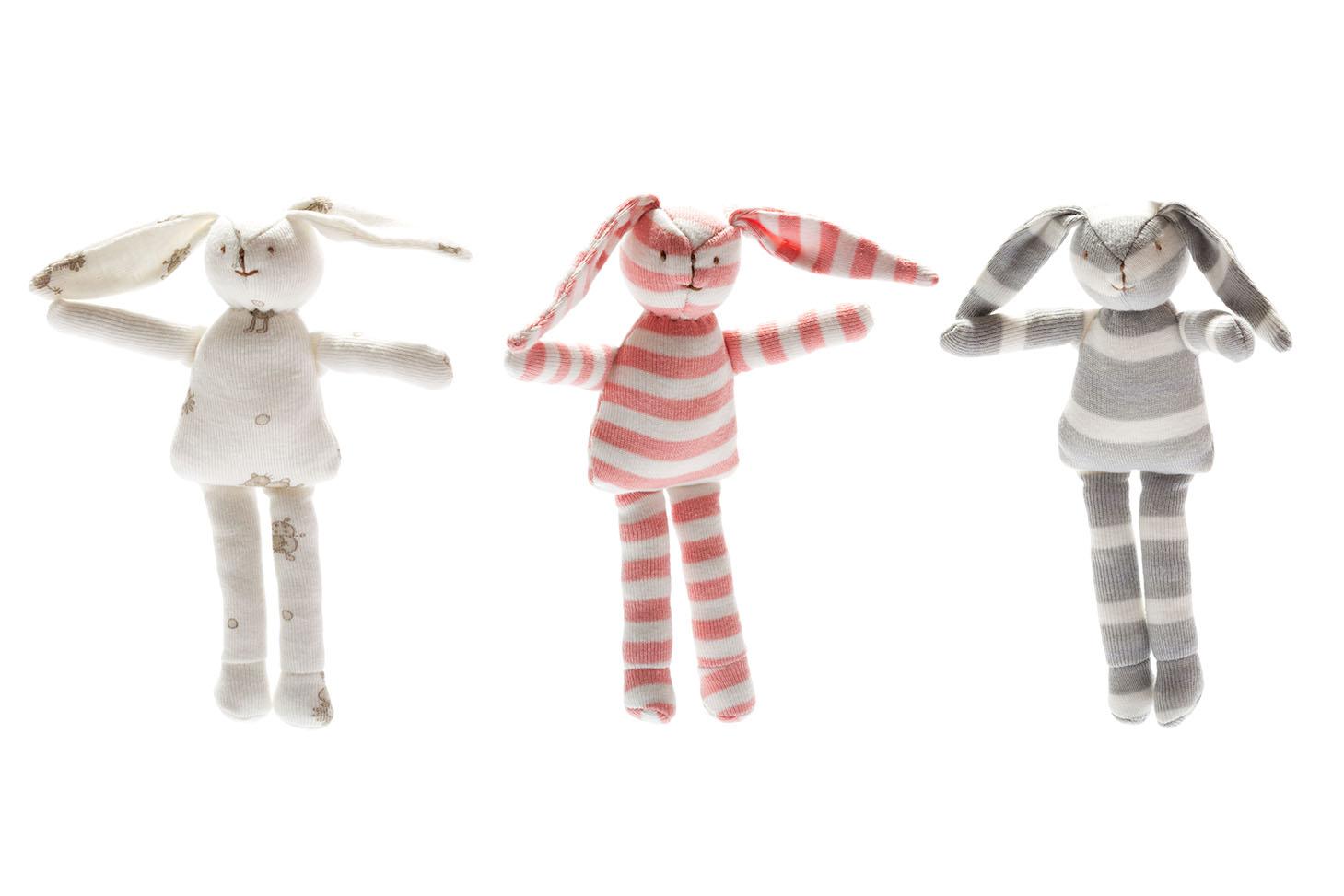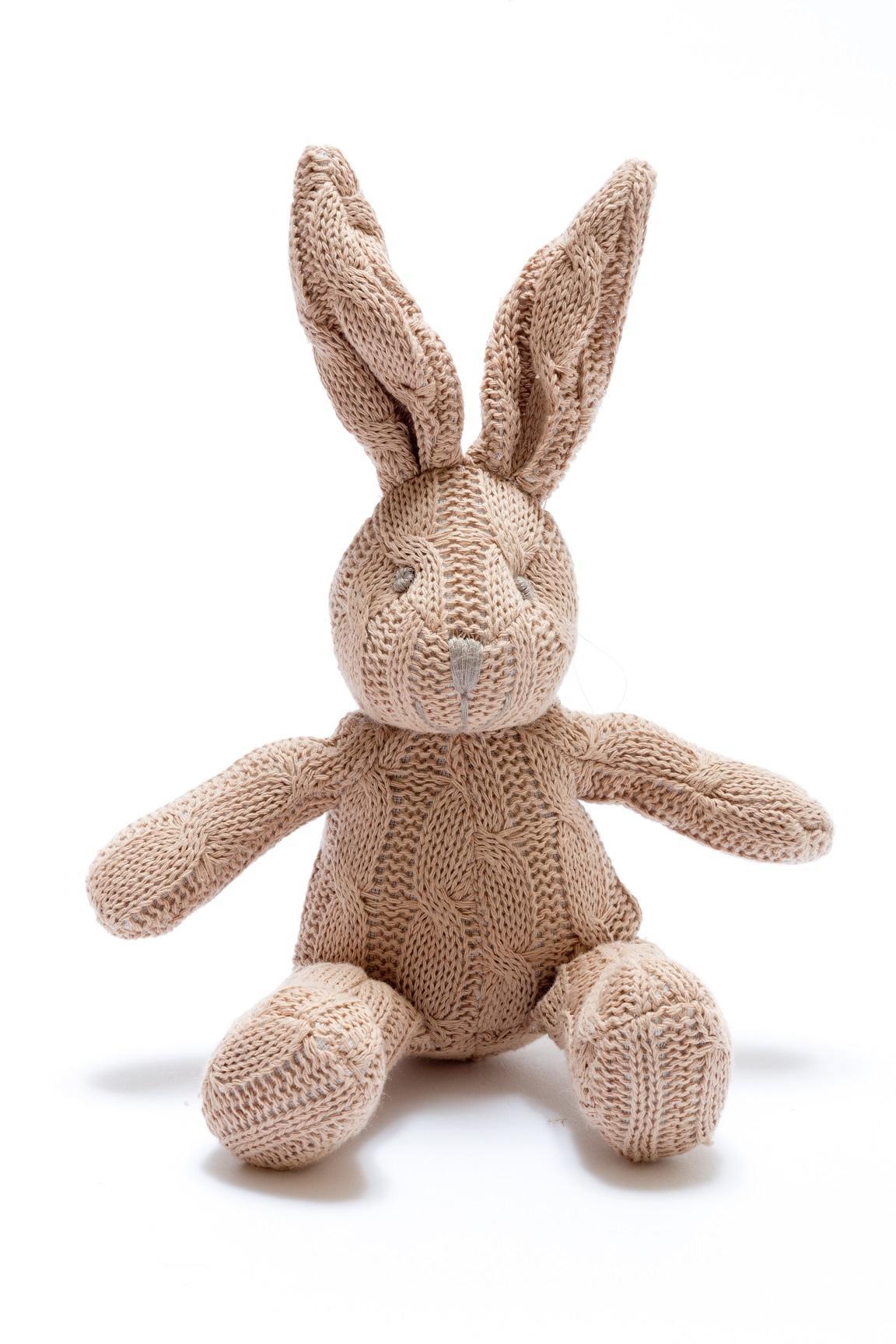 For more information about our range of Bunny Toys, please Click Here.
Best Years Ltd  www.bestyears.co.uk