How a Pink Dinosaur Toy Makes for a Greener Future
Gaynor Humphrey
There are a lot of people in Bangladesh, and I mean a lot. The population is 167 million people in a land half the size of the UK.
This means that whereas the UK, with a population of 67 million, has a population density of 717 people per mile in Bangladesh the population density is 3344 people per square mile!
To put that in perspective Bangladesh is the 8th largest country by population size and the 95th largest country if measured by square miles.
When we are visiting the villages it never feels as if the land is over crowded, especially as the paddy fields and farmland seems to stretch out for ever, but this farming puts a big burden on the land. As the population grows farming and fishing has become more intensive to the point where real environmental damage is being done to the land.
When you think of over farming you think of large tractors and combine harvesters but in Bangladesh all the farming is still done by hand. It is not machinery and sophisticated farming practises that causes the damage but the fact that any available land is put to cultivation depriving the wildlife of their natural habitat.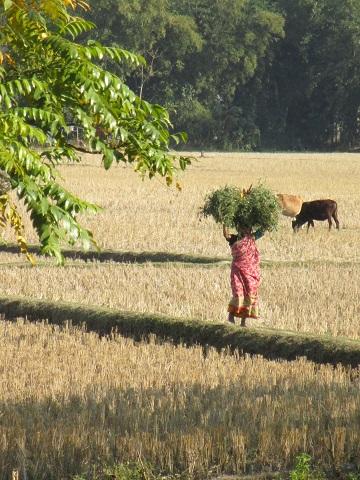 The most visible and well known issue from over farming is the retreat of tigers from most of the land but rather less glamorously over fishing and over farming has eroded land and river banks and threatened indigenous birds, insects and flower/fauna.
The people are definitely aware of the environmental impact of this. Global warming is very evident if you have no air conditioning and temperatures have started to hit 40 degrees in the summer.
Pebble toys was initially conceived to combat poverty and to provide jobs in rural Bangladesh so that people did not have to move to Dhaka to get jobs. The lack of paid employment in rural Bangladesh meant that in order to earn wages people moved in to Dhaka to work in the garment industry. They left their children with their parents so that an entire active generation was missing in village life. Crocheting an octopus rattle for Pebble Toys may not seem like a miracle solution but providing flexible jobs in the villages has meant that parents stay with their children and play a role in the life of their village.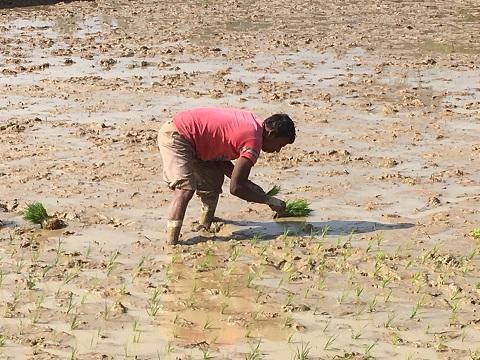 Increasingly however many of Pebble's rural production centres are set up in conjunction with NGOs to provide an alternative to over farming/fishing in specific areas. Its all very well providing education about how over intensive utilisation of the land is causing environmental damage but if you have no other way of feeding your family then the future will just have to look after itself.

If you want to change people's behaviour you need to offer them alternatives and that is exactly what Pebble toys is doing. When we visited Bangladesh we were shown a vast lake with a diverse range of birds feeding and nesting. This had been over fished by the local population to the point where stocks were too low for the migratory birds to stop and feed.
Pebble set up rural production centres in the area offering flexible work and paid employment to people. They created jobs making crochet baby toys whilst the NGOs created programmes to protect the land and allow for regeneration. The availability of paid work has meant that the people do not have to raise cash crops, they can cultivate only what they need to eat and then make additional cash through making the handmade, fair trade crochet baby toys we are so fond of. 
This vast lake is now protected and has already started to recover. The one solitary boat is for the night watchman who patrols to stop poaching. It really is a win-win situation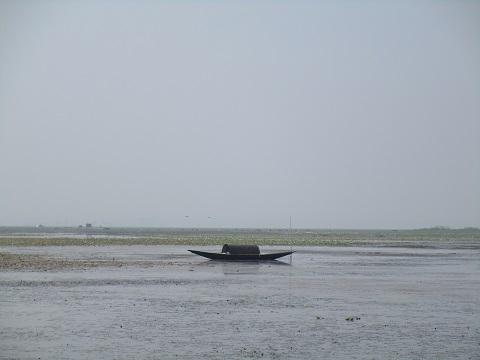 So Pebble toys are good for people and for the environment too. What baby toy could be better as a baby gift?
Uk vs Bangladesh. The figures
| | |
| --- | --- |
| §  Bangladesh | §  UK |
| §  The population density in Bangladesh is 1291 per Km2 (3,344 people per mi2). | §  The population density in the United Kingdom is 277 per Km2 (717 people per mi2). |
| §  The total land area is 130,170 Km2 (50,259 sq. miles) | §  The total land area is 241,930 Km2 (93,410 sq. miles) |
| The median age in Bangladesh is 26.0 years. | The median age is 40.3 |
| Life expectancy is 71 for men, 76 for women | Life expectancy is 79 for men and 83 for women |
| §  37.2 % of the population is urban | §  81.4 % of the population is urban |