We are currently all experiencing challenges and uncertainties and we hope that all of our customers are safe and well.  We wanted to update you on what we are doing to ensure the well-being of our customers and staff whilst still offering customers the opportunity to purchase our knitted baby toys, new baby toys and knitted dinosaurs, etc.
We are a small business and we are all now working from home and reducing our social contact to the absolute necessities. We have moved the distribution of consumer orders to a home office which means that our orders are all now being dispatched by Liz. 
She is following a stringent cleaning regime, with regular cleaning of all surfaces, door handles, light switches, etc.
Liz is the only person touching the stock before it is dispatched and we promise that she has very clean hands!  She is following NHS guidelines and constantly washing her hands so you can be confident that all orders are being dispatched safely.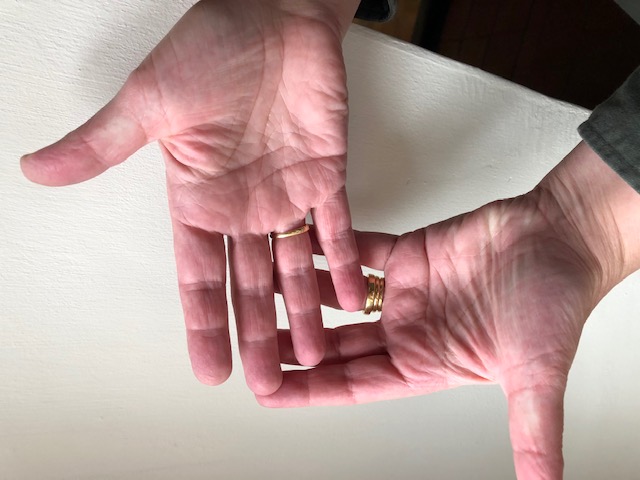 Our orders are being dispatched by Royal Mail.  You may have seen the protocols that they have bought in for parcel deliveries, but if you have not, here is the statement in full:
Public Health England (PHE) has advised that people receiving parcels are not at risk of contracting the coronavirus. From experience with other coronaviruses, we know that these types of viruses don't survive long on objects, such as letters or parcels. This complements the highly publicised guidance from PHE for people to wash their hands more often than usual using soap and hot water. 
We are actively monitoring this rapidly evolving situation. We take the health and safety of our people very seriously. We have provided guidance to our people, our customers and communities in which we operate, to help prevent the spread of any infection. We are doing so in line with preventative guidance from Public Health England.
In order to protect both our people and customers as much as possible, we will not be handing over our hand-held devices to customers to capture signatures. Postmen and women will instead log the name of the person accepting the item. This will apply to all deliveries that require a signature. 
Additionally, for all customers (including those who are self-isolating) where we need to deliver any parcel that won't fit through your letterbox, we will place your item at your door. Having knocked on your door, we will then step aside to a safe distance while you retrieve your item. This will ensure your item is delivered securely rather than being left outside. 
If you are unable to come to the door at all we will issue a 'Something for You' card, advising of other ways you can arrange to get your item. For example, by getting a friend or family member to collect the parcel from our local Customer Service Point on your behalf. In this situation, and to keep your mail as secure as possible, they will need to bring along the card we left you and a form of ID in the name of the person the item is addressed to.
We hope that these protocols will reassure you that receiving a parcel is still safe.  
We are available as usual to talk on the phone or you can email us with any questions that you may have. 
It goes without saying that the current situation is difficult for many business, but particularly small business like ours.  We are a company of four people, not all full time.  We supply independent high street businesses who are already struggling with reduced footfall and we also supply museums, most of which have taken the difficult decision to close for now.  If you can visit your local independent store, please do.  Most are spending more time cleaning door handles than serving customers, so please do not be afraid to go in if you are still out and about but obviously follow guidelines re distancing, regular handwashing etc.
Whilst most baby showers, birthday parties and social gatherings have been cancelled or postponed, the delivery dates for babies will not change and children will still be having their first birthday, second birthday, etc.  New parents will probably be social isolating to protect their newborn so will miss out on the normal opportunities to introduce their baby to the world.  Young children will have very different birthday celebrations in the coming weeks - maybe a Skype or Facetime party or grandparents may be singing Happy Birthday down the phone.  But we can still deliver birthday gifts and newborn baby gifts or perhaps a knitted dinosaur to your loved ones to let them know that you are thinking of them, so please do get in touch if we can help you with that.  Whether you are wanting an organic baby comforter, a knitted dinosaur toy or any of our wide range of ethical toys, we can offer dispatch to the UK or the rest of the world.
Over the next few weeks we will doing our best to provide you with some ideas of things to do to keep the kids amused, perhaps places to walk to get some fresh air safely so please keep an eye on our blog.  If anybody has any good ideas on this, we would love to hear from you.
We are very grateful for your support and are sending you all our best wishes in these challenging times.  Stay safe and healthy and if we can do anything to help, please give us a call on 01327 263504 or email us:  This email address is being protected from spambots. You need JavaScript enabled to view it.