With the schools now closed for most, and families being asked to stay home apart from essential journeys, many will have concerns about how to keep the kids entertained and healthy over the coming weeks.  We have put our heads together and come up with some ideas for outdoor activities to keep your kids and their dinosaurs toys busy and enjoying some fresh air in your own safe space when the weather allows.  You may need to get your rain coats and layers on, but fresh air can do us the world of good.
Unfortunately, unless you live in a remote area, it is no longer safe or viable to head out and enjoy the local park or beauty spot.  The concentration of people in urban areas mean that it is difficult or impossible to remain 2 metres apart from others when so many people are trying to get fresh air and exercise at the same time.  We realise that it is not feasible to expect a toddler or young child to keep 2m away from others. 
We know from experience that our knitted dinosaur toys love fresh air and we all know that kids are full of energy, so we decided to come up with some ideas of ways to keep your kids busy and entertained in your own garden.  If you live in a flat or apartment, we have some suggestions for you too.  Some of our ideas will work in a garden or on a balcony, so do read them all and let us know if you have any we can add.
Activities in the Garden
There are some great activities you can do to keep the kids entertained outside:
- for little ones, why not go on a Bear Hunt?  On a dry day, take the book outside and read it to your child as you journey around the garden.  You could put some obstacles around the garden before you go out. 
- you could collect leaves that have fallen off trees and small twigs to make a collage - some Nature Craft.
- how about searching for bugs - can your kids identify the bugs and beetles?  You could even print some pictures of common garden bugs and see how many they can find.  Under plant pots or stones is a good place to start your hunt.
- try to collect as many different shaped leaves as you can.  You could get the kids to try and find out the names of the trees and plants in your garden, then make a collage with the leaves collected.  Or you could get some paint in a saucers and use the leaves to print pictures.
- grow some vegetables - get the kids their own little plant pot in which they can try and grow their own seeds alongside yours.  Try and encourage them to water the plants regularly.  Check the seed packs to see when they should be planted.
-try and spot and identify birds in your garden.  You could put bird seed out if you have it or breadcrumbs if not - if you are good at DIY you may want to build them a bird table - perhaps you can even get the kids involved in making a bird table.
- if you have a patio and some chalk, why not draw out a hopscotch and play with the kids. You will be getting them active and playing games from your child hood.  If you have a skipping rope, it is a great way to work on fitness - take turns with your kids.  It is surprisingly tiring!
- when the days get warmer or even milder, you could freeze some durable toys in water in a cake tin or similar and once it is frozen, take the ice mould out of the tin and let the kids chip away at it to find the frozen toys!  Make  sure you use toys that will not break and save this one for a mild day or wrap up warm and wear ski gloves!
 - learn to hula hoop if you have one at the back of the shed or dig out your bat and balls to work on hand eye coordination.  Or how about keepy uppies - you could have keep a record of how many each member in the family can do, then see if you can beat your score from day to day
- if you have an old cardboard box, you could make a throwing game.  Mark out squares with numbers and then challenge the kids to throw something like a bean bag, but if you don't have one you could maybe use something plastic or a small soft toy even!  You could use colours or number or even pictures of animals with younger kids - it could be a good way to help little ones learn to count or to learn colours.
- paper airplanes - you could get the kids to make paper airplanes and then see how far they can make them fly.  Keep a note of how far they have flown and then see if they can modify the planes to make them fly further.  Or perhaps they will crash if over-modified.  An early but fun lesson in aerodynamics!
Balcony or Back Yard
If you live in an apartment or flat, you may not be lucky enough to have a garden to let off steam.  But there are some fun activities that the kids can do.  You don't need us to tell you that young children and toddlers should always be supervised on a balcony.
- On a milder day, you could also freeze some durable toys as per our suggestion above and have the kids chip away at them - a frozen treasure hunt!
- if you have some containers, get the kids involved in growing some simple salad and vegetables as we head into the milder months. A simple yoghut pot can be upcycled for this. You can get them involved in watering and transplanting the seedlings.
- painting - if you don't want messy arts in your flat, perhaps you can put down a plastic sheet and some paints and paper and get the kids to do their craft activities outside whilst benefiting from some fresh air at the same time.
- fill a washing up bowl with warm water and throw in some bath toys and have some 'bath time fun' but outdoors.  You can either put on those waterproof coats and wellies or just put on a set of dry clothes as soon as they come in.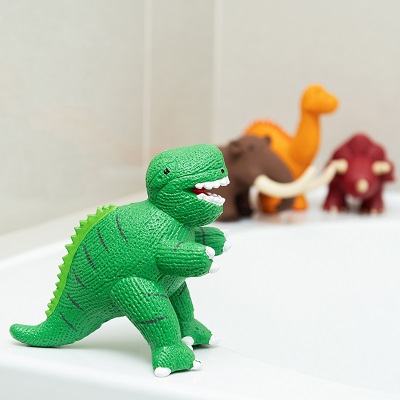 - have a teddy bear or dinosaur picnic!  You could put down a rug or mat and invite your teddies along to a lunch date on the balcony.  You could get the children to write invitations for their teddies (for those who are too young to write they could draw a picture of some food or a picnic and give it to their teddy).  A fun thing would be to have lunch outside on a picnic blanket and if you have a fussy eater, maybe they will forget to be fussy if their teddy is eating something!
 - save your old plastic milk cartons and half fill them with water to create a home made skittles set.  You just need a ball and make sure the kids roll the ball - you don't want it flying off the balcony!
- if you have space, a game of musical statues is always good.  Get the music on and the kids dancing about and then when the music stops, they have to keep as still as they can.  As you won't have a big crowd and may only have one child, you could play this game with their soft toys dancing too - dinosaurs love to dance!  Or perhaps time them and see how long they can stay still and then see if they can beat their score next time.  Please only play this game if your balcony is big enough with a high enough guard rail.  If you have any concerns, save this game for inside!
- inspired by the videos from Italy and Spain, a balcony can be a great place to get musical outside.  You can make your own musical instruments -  use empty cans or pringle containers for drums; a harmonica from straws; fill containers with different amounts of water and use a spoon to bash them.  There are loads of ideas online.
We hope you like our suggestions.  We would love to hear your ideas - if you and your family have some fun times outside, please send us a photo or tell us about them.  We are open and dispatching toys, so if you have a birthday coming up or your child needs a new friend, please do get in touch.
We are also planning some giveaways on social media, so do follow us on Facebook and Instagram.