Most children love dinosaurs but finding dinosaur toys which are safe for babies and suitable for small hands can be difficult. If you are looking for dinosaur toy or dinosaur teddies for babies and toddlers we have loads for you to chose from.
The majority of dinosaur toys are designed for children who are 3 years or older. This means that testing isn't as rigorous and the functionality is designed for kids old enough to be using imaginative play.
Here at Best Years we have a whole range of dinosaur toys and dinosaur teddies which have been specifically designed for toddlers and babies. They are lightweight, and their size is small enough to be perfect for small hands. They have been designed to encourage grasping and hand eye coordination,but can be used for play as your baby or toddler gets older.
There are a couple of things which are important when designing dinosaur toys for babies and young children. Number one in any design is that they must be safe. All our dinosaur toys and dinosaur teddies are designed to have no small parts and any inks or designs we use are 100% safe for babies.
Next we think about how the toys will be played with. Most baby toys will end up in the mouth of babies and even toddlers still like to mouth toys. For this reason we check that our toys can withstand chewing, and we also ensure that they are machine washable.
The next thing we think about is how we can ensure that our dinosaur toys are fun for babies and toddlers. We like to use tactile materials and bright colours and we also include rattles in our small dinosaur toys.  When they are very young babies use sound to locate toys as their eyesight does not develop properly until after their 5th month.
So we like our toys to be able to appeal to your baby's sense of touch, and their hearing and are visually attractive. Combining tactile fabrics, a rattle and bright colours means our dinosaur toys are great as sensory toys.
Our Top Picks for Dinosaur Toys for Babies and Toddlers
Small, bright and sturdy with a huge selection to chose from. Machine washable, and tested from birth.

Diplodocus Dinosaur with Comfort Blanket
Especially designed for babies these grey dinosaur toys with comfort blankets are an excellent way to soothe young babies.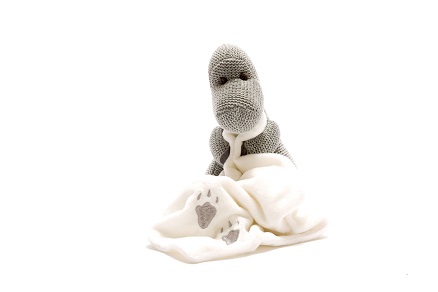 3. Natural Rubber Dinosaur Toys
             Environmentally friendly, useful as teethers and they also have no holes so brilliant as bath toys as well.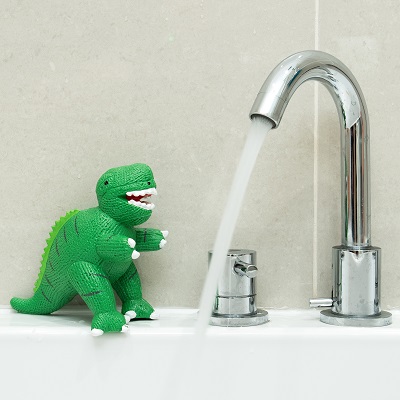 When your toddler has had enough of rough and tumble play and wants a snuggle our dinosaur teddies ae perfect for relaxing with.