Our dinosaur teddies are perfect for dinosaur toys for toddlers because they are robust enough for toddler play but also cuddly when they are tired. And all our dinosaur teddies are machine washable making them the perfect teddy for toddlers everywhere
Toddlers are a whirlwind of energy and emotions. They will lurch from high energy to tiredness very quickly which is why our dinosaur teddies make the perfect dinosaur companion. Bright and tactile for toddler play they are also cuddly enough for quieter moments.
Great Dinosaur games for toddlers and our Dinosaur Teddies.
Toddlers are like sponges, they are learning all the time, but this is not about sitting at a desk and learning. They learn through play so how about using our dinosaur teddies to teach them about large and small, tall and short. Although this doesn't sound like it this is the very beginnings of maths. Our dinosaur teddies are also good for colour recognition as they are bright and available in lots of different colours.

Toddlers love imaginative play and they really love pretending to be dinosaurs. Which toddler doesn't enjoy stomping around and roaring! Let your dinosaur teddy be their companion as they explore the park. They can play hide and seek with the dinosaur because our teddies are machine washable so no need to worry they get dirty.
Another good game to play with a toddler and a dinosaur teddy is to create their own Dinosaur World. Use cushions, chairs and even your washing up bowl to create a land where the dinosaur teddies can roam.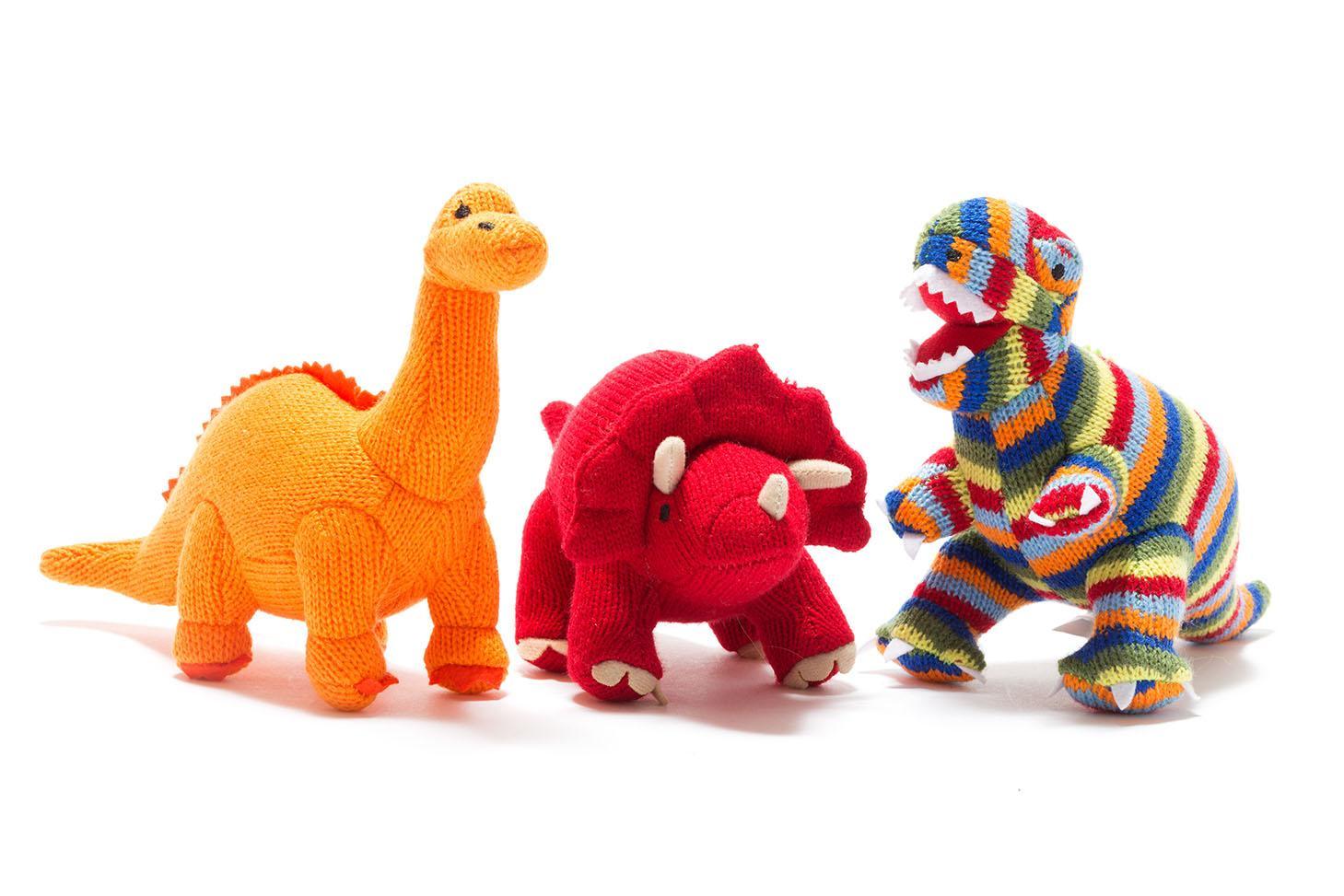 But when they are all tired out from their dinosaur games then our dinosaur teddies are perfect for snuggling with.
When toddlers are over stimulated then despite the fact that they are obviously tired they cannot relax enough to go to sleep. Using sensory input such as smell, sound or touch can help an overstimulate toddler to relax. Our dinosaur toys are made from tactile knitted fabric with spines and claws in contrasting fabric and stroking them can be helpful for your toddler to self sooth.