Dinosaur Toys
If you are looking for a dinosaur toy we have the widest range of knitted dinosaur toys for you to choose from.
Diplodocus Dinosaur Toy
The Diplodocus lived in the Jurassic era which was 200-145 million years ago. It was not a predator and had no known enemies probably because their sheer size put most predators off. At 27m long he would have been a large dinosaur to take on!.
Our range of Diplodocus dinosaur toys is available in 3 sizes, small diplodocus rattle, toy and large toy. We also have a range of colours, orange, stripe, ice blue and green.
In addition, we have diplodocus dinosaur baby toys. Our cheerful, smiling diplodocus dinosaur toys are very accessible for even the youngest of children and our friendly little dinosaurs, with their welcoming faces, are perfect for baby toys. Our baby dinosaur toys are the pastel diplodocus rattles and a diplodocus dinosaur toy with comfort blanket. And we have our natural rubber diplodocus dinosaur teether and dinosaur Christmas decoration.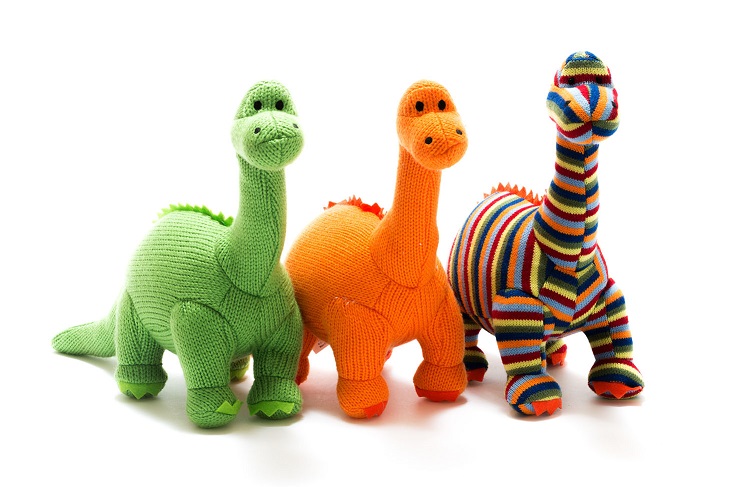 Stegosaurus Dinosaur Toy
The stegosaurus lived at the same time as the diplodocus and was also a vegetarian. It was 6m long but its skull and brain were very small. It's powerful spiked tail was its main defence against predators.
Our stegosaurus dinosaur toy is available as a rattle and a dinosaur toy, and also a dinosaur teether and a dinosaur Christmas decoration.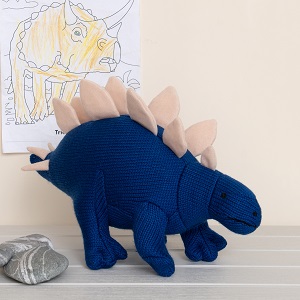 Pterodactyl Dinosaur Toy
Technically the Pterodactyl is not a dinosaur. They belong to a group of pre-historic animals which are normally described by most people as dinosaurs but they do not belong to Dinosauria, and therefore are not true dinosaurs. Unlike Dinosaurs Pterosaurs were all carnivorous but like Dinosaurs they laid eggs rather than had babies. although they flew they were not actually related to birds in anyway. They didn't have feathers, but they had very lightweight bones which obviously helped flight.
Our pterodactyl dinosaur toy is available as a rattle, a dinosaur toy and a large dinosaur toy, and also as a dinosaur Christmas decoration.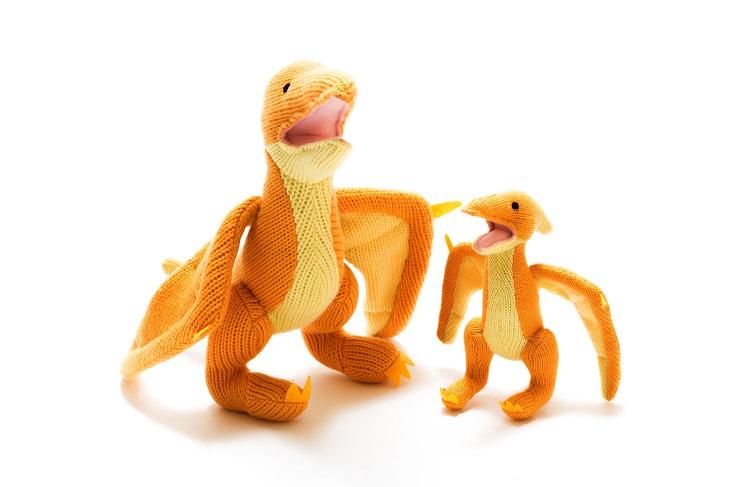 The most well know of all dinosaurs is always the T Rex. It did not live at the same time as the Diplodocus and Stegosaurus, but in the Cretaceous period. 145 – 66 million years ago and many millions of years later than the Diplodocus. It is mostly known for its ferocity and has starred in films from Jurassic Park to Toy Story. It got it's name from the American Natural History Museum. T Rex literally means King of the Tyrant Lizards. The largest ever T Rex skeleton discovered was 4m tall and 12m long. It was named Sue after the Paleontologist who discovered it.
We have a large range of T Rex dinosaur toys to choose from. In terms of sizes we have our small T Rex rattle, our T rex toy and our large T Rex toy. We also have a range of colours to choose from, green, stripe and yellow. And of course we have our T Rex dinosaur teether and T Rex dinosaur Christmas decoration.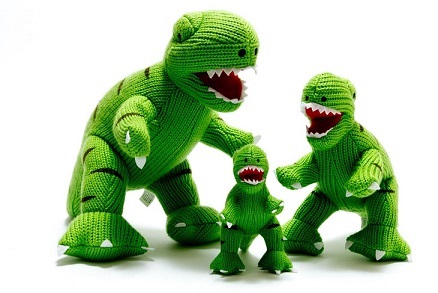 Weirdly enough the Triceratops only has 2 horns so really he should be called a Duoceratops? The horn on his nose is not actually made of horn but is more a bump! As a dinosaur toy the Triceratops has featured in most dinosaur films but despite being distinctive they are never in the starring role. They are the Robin to the T Rex's Batman, Chewbacca to Hans Solo.
Our Triceratops dinosaur toys are available in 3 sizes, rattle, dinosaur toy and large dinosaur toy. It is available in bright red and also bright stripe dinosaur rattle. We also have him available in natural rubber dinosaur teether and Dinosaur Christmas decoration.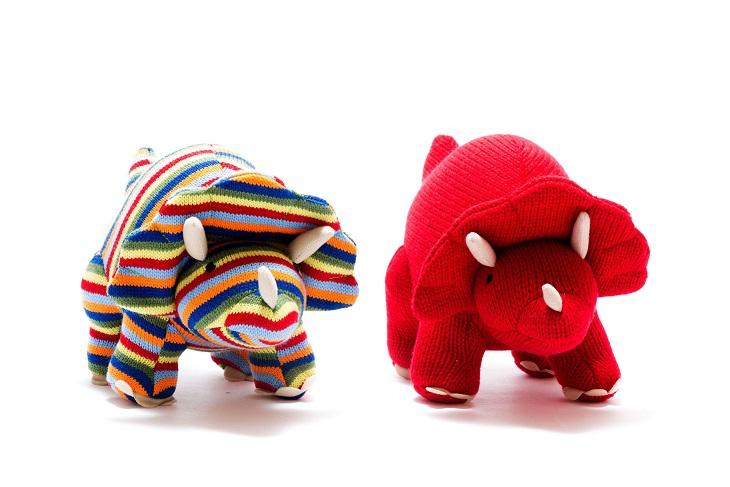 Woolly Mammoth and Sabre Tooth Tiger
Some more of our dinosaur toys which are not actually dinosaurs. The Woolly Mammoth and Sabre Tooth Tiger lived very recently in the scale of things, many years after our other dinosaur toys had become extinct. We classify our Woolly Mammoth as a dinosaur toy only because it lived a long time ago, and is both huge and extinct.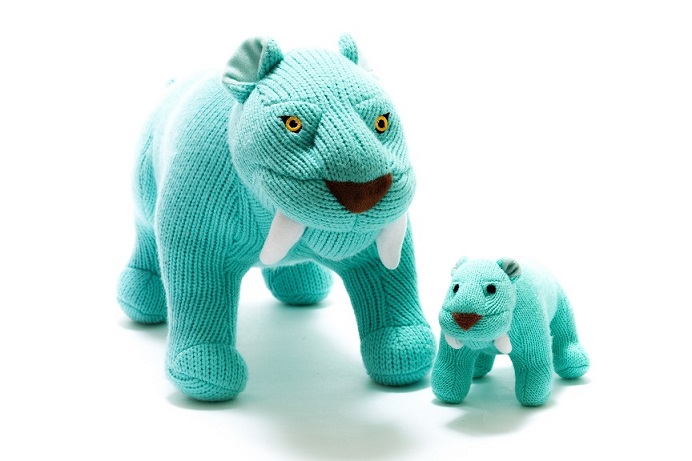 Which is your favourite Dinosaur Toy? We'd love to hear on our Facebook or Instagram pages