Who Makes Our Sweet Baby Contemporary Organic Toys – The Lucky one
We call the Producer who makes our Sweet Baby Contemporary Organic Toys the Lucky one, because it was amazing how lucky it was we started working together
Our organic knitted toys in contemporary colours are made in India  
Where – the outskirts of xxx city
Who – A 2nd generation family owned and run company.
When – 2020
Why – Seen at a trade show in Germany called Kind und Jugend, and the designer's son had a full range of our dinosaurs which was a great start.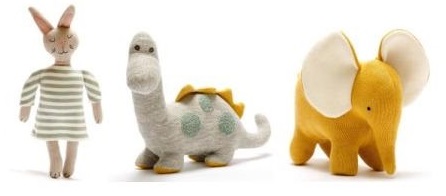 Claim to fame in Best Years – The quickest journey from first meeting to toy range ever! Normally it takes us up to 2 years to develop and manufacture a toy range with a new partner, but our organic contemporary range took just 6 months from meeting to approved range. This was lucky because our visit to see them in India was just 2 months before the first lockdown!
Most likely to say – Another order? That was quick!