Small business works on a completely different level of cooperation than major corporations, and it is through another small business that we found the company who makes our crochet rainbow toys.
Many years ago I used to work for what was then called Dixons. Memorably we once had posters printed with the slogan Love your Customer, Cherish your Colleague, Kill the Competition.
They were short lived until wiser heads prevailed but it was a succinct way of showing the mindset of large companies.
As a small business we rely on people who should be our competitors for information, support and help.
Our new warehouse was found purely through a competitor helping us out, and it was through a competitor that we found the company who makes our crochet rainbow toys. Someone who we have known for years, and who at times has been a direct competitor, matched us up together
Recommendations are great for micro companies because these we are too small to be visible in today's crowded internet. Our producers are never going to be worldwide players, they don't aspire to have multinational customers. They work with SME and gain their customers by providing a great service and product and maintaining repeat business.
Our crochet rainbow toys are hand made in Vietnam by a very small cooperative. They employ between 50 – 70 people depending on the season.
Crochet is not hugely well known in Vietnam. As a hot country knitting and crochet were not traditionally popular. In terms of handicraft embroidery and weaving were more popular. More recently however it has become more popular as a flexible way of earning money rather than for use in the home.
The company has been going just over 5 years and is a woman owned and operated company.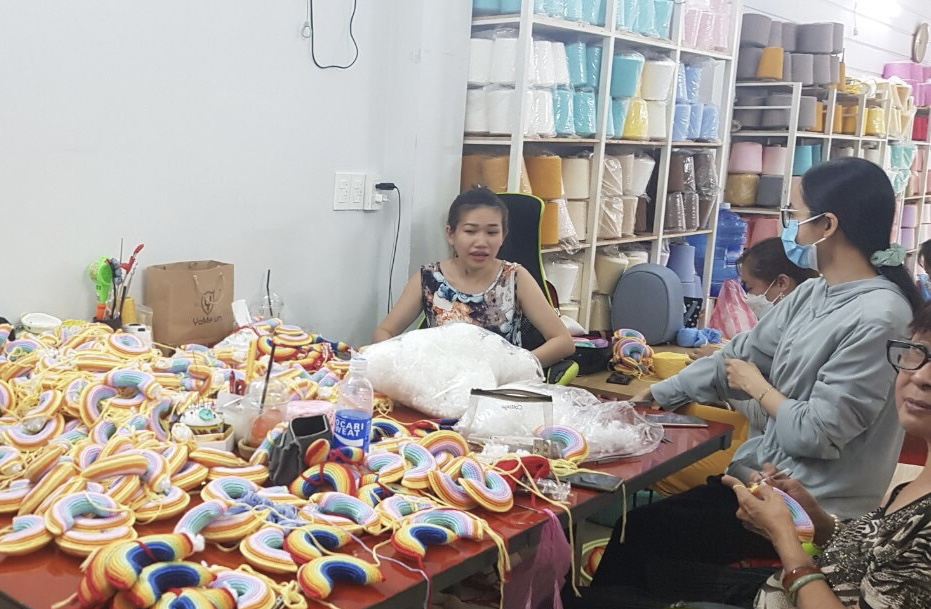 And it is also mainly women who do the crochet. They are split between homeworkers who make the crochet rainbow toys, and Head Office workers who do the finishing, QA and relevant paperwork.
One thing we have found with our smallest suppliers is that seasonality is a big impact. Our new warehouse gives many people leave during lambing, and with our suppliers there is a lull during harvesting as other work takes priority.
The crochet rainbow toys are crocheted from cotton yarn which has to be dyed to our colour specification so we know that it is safe and suitable from birth. The colours were picked to coordinate with our fair trade wooden rainbow toys.
They are designed and made to be suitable from birth, and tested to UK and European standards. There are no small parts and they are also machine washable.
sự đan in Vietnamese is crochet in English