Toy dinosaurs have an enduring appeal and most kids will go through a dinosaur mad phase where dinosaur toys dominate Xmas gifts and Birthday Presents. So why choose Best Years Dinosaur Toys?
There are literally thousands of dinosaur toys for kids available on the internet so it can be hard to choose the right dinosaur gift.  We thought we should help out by giving you a guide to our best selling dinosaur toys.  
1. Knitted T Rex Toys
Our knitted dinosaur toy story started with our iconic green knitted T Rex dinosaur toy.  Whilst bearing a resemblance to George the Peppa Pig dinosaur toy, our T Rex is not George but we hope you like him just as much! He appears all over the place, in particular in CBeebies Mr Tumble.  Our T Rex toys are available in a variety of sizes from baby rattles and large T Rex dinosaur toys to a giant dinosaur toy - our Supersize Knitted T Rex Soft Toy which stands at a majestic 45cm in height and will make a big impression in a child's bedroom or nursery.   Whether you are looking for dinosaur toys for kids or for babies,  our T Rex is a best seller.  If you prefer a multicoloured dinosaur, then look no further than Stripe T Rex toys.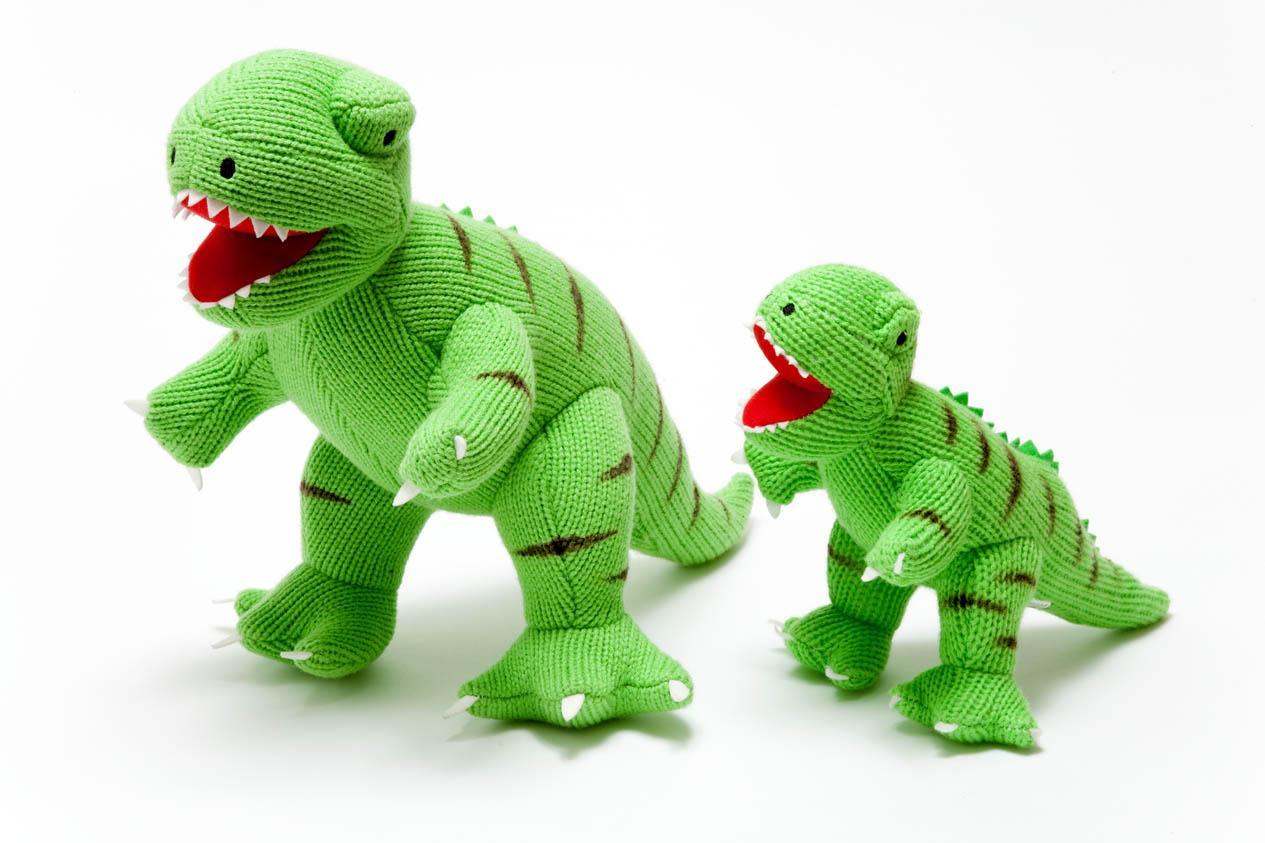 2. Natural Rubber Dinosaur Toys
A new addition to our dinosaur toy range in 2017 these natural rubber dinosaur toys have been a roaring success.  Handmade from natural rubber with a textured feel, these dinosaur toys are soft and perfect for baby to chew on when teething.  The bright colours are stimulating for babies and young children and as there is no hole in these rubber dinosaur toys, they are suitable as bath toys as there is no risk of mould developing inside the toy.  A perfect baby teether or first dinosaur toy for toddlers or babies.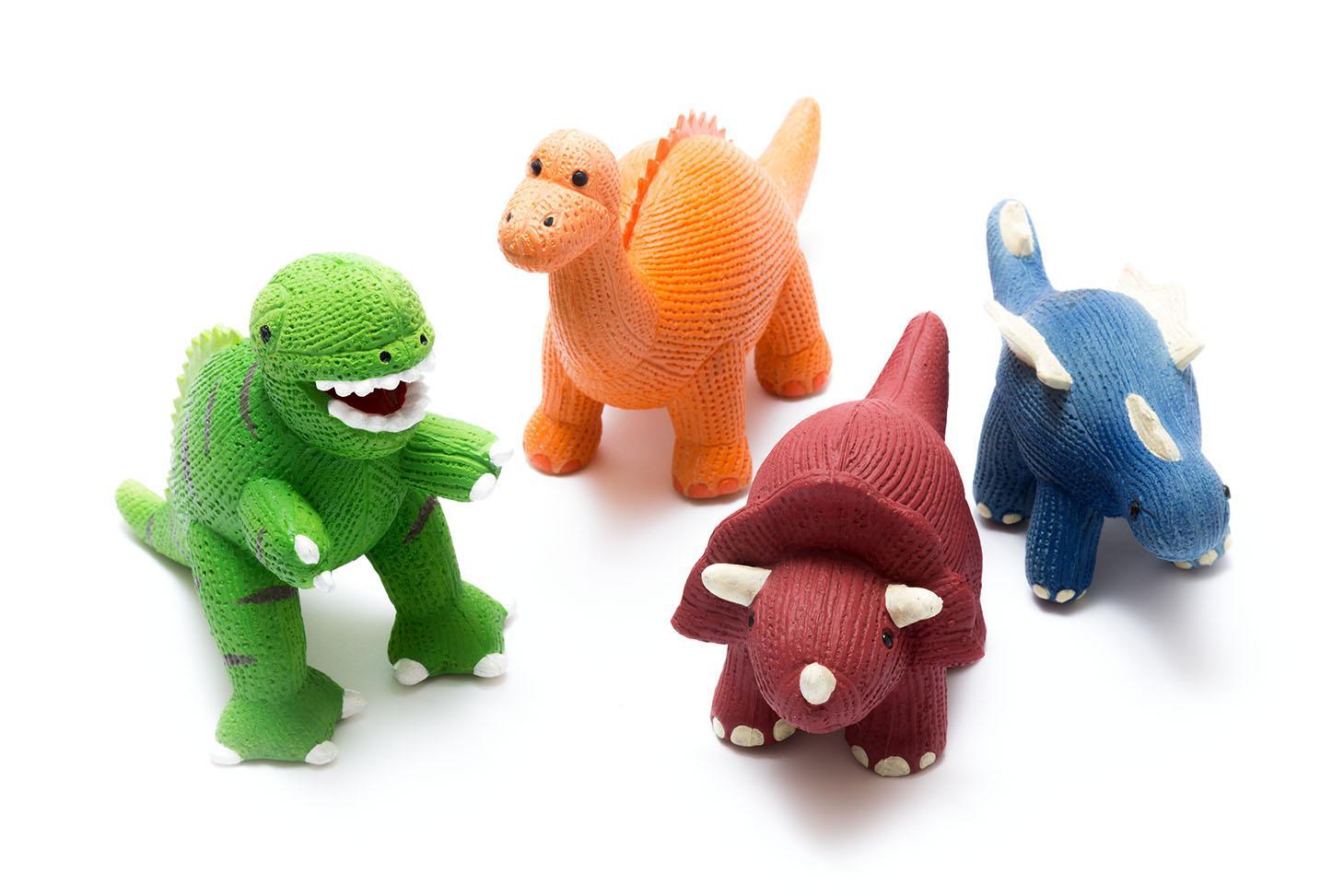 3.  Orange Knitted Diplodocus Dinosaur Toys
When we first introduced our orange diplo dinosaur toys, there was some concern that orange toys would not sell.  How wrong that proved to be!  Our knitted diplodocus dinosaur range has proven to be a best seller since its introduction.  Available as a baby rattle and as a standard and large dinosaur toy, these diplos make fantastic dinosaur gifts for kids, toddlers and babies.  We even have dinosaur mad adults who collect our knitted dinosaurs!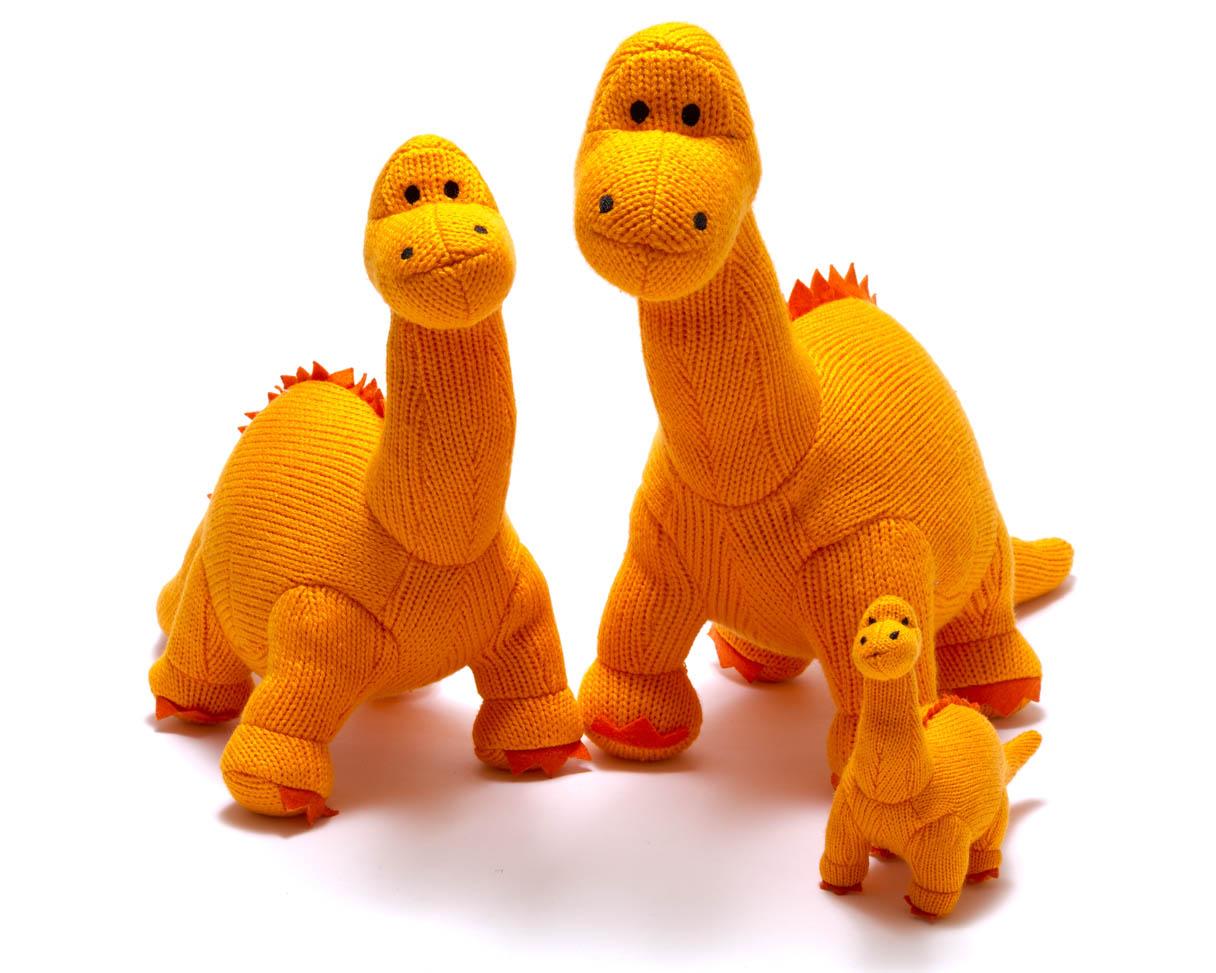 4.  Dinosaur Toys for Babies
It is never too young to develop a love of dinosaur toys and that we is why we have a range of baby dinosaur toys.  Although all of our dinosaur toys are suitable from birth, our range of baby dinosaur toys is designed for small hands and all of the baby rattles make a soothing rattle sound when shaken which is stimulating for a baby.  We noticed that there is a shortage of pink dinosaur toys and whilst many specifically design dinosaur toys for boys, we like to think that most of our dinosaur toys are not gender specific.  However, in the baby dinosaur range we have introduced pink dinosaur toys and soft blue dinosaur toys as we understand that many people like to buy a gender specific newborn baby present and we want to offer the best range dinosaur gifts possible.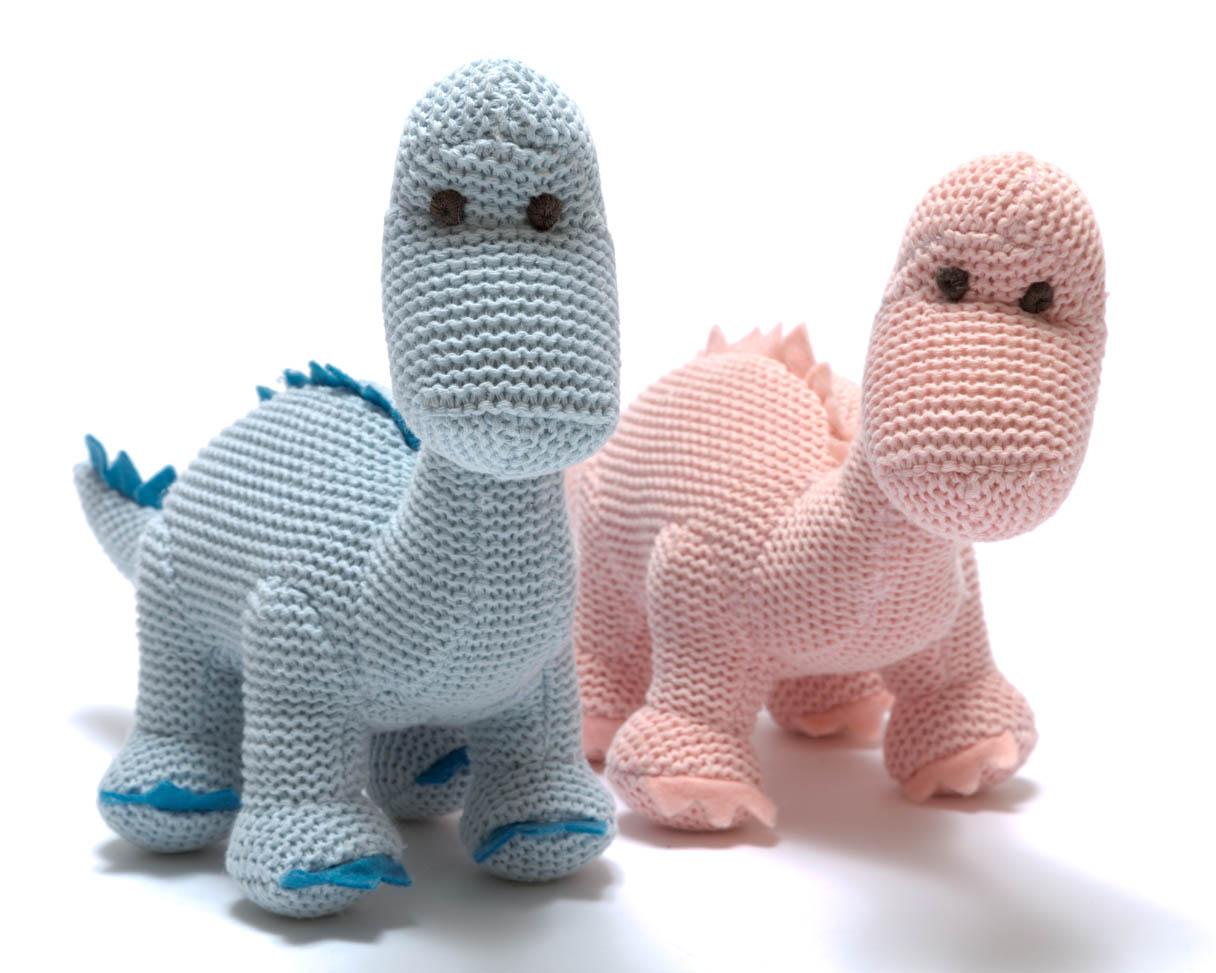 5. Dinosaur Friends.
Not wanting to restrict ourselves to dinosaurs we decided to introduce some friends into our dinosaur range.  Fans of the move The Ice Age will be familiar with many extinct ancient mammals, such as Woolly Mammoth and Sabre Tooth Tiger and we thought that these would make the perfect friends and play mates to our knitted dinosaur toys.  We are pleased to say that they have both become part of our best dinosaur toy range.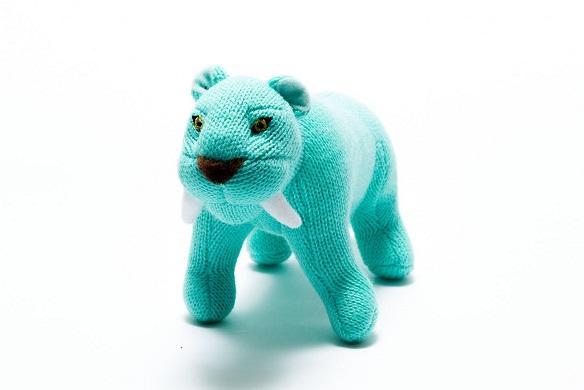 6. Dinosaur Greetings Cards
Every dinosaur gift needs the perfect coordinating dinosaur greetings cards and we have a fantastic range available.  If you need a special age birthday card, we can help from a first birthday to a fifth birthday and everything in between.  Or perhaps you need a Skateboarding Stegosaurus or T Rex Football card?  All of our cards are left blank so that you can write your own message inside and of course come with a suitable sized envelope.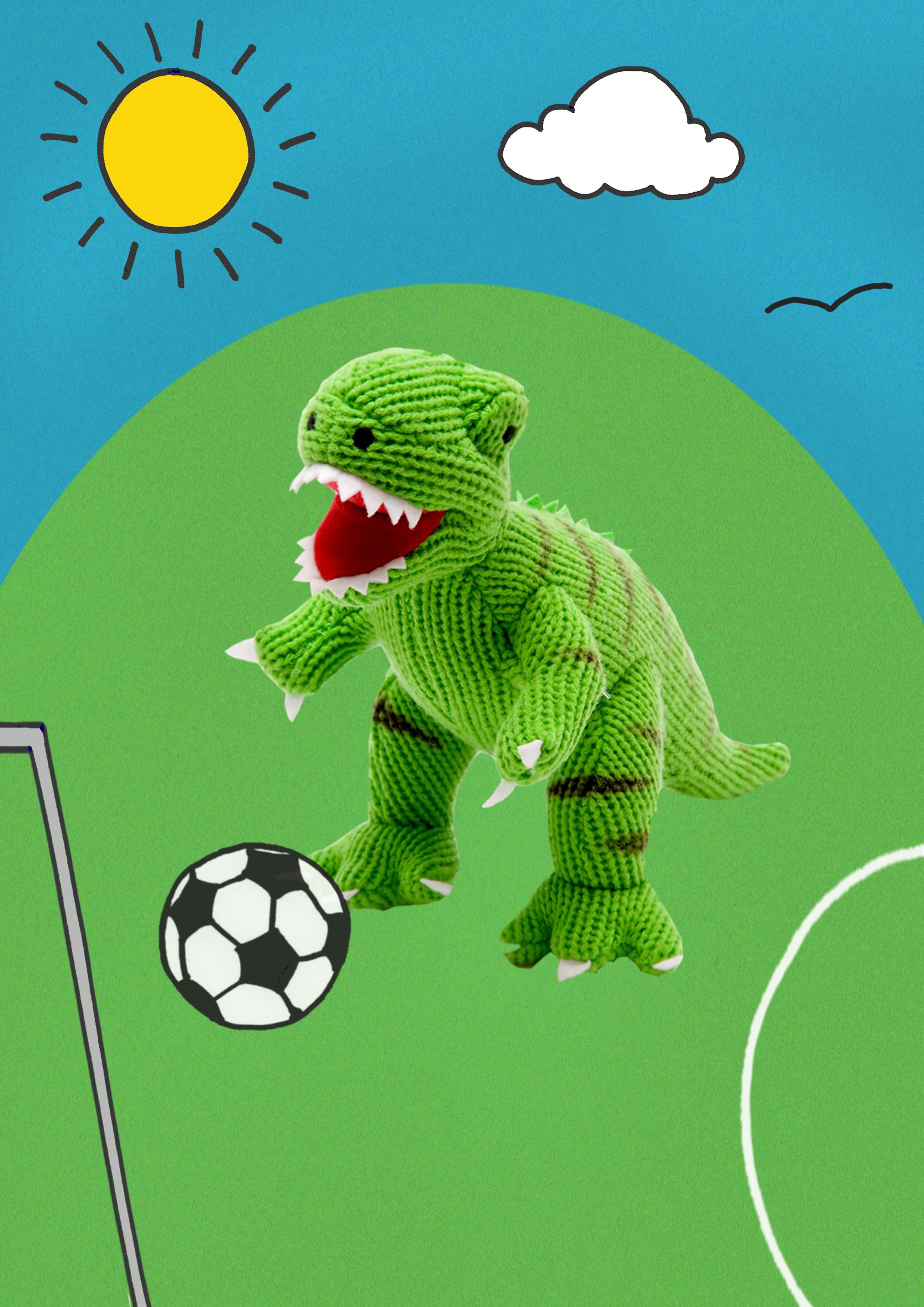 Best Years Ltd www.bestyears.co.uk