What is it about dinosaur toys that makes them so popular? Dinosaurs have always been popular as kids toys and there are few children who are not fascinated by these huge prehistoric animals.
 At Best Years we have not always had a dinosaur toy range, and in fact when we started off our most popular range was far fluffier!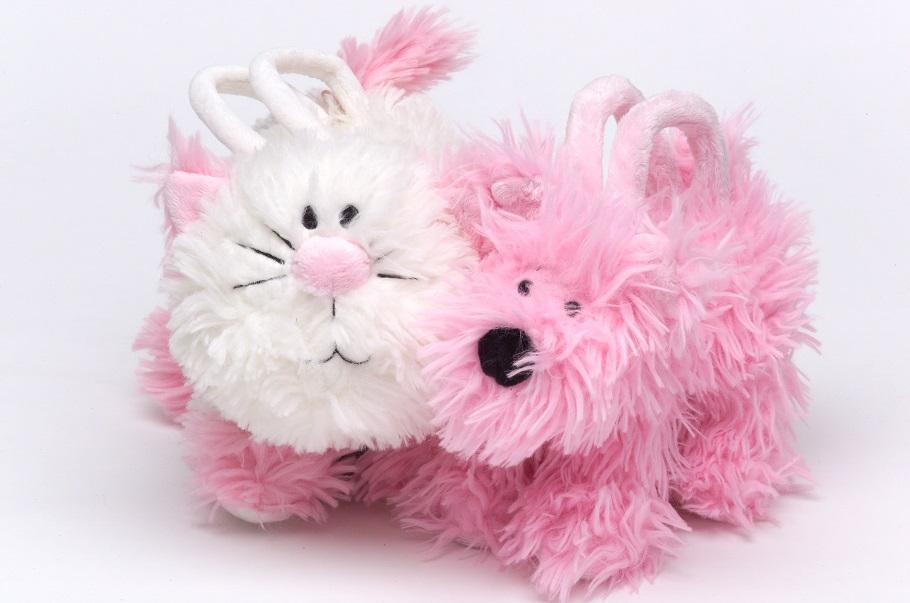 As with most things it was our kids that brought Dinosaur toys to our attention.
My daughter was particularly dinosaur mad and would always prefer to have a factual dinosaur book read to her than a "proper" story.
Anybody who has ever had a kid mad keen about dinosaurs will know that their enthusiasm is infectious and as a household we spent a lot of time comparing the merits of carnivorous and fast dinosaurs vs herbivore and astonishingly huge ones.
Naturally the house filled up with dinosaur toys but we couldn't help notice that although there were dozens of plastic toys you could buy and some really lovely books it was very difficult to find a dinosaur soft toy. There were dinosaur soft toys about but they all seemed to be grey or a murky brown which was not very appealing for pre-school children.
Given that we are a soft toy wholesaler and manufacturer we obviously set out to develop a range of dinosaur soft toys which were bright, tactile and which had more play value than the soft dinosaur toys which were available at the time.
We had previously introduced a small range of knitted toys designed to appeal to very young babies and these had been extremely popular.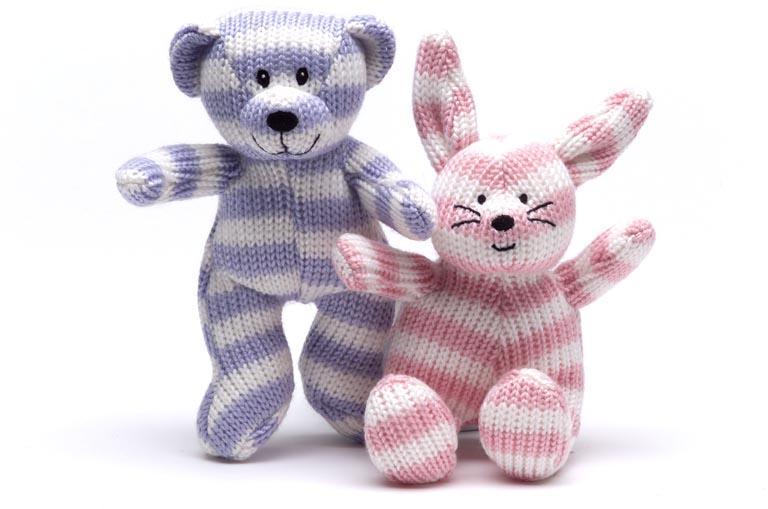 We then introduced some brighter colours which very quickly became our most popular baby toys.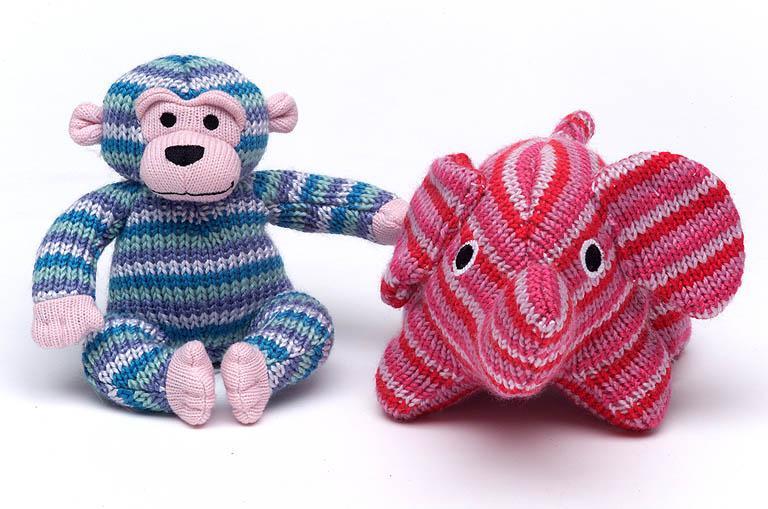 So it was a very small step for us to introduce some dinosaur toys in to our knitted toy range - the first two toys were the T Rex dinosaur toy and the Stegosaurus dinosaur toy.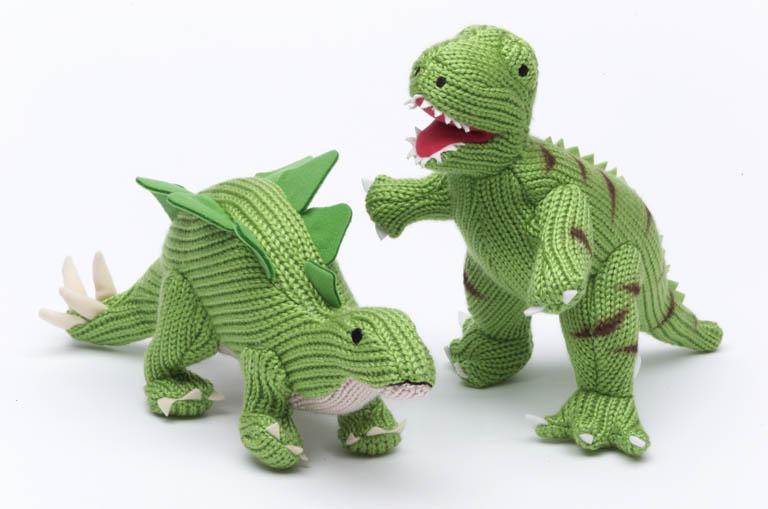 Things took off very quickly and very soon we introduced a red Triceratops dinosaur toy and had changed the Stegosaurus to a bright blue so that we had a lovely collection of bright Dinosaurs, perfect for young children. Right from the very start our knitted dinosaur toys were very popular and were stocked by some well known shops but it was really the introduction of our dinosaur rattles when things really took off. Now our dinosaur toys are played with by children all over the UK and Europe, and we even get some requests from the USA.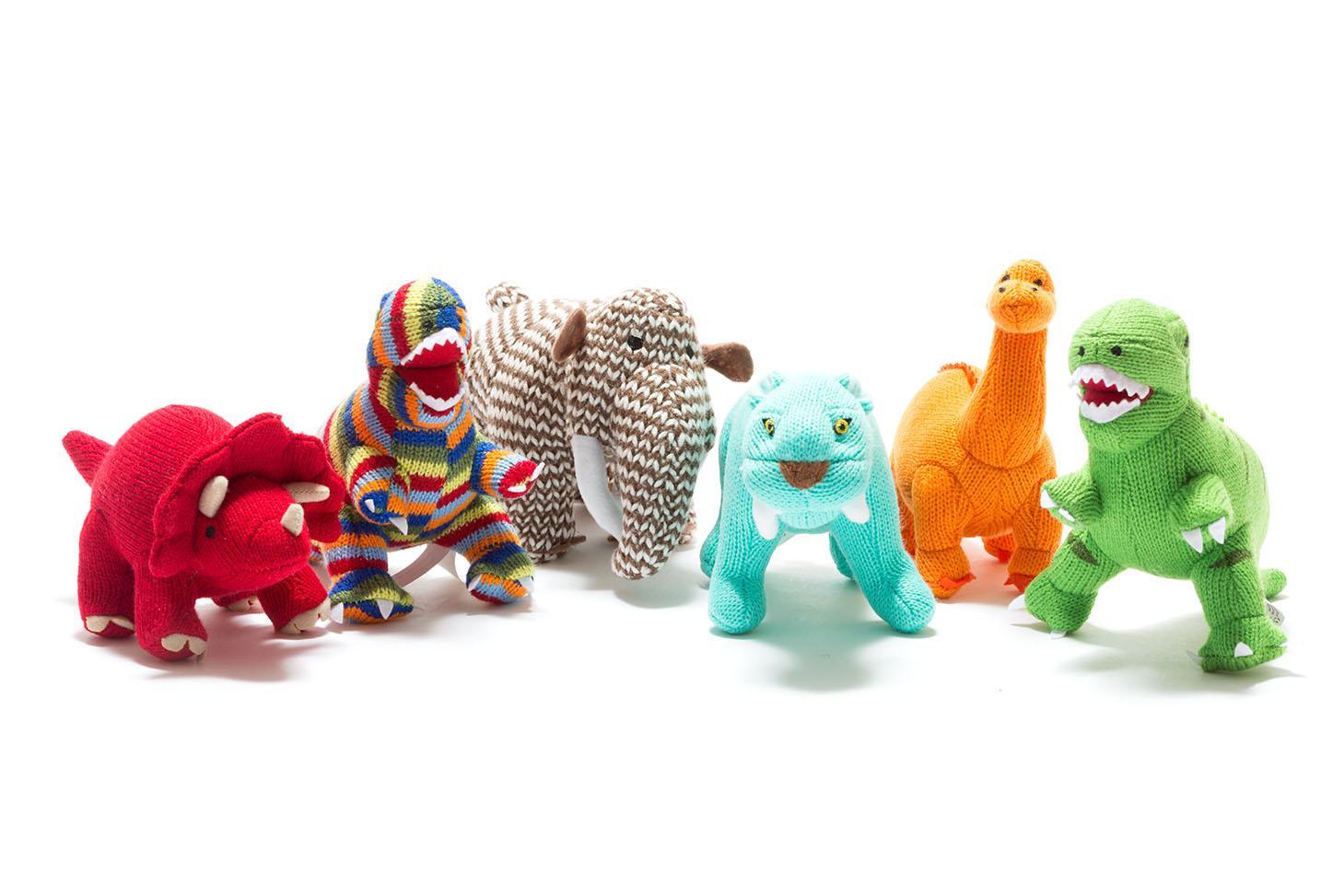 The range consists of 5 different dinosaur toys, T Rex (in green and in bright stripes), Triceratops, Diplodocus, Mammoth and Sabre Tooth Tiger. We have 4 different sizes (small, medium, large and huge) and we even have 2 roaring dinosaurs, a T Rex and Stegosaurus.
Which brings us to the original question, why do we make Dinosaur soft toys? The easiest answer to that question is "Because we Can!"
Best Years Ltd www.bestyears.co.uk