Whether it's because an older sibling loves Dinosaurs or you are a dinosaur loving household but our baby dinosaur toys are always popular.
We have dinosaur rattles in all shapes and sizes but our most popular baby dinosaur toys are ones which look the friendliest. Not many babies have grasped the full reality of the ferocious T Rex, but us adults can sometimes hesitate to give a T Rex dinosaur teddy to a new born baby!
We have some lovely Baby Dinosaur Toys which are cute enough that you can safely give them at a baby shower without any raised eyebrows. Unusually for us most of our baby dinosaur toys are in pinks and blues. This is so that they can coordinate with nurseries and clothes and to make them easier to give as baby gifts too. But don't worry because we also have our normal array of bright coloured dinosaur toys in the selection too!
The designs we have picked for the baby dinosaur toys are the diplodocus and stegosaurus dinosaurs as in knitted and crochet toys they always seem to look the softest. However all our dinosaur toys are machine washable so no need to worry when they are chewed and sucked as baby toys often are. And all our dinosaur toys are and suitable from birth so you can give any of them to the youngest babies.
Here are our best picks for baby dinosaur toys.
1. Pastel Diplodocus Baby Dinosaur Toys.
Lets face it, they don't come much cuter than these pastel diplodocus rattles. Available in pink and blue these tactile baby dinosaur toys have a lovely sweet rattle sound. Plus they are machine washable so perfect baby toys!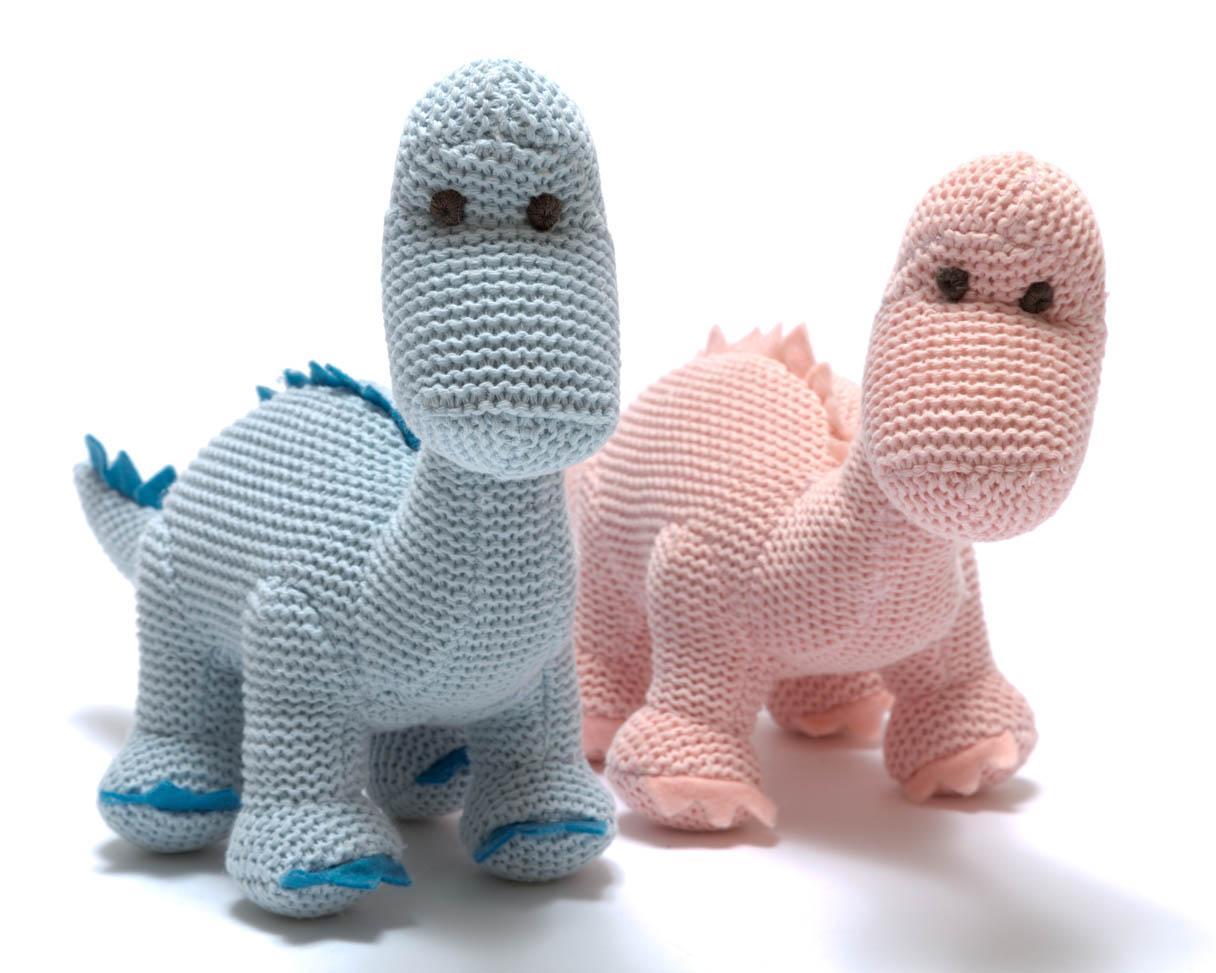 2. Dinosaur Teddy with Comfort Blanket
Our pastel diplodocus rattles were so popular as dinosaur teddy that it seemed natural to introduce them with comfort blankets. The combination of tactile and soft makes these great baby dinosaur toys.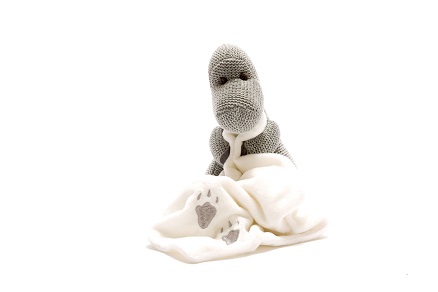 3. Bright and Stripe Dinosaur Baby Toys.
Our baby dinosaur toys come in a wide variety of bold colours and stripes and are available in dinosaurs from T Rex to Diplodocus and Triceratops and many more. We even have a Pterodactyl dinosaur toy! The knitted fabric makes them beautifully tactile and they are designed for babies with no small parts and safe embroidered eyes.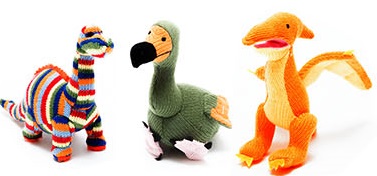 4. Organic dinosaur teddy.
If you are looking for a substantial dinosaur teddy then our organic cotton grey diplodocus dinosaur toy is a great option. Too big for the smallest babies, but perfect as both a dinosaur teddy at bedtime and dinosaur toy for playing it is organic and stuffed with recycled polyester.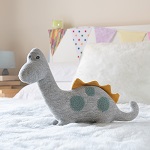 5. Natural Rubber Baby Dinosaur Toys.
These dinosaur toys are handmade from natural rubber and are perfect for both as bath toys and as teethers. They do not have a hole in them so there is nowhere for water to get in and get all nasty and mouldy.  They are ideal for playing with outside or taking out and about as they are so easy to wash.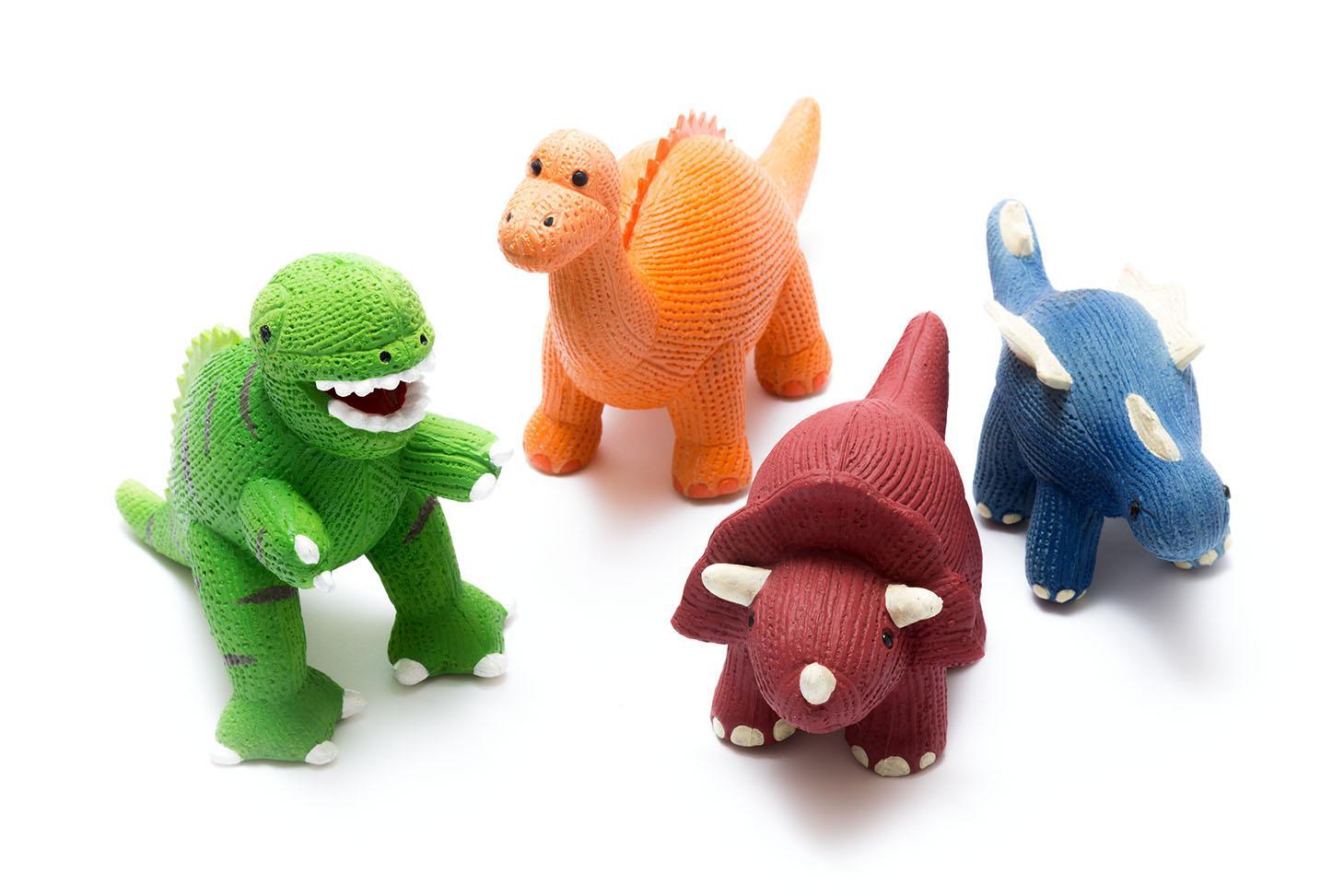 So bright or pastel, bright or striped we have a dinosaur toy for your baby. All you have to do is choose one!