Best Years introduced knitted dinosaurs to the world - you may ask "why"?  And the answer is that we are dinosaur mad!  Throughout lockdown we have been seeing some fantastic ideas for dinosaur crafts on the internet and we thought we would share our favourites with you.
It can be hard to keep the kids entertained during lockdown and you may be short of craft materials, so our favourite craft activities are the ones where you can use recycled materials.  We also love the idea of making dinosaur worlds in the garden or using a cardboard box as one of our customers has.  Here are some of our favourite dinosaur crafts and activities.  If you have some photos of your dinosaur creations or dinosaur worlds that you have created for your Best Years knitted dinosaurs, please email them to us - This email address is being protected from spambots. You need JavaScript enabled to view it.
 We would be happy to share them on our Facebook pages.
Mammoths from Milk Cartons
This is one of our favourites.  You may have seen these on the internet - most people are making elephants from milk cartons but the woolly mammoths are our favourites.  To make one, you will need an empty milk carton - ideally a 2 litre one, some PVA glue, scissors and brown paper, tissue paper or brown wool.  For the tusks you could use pipe cleaners if you happen to have them or white paper rolled up.
To make your mammoth, you need to draw a template on the top of the milk carton, something like this: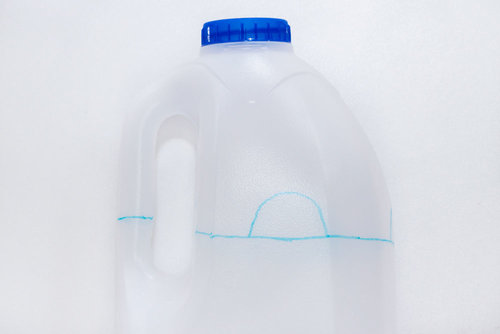 Then cut the shape out and start decorating.  You can make an elephant and many people are using colourful squares to make Elmer the Elephant.  But being mammoth mad, we like the idea of using brown paper or tissue paper if you have it.  Or if you have brown wool, this could work too or if you have no suitable paper or wool, you could paint your mammoth brown.  To finish it off, you can add some googly eyes if you have them, or cut out a circle of white paper and draw the black iris and stick the eyes on.  The ears could be cut from brown paper if you have them, or cut ear shapes in white paper and use crayons or felt tips to colour them brown.  You should end with something like this: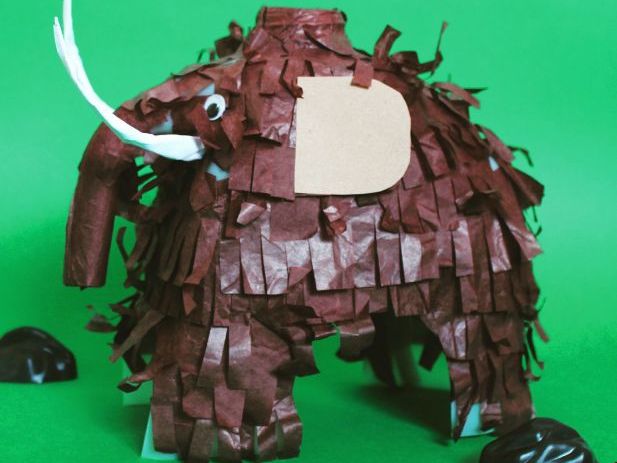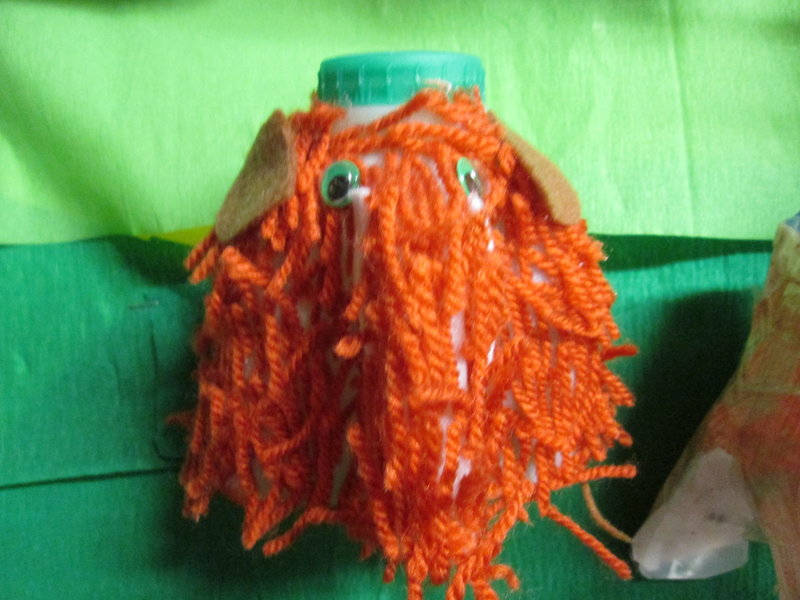 We hope you enjoy this craft activity - please do share your creations with us either by email or on our Facebook page.
Make a Dinosaur from a Paper Plate
This is a simple craft activity that may suit younger children.  All you need is a paper plate, some paper or card, glue and scissors.  Take a paper plate and either fold it or cut in half.  From paper (either plain or coloured), cut out a head, legs and spines if you wish to make a stegosaurus. If you have coloured felt, you could use this for the legs and tail. You could have no spines but a long neck to make a diplodocus dinosaur.  And for the eyes, you could stick on googly eyes if you have them or just use some white paper circles and draw the black pupils in the middle.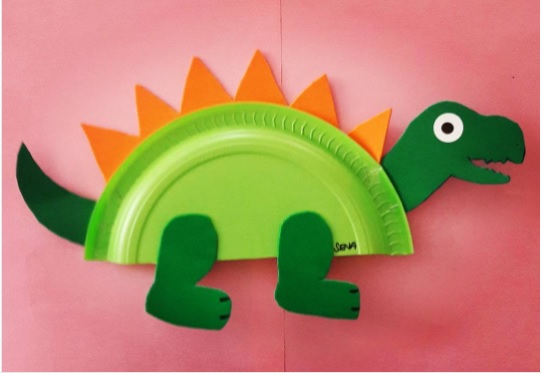 Before you assemble your dinosaur, use pens, crayons or paints to colour your plate and the legs, head and tail if using white paper (and spines if you are making a stegosaurus). Or you could use old magazines and cut them up to make a colourful mosaic dinosaur.  Once dry, glue all the pieces together and enjoy your dinosaur.  
Let us know if you make a dinosaur - we would love to see your creations.
Make a Dinosaur World
If you have some of our natural rubber dinosaur toys, you may wish to make a dinosaur world for them to play in.  You can take an old tray or perhaps a lid for broken plastic box, fill it with some pebbles and earth.  You could make a 'lake' by cutting out a circle of silver foil or using a mirror.  If you have any green fabric or paper, this could be the grass.  Dry leaves make a good surface too or sand if you have some and twigs make great fences.  You could make something like this for your dinosaur toys: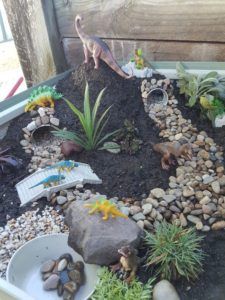 Alternatively you could get an old cardboard box and cut it up with entrances and paint on volcanoes, trees, rocks or whatever you fancy to make your dinosaur world.  It can be as simple or as elaborate as you wish.  Once the paint is dry, you will be able to play with your Best Years knitted dinosaurs in this creation - you could play with them in the garden creation too as they are machine washable, but you may not want to wash your dinosaurs every day!  One of our dinosaurs' biggest fans, Finley, made his dinosaur world from a cardboard box: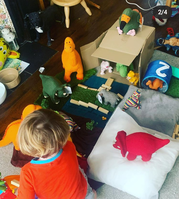 Painting and Drawing
If you are not in the mood for making things, you can simply draw or paint your favourite dinosaurs with paints, crayons or pencils.  This is what Finley did and it seems as though his diplodocus joined in!  I suspect that Dippy has had a once around the washing machine since this photo was taken.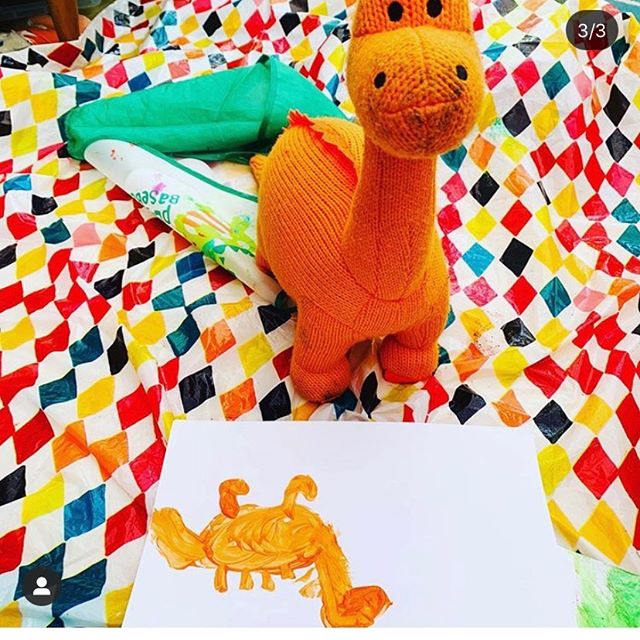 And if you happen to have some decoupage dinosaurs at home, you can either decorate them with colourful scraps of paper or as Finley did, paint them in a rainbow of colours to make some of the brightest dinosaurs around.  Our rainbow stripe T Rex dinosaur would love to meet this colourful triceratops!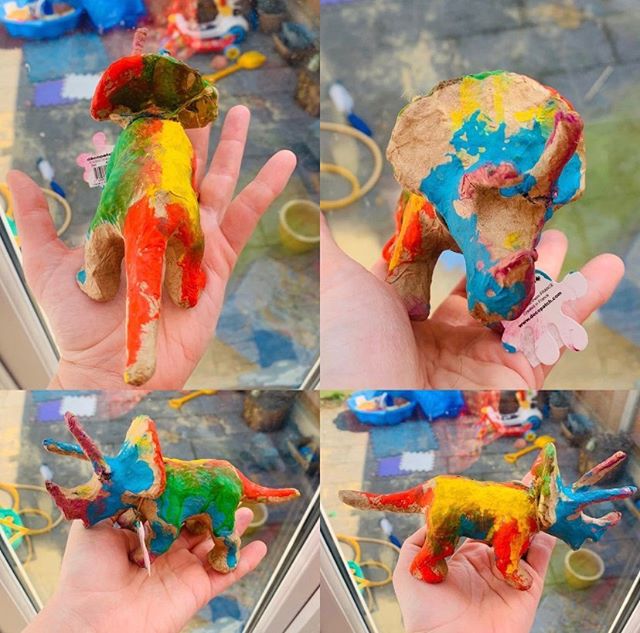 And another favourite activity for us is one for a sunny day.  Set your dinosaurs up on a large piece of paper and then draw around the shadows that the dinosaurs make.  You can then either cut them out (good for fine motor skills) or colour them in on the paper.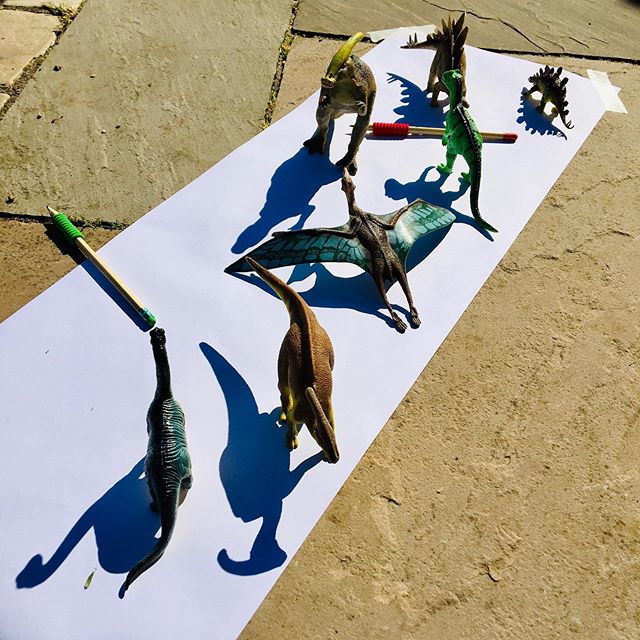 So if you are also dinosaur mad or trying to think of things to do to keep the little ones busy during lockdown, why not try some of these ideas?  If you have any ideas of dinosaur crafts or have photos of your creations, please share them with us on our Facebook page - we would love to see them.  We would love to add a dinosaur craft gallery below.
 Dinosaur Craft Gallery
We love this Dinosaur Den photograph sent in by Little Oak Clothing - her son's fantastic dinosaur den - just a cardboard box and stickers but so effective.  We love the dinosaur lights.